October is Breast Cancer Awareness month, the annual campaign to increase awareness, highlight progress and celebrate the courageous and inspirational stories of women who have beaten the disease.
One of those women is 43-year-old Melanie Hurley, a British Cycling member from Sussex, who credits cycling with being a major factor in her physical and emotional recovery.
Melanie was diagnosed with breast cancer in February 2012 and initially had a lumpectomy before having to undergo radiotherapy. Prior to her diagnosis, Irish-born Melanie had purchased a new mountain bike and begun to ride on single tracks through her local woods.
It was this recently ignited passion for cycling, she says, that helped her come to terms with the challenge she faced.
"I was driving from Horsham to St Luke's Cancer Centre, in Guildford, Monday to Friday for six weeks for my radiotherapy," she explains.
"During the journey, I'd pass signs for the Farnham charity bike ride, and the more I passed those signs, the more I thought that I'd be able to do it.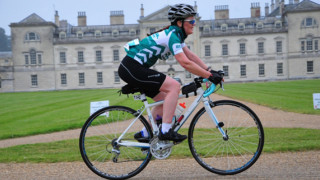 "I set myself a goal – to complete the 25 mile route, which was to take place exactly 25 days after I finished my treatment.
"I put in a bid for a new road bike online and managed to adjust to the thinner wheels in time for the event. Being out in the fresh air really helped my recovery – both mentally and physically – and having a goal really helped me through my treatment; I had to get out on the bike to train even when I didn't feel like it."
Melanie, raising money for Cancer Research, was the event's highest fundraiser, and says she well and truly 'got the bug' for cycling from that point. She had to undergo a mastectomy in January 2013, and the care she received from Macmillan nurses drove her on to raise more money for charity; helping to support and inspire those whose lives have also been touched by cancer.
The mother-of-two continues: "After my mastectomy, I had another six months off work – I work as cabin crew operating on long haul flights from Heathrow – and kept up the cycling.
"This year I've done all six of the Cycletta series of events, three of which were in September and each was 100km; that is probably my biggest achievement to date."
All-clear
After being given the all-clear, Melanie is determined to continue setting herself ambitious goals, and is a firm believer that getting on the bike can have a hugely positive impact on anyone who is facing a battle against illness.
"I'm hoping that next year, I can think about taking part in events abroad and over a longer distance. I would also like to become a ride leader and to encourage other ladies to take up cycling.
"If I was to give advice on cycling to other women who've had breast cancer, I would say it's an easy form of exercise. The fresh air and lovely scenery is good for the mind and body, and cycling can be done at your own pace to help with your recovery.
"I'm so pleased I discovered road cycling; it's given me lots of opportunities to take part in events and travel around the UK. I've met amazing people everywhere I've gone, and I've really enjoyed it.
"Cycling made me get out of bed on days when I really didn't feel like it. Sometime it's hard without motivation, but when you've signed up for an event you have to get out and train. As soon as you're actually out on the bike, it feels great!"
In recent years, British Cycling has committed to providing increased opportunities for women to ride in a safe, supportive environment and to gain skills and confidence. Since March 2013, over 250,000 more women have taken up cycling – many of whom have done so through the Breeze network, which organises thousands of fun, social, volunteer-led events for women in all areas of the country throughout the year.