Follow britishcycling.org.uk on
National Cyclo-Cross Championships - Day 2

Sutton Park, Sutton Coldfield | Sunday 7 February 2010
Day 2 Results | Event Homepage | Photo Albums |

Rider Interviews: We hear post-race reactions from the riders

Senior Men
Slideshow from the Men's British Cyclo-Cross Championship at Sutton Park
The senior men's race was a fitting finale to a fine weekend of racing as the re-scheduled 2010 National Cyclo-Cross Championships drew to a close. And for the first time in an otherwise dull weekend, the sun came out and provided some welcome illumination for a classic encounter between the country's top Cyclo-Cross riders.
Showing well straight from the start were Ian Field and Paul Oldham and this pair led through to the technical copse section as the race began at a predictably high pace. Defending champion Jody Crawforth was also well placed along with Dan Booth and Ian Bibby.
By the end of the opening circuit an elite group had formed at the front, consisting of Field, Oldham, Crawforth, Booth and Bibby, with Stu Bowers and Stuart Wearmouth chasing hard. Unbelievably, fresh from his win in the veterans' race the day before, Nick Craig was also clawing his way up to the leaders.
Ian Bibby pulls a wheelie as drives the race along from the front. Photo Andy Whitehouse
As the second lap unfolded, Craig did indeed make contact to make it a lead group of six, along with Field, Bibby, Oldham, Crawforth and Booth. For the next two laps there were various attempts to break up the group, with Paul Oldham in particular looking to stretch his rivals with characteristic low-revving pulls up the draggy climbs on the back of the course.
However, the lead group stayed together until a series of surging attacks by Ian Bibby eventually led to both Booth and Craig being detached. However, the leading four seemed very well matched and although they all continued to take turns at testing each other, they were all clearly nervous about totally committing to attack.
Even when more attacks by Bibby on the sixth lap looked to have put Field and Oldham in trouble, they were able to rejoin and the pace slackened as the riders began to think about how they might make a winning move on the last lap.
Bell lap and the lead group ready themselves for the battle to decide the race.
Roared on by a big crowd, Nick Craig took advantage of the yo-yoing pace to rejoin the leaders and even made a brief foray off the front, which the spectators enjoyed immensely. He lost touch again as a result of his efforts, only to rejoin for a final time at the start of the last lap.
Going out of the copse for the second time on that final lap, Bibby really wound things up at the front of the race and suddenly gaps began to appear between the riders. Jody Crawforth moved into second three bike lengths down, whilst Oldham and Field did their best to hang on a couple of seconds further back.
Bibby timed his attack to perfection because, having gone with only a third of a lap to go and got himself a gap, he could afford to commit one hundred percent. He held Crawforth off up the final climb into the woods and down the descent to the road, giving himself 20 yards as they hit the tarmac. Although Crawforth really kicked on hard, using his renowned sprint, Bibby was able to hold him off to the line to claim his first senior 'cross title. After a valiant defence of his crown, Crawforth took silver, whilst Oldham got the better of Field to claim the bronze.
Behind them, Nick Craig finished a highly creditable fifth, having played a huge part in an unforgettable race. Dan Booth was sixth.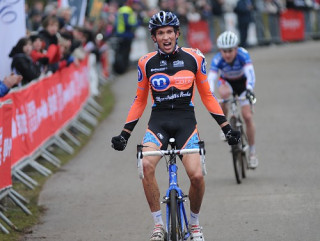 Ian Bibby is delighted with the victory after outsprinting Jody Crawforth
Rider Interviews: Ian Bibby, Jody Crawforth & Paul Oldham
Results (Full Results)

Senior Men
1 Ian Bibby Motorpoint - Marshalls Pasta RT 1h 0m 01s
2 Jody Crawforth Arctic - Premier RT @ 0:02
3 Paul Oldham Hope Factory Racing @ 0:09
4 Ian Field Hargroves Cycles/Trant/Next/Scott/GSI @ 0:25
5 Nick Craig Team Scott UK @ 0:30
6 Daniel Booth Cult Racing @ 1:08
7 Lee Williams Team Wiggle @ 1:20
8 William Bjergfelt Sportbeans/Wilier @ 1:20
9 Stuart Bowers Hargroves Cycles/Trant/Next/Scott/GSI @ 1:53
10 Jamie Newall VC Meudon @ 2:40
Junior Men
The Junior men's race was a superb exhibition of aggressive riding. Defending champion, Tom Moses, hasn't had things all his own way this season and when he went to the front up the first grass climb he quickly found arch-rival Luke Gray on his wheel, along with Alec Briggs.
These three led going through to the copse section, though the rest of the field were also hard on their heels and it wasn't until the lap was almost complete that the race began to take shape, with Moses and Gray joined at the front by Kenta Gallagher, the Scottish MTB rider. Briggs and Hugo Humphreys were just a couple of seconds back at the head of a thinning line of riders.
Slideshow from the Junior Men's British Cyclo-Cross Championship at Sutton Park
Humphreys lost touch during the second lap leaving the leading three riders to draw clear. Gallagher also began to find things too hot and by the end of the loop Moses and Gray were two seconds clear of the Scot, with Humphreys 8 seconds back and coming under pressure from a group of three riders, Alistair Slater, Perry Bowater and Luke Grivell-Mellor.
The Gray verses Moses battle had been eagerly anticipated, but just as soon as it was getting going the pair dramatically clashed in the copse, bumping into each other and both falling. Their bikes became tangled and, although he was up first Moses came off worst, struggling to get going again. Suddenly Gray was in the clear and Moses found himself down in third as Gallagher also forced his way past him.
Moses was soon back into his stride, but he was seven seconds down. He went straight back past Gallagher, but Gray wasn't hanging around and Moses began a frantic chase to get back on terms with the leader. For the entire fourth lap Moses pushed and pushed and the gap fluctuated but never dropped below about 5 seconds. The effort was clearly telling on both riders, but suddenly Gray began to pull clear as Moses paid the price of his attempts to catch him.
Defending champion Tom Moses clashes with champion to be Luke Gray in a key moment of the race. Photo by Richard Robotham (Photo album).
At the bell the gap had gone out to 18 seconds and, from then on in, Gray only had to keep out of trouble to claim Moses' title, which he did with a smooth final lap and a big celebration on the line. Moses knew he was beaten and cruised in for second, a wry smile on his face.
Behind the leaders, drama of a different kind was unfolding. Gallagher looked to be fading badly mid-race and from the chasing pack Perry Bowater emerged as a medal contender, closing the Scot down relentlessly and passing him mid way through the penultimate lap. Although he put a small distance between himself and Gallagher, Bowater never really shook him off and the gritty Scott rider battled back onto terms in the final half lap.
The pair entered the final road run into the line together and a delighted Gallagher out-sprinted his disappointed rival to claim the bronze by a couple of bike lengths.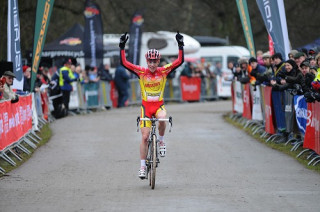 Luke Gray wins the Junior title
Rider Interview: Luke Gray
Results (Full Results)
1 Luke Gray Hargroves Cycles/Trant/Next/Scott/GSI 39 m 10 s
2 Thomas Moses Glendene CC/Bike Trax @ 0:39
3 Kenta Gallagher Scott UK @ 0:55
4 Perry Bowater CC Giro @ 0:56
5 Alistair Slater Bourne Wheelers CC @ 1:27
6 Hugo Humphreys Mosquito Bikes RT @ 1:33
7 Luke Grivell-Mellor Mid Shropshire Wheelers @ 1:42
8 Taylor Johnstone Team de Ver @ 1:50
9 Andrew Hargroves Hargroves Cycles/Trant/Next/Scott/GSI @ 2:30
10 Steven James Pedalon.co.uk @ 3:32
Women
Slideshow from the Women's British Cyclo-Cross Championship at Sutton Park
The women's race was all about Helen Wyman and whether she could equal Caroline Alexander's record of five wins. She was coming off the back of a disappointing world championships, but a successful continental season as a whole. She was also riding for the second day in a row, following an international outing in France on the Saturday.
Down the start straight, Wyman was safely at the front of the field, along with the two riders most likely to challenge her, Nikki Harris and Gabriella Day. As they turned onto the first grassy section, there was almost immediately drama as Day picked up a puncture and lost time changing her bike with the race only a couple of minutes old.
As she dropped out of contention, briefly, Wyman was pushing hard at the front and although Harris was able to go with her for half a lap, she couldn't quite hold the reigning champion over the more technical second half of the loop and had drifted a few bike lengths back as the pair crossed the line for the first time.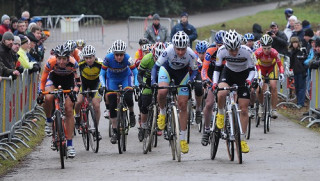 Out of the blocks, the women's race is quickly up to speed.
Day was, meanwhile, working her way back into the race, some 30 seconds down on Harris, but pulling clear of the rest of the field.
Up front, Wyman's superiority gradually became apparent during the second lap and by the end of that loop she had a big lead of almost 45 seconds. Harris by this time was coming under pressure from Day who had halved the gap between them by the end of the lap and was flying.
The final three laps were really just an exhibition ride for Wyman who looked untroubled and virtually un-muddied as she continued to pull away to a very convincing and impressive win by over a minute and a half.
However, behind her, both Harris and Day were working extremely hard, their faces drawn with the pain of the effort they were putting in. Day got the gap down to under ten seconds at one point, but the effort eventually told and she stalled and was actually drifting back again by the time Harris crossed the line in second place. Day duly took third, smiling as she crossed the line, accepting perhaps that the gods hadn't really smiled on her.
Behind the medal winners, Adela Carter completed a very impressive first season of 'Cross by finishing fourth ahead of first Junior, Hannah Barnes.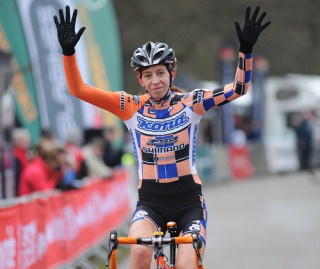 Fifth win for Helen Wyman in the Women's race.
Rider Interviews: Helen Wyman & Hannah Barnes
Results (Full Results)

Senior & Junior Women
1 Helen Wyman Kona/FSA Factory Team 42 m 04 s
2 Nikki Harris AVB Cycling Team @ 1:31
3 Gabriella Day Cyclefit RT @ 1:45
4 Adela Carter Crosstrax @ 3:25
5 Hannah Barnes (J) Candi TV /Marshalls Pasta @ 3:45
6 Corrine Hall Team Corridori @ 4:00
7 Nicola Juniper PCA CiclosUno/Squeezy/Isaac @ 4:23
8 Joanne McRae Arctic - Premier RT (NC) @ 5:55
9 Lauren Creamer (J) Wolverhampton Whs/Fred Williams @ 6:49
10 Anna Buick Thetford MTB Racing @ 7:48
other
13 Penny Rowson (J) The MischiefCard.com RT @ 9:23

Veteran Women
1 Isla Rowntree (V) Stourbridge CC 49 m 15 s
2 Louise Day (V50) Fat Birds CC 51 m 21 s
3 Nicky Hughes (V) Activ Cycles Folkestone 51 m 39 s
4 Elizabeth Clayton (V) CC Giro 52 m 40 s
5 Lynn Bland (V) Norton Wheelers @ 1 lap
6 Carolyn Speirs (V50) Horwich CC @ 1 lap
Under-23 Men
The Under-23 men opened proceedings on the second day of the championships and it was Billy-Joe Whenman who led the small but high quality field up the first climb past the café. However, it was Cult Racing's Jamie Harris who was the first rider to make a bid for glory and he was clear of the chasing pack as the race reached the distinctive copse of trees at about a third of the way through the lap.
Behind Harris were Stephen Adams, Whenman and Ben Roach. Harris's attack meant that the rest of the riders had to respond and the pressure created havoc with only Adams seemingly capable of responding, but even he found himself falling further behind as the second lap unfolded. Behind Adams, Whenman had buckled and was dropping back along with Ben Roach. Pre-race favourite Tom Payton was also stuggling following recent illness and he was to play no part in the battle for the medals.
Slideshow from the Under 23 Men's British Cyclo-Cross Championship at Sutton Park

By the third lap, Harris's progress was beginning to look like a march to victory as he steadily built up his lead to over thirty seconds. Behind him, Adams had been joined by David Nichols and Rob Watson, though Watson was drifting back by the end of the lap.
From then on in, Harris continued to build his lead right to the finish and he claimed the win by some 80 seconds in the end. He also opened up the possibility of a family double as sister, Nikki, was due to line up in the women's race straight after he finished.
The battle for second boiled down to a head-to-head between David Nichols and Stephen Adams. They matched each other till the last lap when an Adams attack went unanswered and Nichols had to settle for third. Robert Burns made a spirited late bid for a medal but despite closing he couldn't quite get up to Nichols. Billy Joe Whenman came back well to finish fifth, despite a big crash in the copse mid race.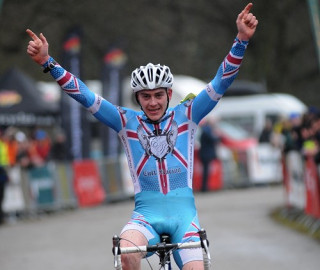 Jamie Harris celebrates a dominant victory.
Rider Interview: Jamie Harris
Results (Full Results)
1 Jamie Harris Cult Racing 54 m 38 s
2 Stephen Adams Langdale Lightweights RT @ 1:19
3 David Nichols Arctic-Premier RT @ 1:34
4 Robert Burns Wolverhampton Whs/Fred Williams @ 1:46
5 Billy-Joe Whenman Sportbeans/Wilier @ 2:30
6 Thomas Lowe Raleigh Avanti RT/Michelin/High 5 @ 2:50
7 Andrew Nichols Cambridge University CC @ 3:06
8 Sam Allen AW Cycles.co.uk/Giant @ 3:09
9 Robert Watson Paul Milnes/Bradfoed Olympic RC @ 3:16
10 Matthew Zietz Pearsons Cycles @ 3:21