Emma Finucane claimed her fourth national title of the weekend to be crowned the ultimate sprinting champion on the final day of the National Track Championships at the Geraint Thomas National Velodrome of Wales.
Finucane added to her wins in the sprint and the keirin with titles in the 500m time trial and team sprint alongside Team Inspired's Katy Marchant and Milly Tanner.
Finucane was not the only multiple title holder of the championships, with three wins for Daphne Schrager, and double golds secured on the final day by Neah Evans, Fin Graham, Joe Holt, Sophie Unwin and Jenny Holl, and Thomas Wing and Joshua Dunham. Elsewhere, Jody Cundy, Hamish Turnbull, Ryan Taylor and Will Bjergfelt won national titles, while Saint Piran took home the men's team pursuit title.
Women's 500m
Emma Finucane once again proved herself as the best sprinter in the country, taking the 500m national title in 33.981.
Finucane was the only rider to drop under 34 seconds as Sophie Capewell took the silver in 34.251. Scottish rider Lauren Bell took the bronze on 34.367, matching the women's sprint podium from Friday night.
Speaking on her incredible weekend, Finucane said: "Honestly, it's crazy! It only just sunk in when I finished my last ride because I just wanted to focus on the next race. It really hit me and I got really emotional – I just can't believe it. Women's sprint is so exciting at the minute and we're all pushing each other all the time so to win is amazing. It's really special to do it in Newport as well in front of my mum and dad who have helped me so much."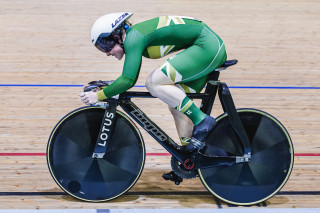 Para time-trial C1-5
The women's 500m WC1-3 event saw Daphne Schrager (Di MASCIO) secure another national title of the weekend with a time of 42.691.
On her three wins, Schrager said: "It feels amazing. I really wanted to do it for the women and see what happens, with lots of personal bests across the weekend, and a national record in the individual pursuit earlier in the week. I just want to grow more in confidence over the year. It's really rewarding, and I just really enjoy racing and getting better at it. It's just amazing what the whole team can do."
Fin Graham (Para-T) stormed to his second national title of the week, winning the para time-trial MC1-3 in a time of 1:09.085.
Sam Ruddock secured a silver medal with his time of 1:09.680, while Ryan Taylor (Ilkeston CC) secured the bronze in 1:12.530 to add to his pursuit silver from yesterday.
In the MC4-5 category, world champion Jody Cundy MBE (Para-T) took the top spot by over a second, clocking 1:07.870 ahead of yesterday's pursuit winner Archie Atkinson (Para-T). Martin Hailstone (Addform-Vive-le-Velo) secured the bronze to round out the podium.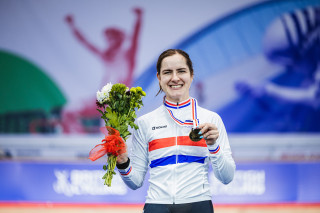 Women's points race
World champion Neah Evans won the women's points race with ease to collect her second gold medal of the week.
The 80-lap points race started all together, with Evans proving her strength, picking up wins in the first three sprints and controlling much of the race.
With 58 laps to go, Izzy Sharp attacked off the front, with Frankie Hall and Miriam Jessett working together to chase before Evans led the group and reeled in all three before the third sprint.
Sharp went again with 42 laps left, as Kate Richardson worked on the front of the group to catch her.
Evans then attacked solo straight after the fourth sprint, catching the peloton by surprise as Sophie Lewis attempted to chase after her.
Hall and Jess Roberts overtook Lewis and caught Evans with 35 laps remaining, splintering the peloton further.
Lister joined Hall, Evans and Roberts before Lewis dragged them back to the peloton going into the fifth sprint. Evans still took the five points, and continued to drive the pace to secure maximum points and lap the field.
On the 14th lap, Evans again went solo, while Roberts and Hall chased. Evans took the seventh sprint win, while Roberts and Hall took second and third, and Holl fourth as they continued to attempt to gain a lap.
Evans secured another 20 points, but Richardson spearheaded the front of the peloton to close the gap on Holl, Hall and Roberts with just three laps remaining.
Maddie Leech led into the final lap with Lewis on her wheel, overtaking in the sprint finish to take 10 points and secure her place on the podium with the bronze. Leech crossed the line in second to take silver, while Evans celebrated, the win already in her grasp on 52 points.
Evans said: "I'm delighted to retain two titles from last year so a very good weekend for me! Having the world champs stripes gives you a bit of a target on your back, so I went in with a plan and executed the race as I planned so really pleased."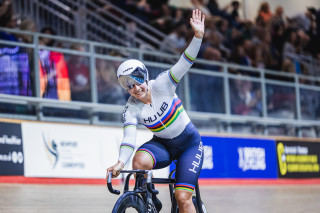 Men's keirin
Hamish Turnbull took home the coveted red, white and blue jersey in the men's keirin after a tight finish against teammate Jack Carlin.
Turnbull and Carlin were both undefeated in their heats and semi-finals before facing each other in the final.
Carlin drew fifth while Turnbull was first behind the motorbike. Luthias Arthur (Glasgow Track Racing Team) made the first move with three laps to go, driving to the front from the back with teammate Niall Monks on his wheel.
Monks and Arthur forged a gap with two laps remaining, and both sprinted out the saddle on the back straight, but Turnbull powered past coming into the last lap with Carlin on his wheel.
Turnbull sprinted out the saddle on the back straight, while Carlin's attempts to get round were too little too late, leaving Turnbull to secure the title.
After the win, he said: "It feels great to win the national title. We've been training really hard as we're coming into the international track season – we have Euros next week and Nations Cups in Egypt and Indonesia. We're all in a training hole as those are the races that really matter for Olympic qualification. To come here on my knees and still perform, I'm really proud of myself and really happy."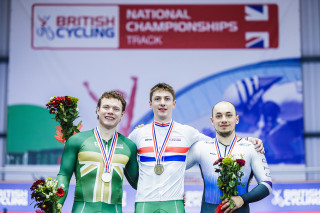 Para kilo time-trial tandem
Sophie Unwin and Jenny Holl showed that they could mix it up with a sprint title in the women's kilo tandem event, clocking 1:09.154 to add to their pursuit title from yesterday.
Speaking after their win, Unwin said: "It was really good – we're really happy to get a second title this weekend. We're not sprinters but we've done a kilo a fair few times! We've actually only won one national title so it's really nice to get another two this weekend."
Holl added: "We executed our race really well. It's always nice to get on the top step and pull on the jersey, no matter what kind of jersey it is!"
Libby Clegg and Georgia Holt took the silver, less than a second behind on 1:09.988 – a massive achievement having only been paired together for six months. Lizzie Jordan and Amy Cole came in third on 1:10.426.
In the men's event, Thomas Wing and Joshua Dunham added the kilo title to their sprint gold from Friday, steaming to a time of 1:07.446 – finishing five seconds ahead of second place.
Christopher Wilkins and Henry Latimer claimed the silver medal with 1:12.415, while Mason Bradley and Loz Staples won their second medal of the championships with the bronze.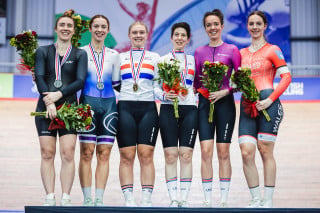 Women's team sprint
Team Inspired B won the women's team sprint in style, smashing both their qualifying and finals to be crowned national champions.
Milly Tanner, Katy Marchant and Emma Finucane stormed to the win, clocking 47.609 in the final to beat their nearest rivals and teammates, Team Inspired A, Lowri Thomas, Sophie Capewell and Blaine Ridge Davis.
Having just come back to the sport after having a baby, Marchant said: "It's ace to get a national title. I'm really, really happy with how the whole weekend's gone but it's really nice to finish it off at the top of the podium with the girls as well. I'm feeling a little bit rusty and it's so good to be back – I'm just loving being back."
Scotland's team of Lauren Bell, Iona Moir and Ellie Stone qualified third fastest and managed to secure the bronze.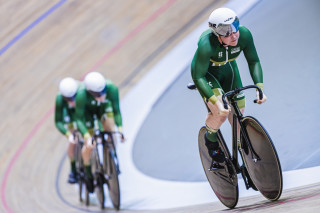 Men's scratch
Joe Holt secured his second national title, winning the scratch race from a three-up attack.
The race started rapidly from the gun, with surges from Finlay Tarling, Jack Rootkin Gray and Will Perrett.
Perrett, Will Tidball, Will Roberts and Fred Meredith continued to dominate the race, with relentless efforts driving the pace.
Rootkin Gray, Tidball and Kieran Riley attempted to get away with 30 laps remaining, but the pace from the peloton was too strong and they were quickly caught.
Joe Holt, Rootkin Gray, Meredith and Matthew Brennan made the first proper move with 22 laps to go.
With 12 laps remaining, Meredith dropped off the pace and re-joined the peloton, while the trio continued to drive with almost half a lap between them and the peloton.
Holt surged into the final lap, with Brennan and Rootkin Gray chasing, but it wasn't enough as Holt celebrated across the line to secure his second title of the championships, having won the kilo yesterday.
Welshman Holt said: "Coming into it, I was just really happy with yesterday so it was just all or nothing. To come away with the national jersey is really good. I knew I had a good sprint but at the end of the race like that, being away for so long, you never know, but I felt strong and came away with the win. I actually work in the velodrome here too so it's really good to pull it off and doing it in Wales is extra special!"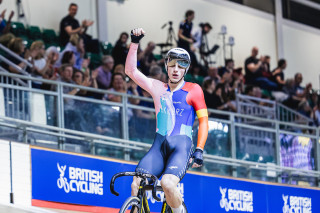 Men's team pursuit
Saint Piran's Josh Charlton, Will Roberts, Charlie Tanfield, and Will Tidball took home the national title in the men's team pursuit after a good battle against BC East Mid Region in the final.
The Saint Piran quartet recorded a time of 3:56.157 to take the win, while BC East Mid Region's Will Perrett, Tom Ward, Michael Gill and Sebastian Garry clocked 3:57.502 to secure the silver.
Ben Wiggins, Jed Smithson, Matthew Brennan and Alex Beldon (FH - MAS Design) took home a bronze medal after a dominant final ride in time of 4:03.775 – six seconds faster than Team Wales.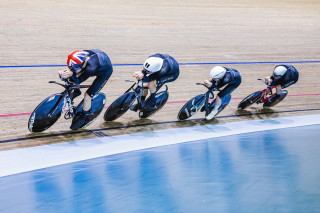 Para mixed scratch race
An exciting para mixed scratch race saw national titles for Ryan Taylor, Will Bjergfelt and Daphne Schrager.
The race stayed together, with pushes on the front by Fin Graham, Archie Atkinson and Bjergfelt, until the three went off the front with just under 30 laps to go.
Taylor bridged over to make it four before Bjergfelt went on his own as the others became hesitant to take the lead.
Atkinson chased with Graham and Taylor on his wheel, before Graham launched his own attack from the bend into the home straight with Atkinson just behind. Bjergfelt gained a lap with 20 laps to go, as did Graham, Atkinson and Taylor.
A sprint finish saw MC1-3 medals awarded to Taylor, Graham, and Jacob Smith, while the MC4-5 category saw Bjergfelt, Atkinson and Mark Valentine take the podium places. Schrager stuck it out with the men to get her third title of the weekend in the women's C1-5 category.