Home favourite Emma Finucane secured the women's sprint title in style on the first night of the National Track Championships in the Geraint Thomas National Velodrome of Wales.
Finucane was crowned British champion alongside Great Britain teammates Charlie Tanfield and Neah Evans in their respective individual pursuits, Thomas Wing and Joshua Dunham in the para tandem sprint, and Team Inspired in the men's team sprint.
Women's sprint
Finucane dominated the women's sprint on her home track from start to finish, winning every round of the event to secure the national title. The Welsh rider qualified fastest with a time of 10.874 in the flying 200m, with Team Inspired teammate Sophie Capewell just 0.013 seconds behind.
Having just come back to racing after having a baby, Katy Nicholls qualified third fastest before being knocked out in the quarter finals by Blaine Ridge-Davis.
Finucane went on to win the rest of her rides in straight match sprints, before facing Capewell, who had battled with Ridge Davis to get into the gold medal ride off.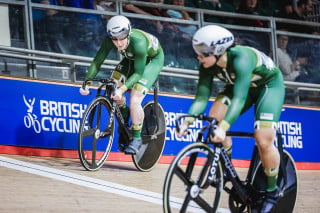 It was Finucane that remained fierce in her rides to win in straight sprints, while Lauren Bell took third after overcoming Ridge-Davis.
Finucane said: "Honestly it feels amazing. I came into this national championships going through the processes and leaving everything on the track and I feel like I really nailed that. I'm really proud of what I've done today, especially with the group of girls I was with – we all did really well so it made it so exciting. It's really special to do it in Newport as well and to do it in front of a home velodrome in front of friends and family as well so I'm really happy."
Men's individual pursuit
Charlie Tanfield took home the red, white and blue jersey after a lightning-fast individual pursuit final.
Michael Gill (WattShop) qualified fastest in 4:13.774, with Tanfield (Saint Piran) second in 4:15.058, but Tanfield fought back in his second ride, clocking 4:11.740 to take the honours.
Josh Charlton qualified third ahead of his Saint Piran teammate Will Roberts to set up the bronze medal battle, but it was Roberts who prevailed in the final by a second.
After the win, Tanfield said: "To come back from being a bit down this morning, it felt really good to come back. It's really good and good racing before Euros. I can build on this and I hope to go even better at Euros. It was more of a mental battle than anything today and I'm really happy to take home the jersey. A national title never gets old and I'm really happy to take home another one. I'll definitely treasure it."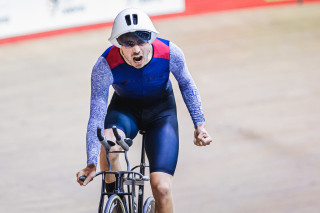 Women's individual pursuit
Neah Evans was undeniably the strongest rider in the women's individual pursuit, retaining her title for another year.
Evans (Team HUUB) qualified fastest in 3:22:861 – the only rider to go under 3:30 – while Ella Barnwell (Team Inspired) clocked 3:30.577 to set up the gold medal final.
Evans showed her strength to catch Barnwell in the final, and rode on to clock 3:24.100.
Scottish champion Kate Richardson (Team Inspired) made it to the bronze medal ride off, just 0.2 seconds ahead of Frankie Hall (Loughborough Lightning) with a time of 3:35.587. However, Hall showed her tenacity to beat Richardson by a second for the bronze, securing her first national medal.
After her win, Evans said: "I'm absolutely delighted. It's one of these things where I knew I'd been training really well and I hadn't done a huge amount on the track, which was always the plan. It was a little bit of an unknown coming into it and I surprised myself with the time. Yes, I've got bigger targets this year, but it's always nice to come to nationals and take away the title."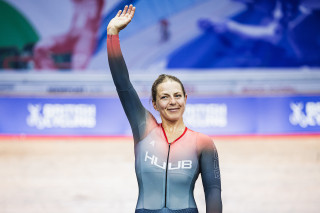 Para tandem sprint
Thomas Wing and Joshua Dunham qualified first with a time of 11.106 in the men's tandem para-sprint, and took home the gold after beating Mason Bradley and Loz Staples (Born to Bike Racing Team) in the final. Amy Cole and Lizzie Jordan clocked a time of 11.925 in the women's event.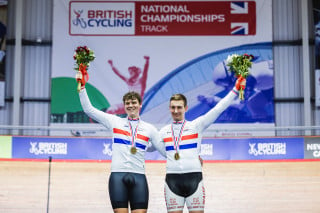 Men's team sprint
Team Inspired's Marcus Hiley, Harry Ledingham-Horn and Ed Lowe were crowned team sprint national champions after clocking the fastest times all day.
The trio qualified quickest in 44.889, but were able to go even faster still in the semi-finals with 44.060. In the final, they faced their Great Britain teammates Matt Rotherham, James Bunting and Hayden Norris (North West Region), who took home the silver with Oliver Aloul, who also rode in qualifying.
Glasgow Track Racing Team were the best of the rest, with Lyall Craig, Luthias Arthur and Niall Monks taking the bronze.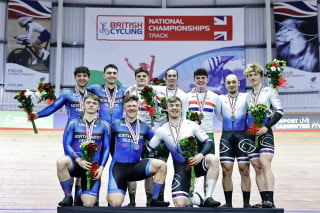 The racing continues tomorrow from 9:00, with medals up for grabs in the women's team pursuit, the para-cycling pursuit, the men's kilo, the men's sprint, the women's keirin, the women's scratch race, and the men's points race. You can watch all the racing on the British Cycling YouTube channel and find out more about the event here.