This week (Thursday 26-Sunday 29 January) will see Britain's best track riders battle it out for the coveted red, white and blue national champions' jerseys as the National Track Championships heads back to the Geraint Thomas National Velodrome of Wales, for the second year running.
The event will see Olympic, Paralympic, and Commonwealth medallists go to head-to-head against the future stars of tomorrow and as we gear up for a packed weekend of racing, here's everything you need to know.
Who is racing?
A strong Welsh contingent will be spearheaded by 2022 world championships medallists Jess Roberts and Anna Morris, who will each compete in the individual pursuit and scratch race, while Roberts will also have her sights on the coveted national champions' jerseys in the points race and team pursuit.
After an impressive bronze medal at the Commonwealth Games, Will Roberts will be hoping to add a national title to his collection in Newport, while former national points race champion and world championships medallist Rhys Britton will also enjoy strong support from the home crowd.
Olympic and Paralympic medallists, including Neah Evans, Jody Cundy, Sophie Unwin, Jenny Holl, Jack Carlin and Katy Nicholls, who makes her return to the sport following the birth of her son Arthur last summer, will also be competing at this year's event.
Elsewhere, look out for Commonwealth Games medallists Sophie Capewell, Emma Finucane, Charlie Tanfield, Hamish Turnbull, and Eluned King. You can find the full rider list here.
Where can I get tickets?
Tickets for the event are on sale here, with seated tickets ranging from £10 - £15 per session. Standing tickets are also available, priced at £5 - £10 and concession prices are available for those aged under 16 or over 65.
Within the venue we'll have a range of catering options available for spectators, so bring the family for a fantastic day of racing and an opportunity to watch some of Britain's biggest names do their thing! Tickets can also be purchased at the venue.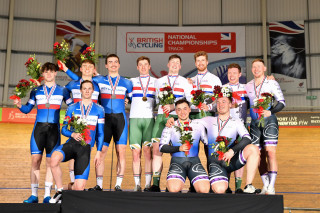 Can I watch from home?
Yes! We're delighted to be able to bring you live coverage from the event through the British Cycling YouTube channel.
What's the schedule?
Want to make sure you don't miss your favourite event? Here's the schedule for the weekend:
Thursday: Closed qualifying session.
Friday session 1 – 10:00 start: Women's sprint, para-cycling sprint final, men's individual pursuit, men's team sprint, women's individual pursuit.
Friday session 2 – 19:00 start: Women's individual pursuit final, men's individual pursuit final, men's team sprint final, women's sprint final.
Saturday session 1 – 9:00 start: Men's sprint, women's scratch race, men's points race, women's team pursuit final, para-cycling pursuit final, men's kilo final.
Saturday session 2 – 19:00 start: Men's sprint final, women's keirin final, women's scratch race final, men's points race final.
Sunday session 1 – 8:30 start: Men's team pursuit, women's team sprint, women's points race, men's scratch race, para-cycling time-trial final.
Sunday session 2 – 13:30 start: Women's team sprint final, men's keirin final, women's 500m final, para-cycling scratch race final, men's team pursuit final, women's points race final, men's scratch race final.
The full day-by-day schedule can be found here.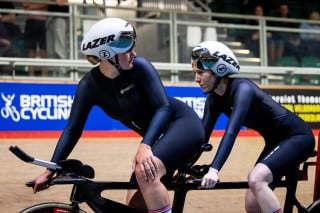 The venue
Renamed in 2018 following Geraint Thomas's Tour de France victory, this is the second time that the venue has hosted a senior national championships after a successful championships in March last year. The 250m track and its 42-degree banking is well-known to many of Britain's Olympians and Paralympians, after playing host to Team GB and Paralympics GB holding camps.
We're expecting a raucous welcome from the fans in the stands, with a strong contingent of local riders competing on their home track!
Chief Executive of Newport Live, Steve Ward, said:
"We're delighted to host this event once again at the Geraint Thomas Velodrome. With an impressive list of riders competing, including a strong Welsh contingent, it's going to be a fantastic weekend of racing for both the riders and fans, whom we look forward to welcoming."
Get involved!
Whether you're in the stands in Newport or cheering on the riders from home, we want to hear from you! Send us your predictions, pictures and highlights using the hashtag #TrackChamps. You can find us on Facebook at /britishcycling and on Twitter and Instagram @BritishCycling.