Jack Carlin and Fin Graham completed emphatic clean sweeps to end the 2022 British National Track Championships in Newport, as 11 more national titles were awarded on the fourth and final day of competition.
Tokyo silver and bronze medallist Carlin began the day's keirin competition in fine form, looking to add to his individual and team sprint titles from earlier in the weekend.
In a hotly-contested final alongside team-mates Joe Truman, Hamish Turnbull and Hayden Norris, plus kilo winner Matt Rotherham and Daniel Cooper, Carlin showed his strength to establish an advantage on the group in the final lap and held off reigning champion Truman to take the win. The third and final place on the podium was taken by Turnbull.
Such was Carlin's dominance across the weekend that he finished without losing a single race or leg across each of the three competitions.
Afterwards, he said:
"As a team, we're looking strong, we've got a couple of younger riders coming through, which is promising, and it's looking good for the Nations Cup next month.

"At the end of the day, we all love racing and we're here to win. We're friends off the track and competitors on it and we had good fun this weekend - there wasn't much pressure coming into it so it was nice to come away with three titles."
BUY UCI TRACK NATIONS CUP TICKETS
In the afternoon session Fin Graham also made it a hat-trick of national titles with victory in the Men's C3 1,000m Time Trial (ahead of Colin Wallace and Henry Urand), adding to his earlier successes in the C3 Pursuit and Mixed Scratch Race.
Lora Fachie MBE (piloted by Georgia Holt) followed up her tandem sprint success by winning her second title of the weekend in the Women's B 1,000m Time Trial, with Sophie Unwin (piloted by Jenny Holl) second and Nia Holt (piloted by Amy Cole) third. Daphne Schrager also doubled up with a win in the Women's C1-3 Time Trial, ahead of Katie Toft in second.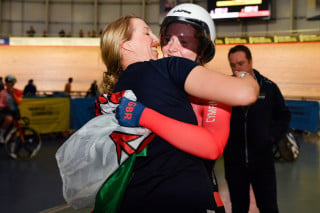 Team events
After a phenomenal weekend in the individual events, Team Wales added the fourth and fifth titles to their tally with thrilling victories in the Men's Team Pursuit and Women's Team Sprint.
Coming up against Team East Midlands (Jack Brough, Kyle Gordon, William Perrett and Tom Ward) in the team pursuit the advantage switched between the two finalists throughout, but with a raucous home crowd behind them the quartet of Josh Tarling, Joe Holt, Harvey McNaughton and William Roberts proved just too strong in the final stages, with a winning time of 4:00.541. It was Tarling's second title of the weekend after victory in the Points Race last night.
In the battle for bronze Fensham Howes – MAS Design (Alex Beldon, Matthew Brennan, Jed Smithson and Ben Wiggins) caught a young VC Londres team (Ed Bowley, Luke Goodwill, Owen Prenelle and Conor Williams) in just over two minutes.
In the Women's Team Sprint the Team Wales trio of Rhian Edmunds, Emma Finucane and Lowri Thomas qualified fastest with 48.755, ahead of Team Breeze in 49.077. After progressing through their semi-finals the two teams then met in the final, where Team Wales maintained a narrow lead throughout and took the national title.
Afterwards, Finucane said:
"It was a really good ride from us. We were really happy to get a PB in every ride. It's just nice to get this jersey."
Thomas added:
"It's absolutely insane - the crowd has been wicked all weekend. It's really exciting to come here and win."
Para-cycling events
Sam Ruddock took the win in the Men's C1-2 1,000m Time Trial, ahead of Matthew Robertson and James Crossley. Blaine Hunt overcame Martin Hailstone to win the Men's C4-5.
Wales Racing Academy's Alex Pope (piloted by Stefan Lloyd) emphatically won the Men's B 1,000m Time Trial by a margin of more than 15 seconds, with Brad Gauntlett (piloted by Tim May) second and Nadeem Mughal (piloted by Alex Cook) third.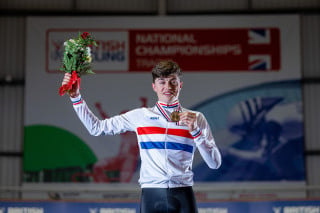 Women's events
Ellie Stone capped off a sensational weekend by adding the Women's 500m Time Trial title to last night's keirin crown. Her time of 34.529 saw her take pole position with only two riders to come, and despite her best efforts Lauren Bell stopped the clock on 34.584, sealing the title for Stone by the narrowest of margins. Last night's keirin runner-up, Emma Finucane, was third.
After victory in the individual pursuit and third place in last night's Scratch Race, Tokyo silver medallist Neah Evans ended the weekend on a high with a commanding performance in the Points Race, gaining two laps on the field on her way to 64 points.
Neah was a dominant force throughout, scoring in six of the eight sprints, including maximum points in three. Jenny Holl won four sprints and gained a lap of her own alongside Evans and Anna Morris to seal second with 42 points, while Morris took third with 26.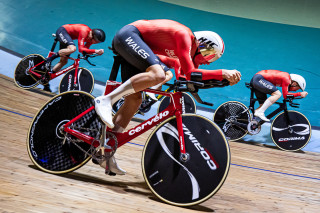 Men's scratch race
The final race of the championships was won by Will Tidball of Team Inspired, breaking clear from a group of six in the final lap to claim the national champion's jersey, with Oscar Nilsson-Julien second and Josh Giddings completing a Team Inspired 1-2-3.
Full results from the weekend can be found here, and you catch up on all of the action on YouTube here.