Dan Bigham added a sixth national title to his growing collection with victory in the individual pursuit on day one of the British National Track Championships in Newport, after breaking the national record in qualifying earlier in the day.
Returning to the track after his British Hour Record success in October last year, he qualified fastest by more than three and a half seconds over the 4,000m, setting up a gold medal ride against friend and former team-mate Charlie Tanfield. Despite Tanfield shaving a second off his qualifying time, Bigham led throughout in the final to take a commanding victory.
Afterwards he said:
"We're all good mates and we've lived together on and off for the past five years. You want them to do well and I'm glad that they do - seeing Charlie back up that well and knocking out 4:07 is really impressive.
"I'm quite happy with how it's panned out. Being able to focus on it meant that everything came together really nicely.
"My next race is the national time trial championships in June, and I might sneak in Lincoln. Off the back of that, Commonwealth Games, the Hour Record and world time-trial champs."
The bronze was taken by Kyle Gordon in 4:14.589, following victory over Michael Gill.
The first medal of the championships was awarded to Lora Fachie, piloted by Georgia Holt, as the pair began their new partnership in style with victory in the women's tandem sprint in straight rounds. A gold medallist at the Rio and Tokyo Paralympic Games in the individual pursuit, this was a rare foray into the world of sprinting for Fachie, and the pair go again in the kilo on Sunday. Nia Holt and Amy Cole took the silver.
Afterwards Fachie said:
"I'm not known for my sprinting ability so yeah, it was good. It's nice when you keep it a bit fresh and try new things.
"There's always the buzz of winning, you know, that's why we do it, and any race is the same. I think the day you don't get a buzz is the day that it's time to retire."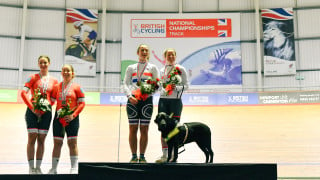 Tokyo silver medallist Neah Evans qualified fastest in the women's individual pursuit with a time of 3:29.083, setting up a gold medal final against Anna Morris, who qualified second just under a tenth of a second slower, in 3:29.175.
Evans however still had more in the tank, and shaved off another half of a second to take the national title with a time of 3:28.470, having led Morris throughout. In the battle for bronze, Kate Richardson edged out Sophie Lankford with a time of 3:35.566.
Double Tokyo silver medallist Fin Graham won an entertaining Paracycling Mixed Scratch Race, with a blistering final lap proving too much for Will Bjergfelt in second and Martin Hailstone in third. Graham will look to make it a double tomorrow in the Men's C1-5 Individual Pursuit.
The Team Inspired quartet of Jack Carlin, Ali Fielding, Joe Truman and Hamish Turnbull took a commanding victory in the Men's Team Sprint, first qualifying fastest in 43.738 and then catching their opponents SES Racing en route to victory in the semi-final with a time of 44.342.
Team East Midlands (James Bunting, Marcus Hiley, Harry Ledingham Horn and Hayden Norris) were their opponents in the final, but were unable to stop Team Inspired, who took the victory by just over a second. Glasgow Track RCA took bronze with victory over Enhanced.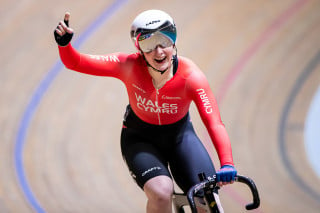 The final national champion's jersey of the night went to Rhian Edmunds of Wales Racing Academy, who battled to a thrilling victory over defending champion Sophie Capewell in a deciding leg.
Having defeated both Milly Tanner in the 1/8 final and Lowri Thomas in the semi-finals in straight legs, she then took a 1-0 lead over Capewell in the final. However, Team Sprint world championships bronze medallist Capewell battled back in the second to even things up and set up a decider in the final race of the day.
With a home crowd behind her Edmunds dug deep to take the victory, before a victory lap draped in the red dragon.
Emma Finucane took bronze with a straight legs victory over Lowri Thomas.
Full results from day one can be found here, with more information on the rest of the weekend's action here. You can also watch all of the action from day one on YouTube here.