One of British track sprinting's rising stars, Emma Finucane, has her sights set on a first senior national medal at January's HSBC UK | National Track Championships.
Finucane has underlined her enormous potential with European titles and world medals at junior level this season, and hopes to continue that progress in what will be her final year as a junior this winter.
She will take to the start line in the sprint, keirin, team sprint and 500m time trial at the national championships in Manchester at the end of January, and believes that the challenge of taking on the country's best senior riders will be a valuable one.
"This will be my second senior nationals – the atmosphere last year was amazing, and I managed to come away with fourth in the 500m which I was really happy with," she says.
"This year I just want to do my best. A podium would be amazing, however there is so much talent in Britain that it will be a difficult task given that I'm still only 17. It's an opportunity to learn a lot whilst racing against some of the best in the country, so I hope to produce some good times and see where my results place me."
Despite her tender years, Finucane's name is familiar to those who follow women's sprinting, with her junior international success making her one to watch for even the most established of riders.
Of her international medal haul, she says: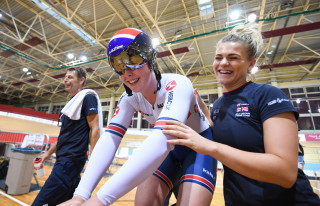 "I didn't really have any expectations this year – I just wanted to learn about racing internationally – so to achieve a European title and two silver medals, then two bronze medals at worlds was both overwhelming and exciting.
"Beyond nationals, I hope to compete in the world and European championships again this year in my final season as a junior. I'll go to both events with expectations this time, and hopefully all the hard training will pay off."
Looking beyond this season, there is no shortage of inspiration for a young British female sprinter to look up to. After Victoria Pendleton's medal-laden career came to an end, both Becky James and Katy Marchant carried the momentum forward by medalling at Rio in 2016, and Finucane says she is driven by the prospect of emulating the successful riders of the past and present.
"From a young age, I was always inspired by Becky James, who was such an accomplished rider. There are so many British riders who are role models, though, such as Katy Marchant and Sophie Capewell. I've always looked up to sprinters who have gone from a high standard as a junior and translated that into senior success, such as Lauren Bate.
"Also, riders like Milly Tanner and Blaine Ridge-Davis, who both transferred from different disciplines and sports. Milly has taken part in the recent world cups alongside Katy and Sophie, and I've loved watching – it motivates me to one day be competing at that level!"
The HSBC UK | National Track Championships take place in Manchester during the weekend of January 24-26. Tickets are available here.