Ellie Stone and Zoe Backstedt both claimed their second titles of the week on day 3 of the National Youth and Junior Track Championships.
Stone (Black Line) secured a sprint double by winning the 500m time trial, while Backstedt teamed up with sister Elynor (both Storey Racing) to win the junior women's Madison. Kinga Ingram (Halesowen A & CC), Alfie George and Lewis Askey (Discovery CC), Max Poole (Bike Box Alan) and Jack Comery (Team Terminator) were also among the winners on the middle day of competition in Newport.
On paper, the Backstedt sisters looked hot favourites for the Madison title, and so it proved, as they dominated proceedings from the off. They won six of the opening seven sprints, with Cycle Team OnForm's Eluned King and Sophie Lewis the only other pairing to register a sprint win.
They also claimed the final sprint, but the Backstedts had already long since wrapped up gold, finishing on 55 points. King and Lewis won silver with 30, and Ella Barnwell and Amelia Sharpe (Liv CC-Halo Cycles) bronze with 18 points.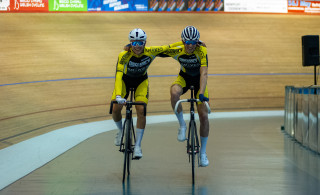 Stone won her second title of the week, with Serena Natt (DIMASCIO) again having to settle for silver behind her.
The two were paired against each other in heat six of nine of the 500m time trial, with Stone stopping the clock at 35.302. This time remained unbeaten over the final three heats, ensuring that Stone won gold, and Natt silver in 36.317. Elizabeth Winton (Stirling BC) took bronze in 36.421.
Ingram proved a popular winner of the girls' under-16 scratch race, powering away in the closing stages of the race as her rivals hesitated.
She attacked early on in the race, only to be reeled in by the pack. With six laps left she went off the front again, and with her competitors waiting for each other to launch a counter-attack, was able to get away.
Elodie Gage (Wolverhampton Wheelers) emerged from the pack with three laps remaining, but didn't quite have enough to catch Ingram, who took gold. Gage claimed silver and Flora Perkins (VC Londres) bronze.
In the men's junior Madison, George and Askey won what proved to be a fiercely-fought battle.
The pair started strongly, winning the first sprint, but it was Max Rushby and Sam Watson (Hospital Giant CT) who seized the early initiative and opened up a gap over the rest of the field.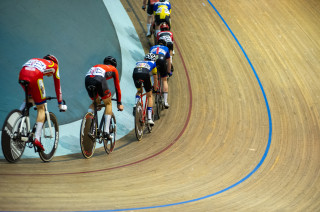 Askey and George took back control in the middle section of the race though, winning three sprints in row and gaining two laps to establish a gap which would prove to be insurmountable for their competitors.
VC Londres' Oscar Nilsson-Julien and Jack Rootkin-Gray also took two laps on the field on their way to silver, 16 points behind the winners. Rushby and Watson finished a further 23 points back in third.
Comery's win in the junior keirin was a second of the week for Team Terminator, who are enjoying a solid championships.
Second place went to Jamie Penny (Glasgow Cycle Team) with his team-mate and defending champion Jack Cruden finishing fourth. Harry Ledingham-Horn (Lyme RC) made up the podium positions.
A strong performance from Poole saw him take the boys' under-16 points race title. Poole was one of 10 riders who took a lap, but also crucially turned in some impressive performances in the sprints, winning two and scoring highly on the final double points sprint to amass a total of 36.
His winning margin was eight, ahead of Jack Brough (MI Racing). Welwyn Wheelers' Jo Kiely won bronze with 26 points.
The championships continue today.
Day 3 - Results
Gallery