Katy Marchant completed a quadruple of sprint titles on the final day of the 2015 British Cycling National Track Championships as Laura Trott secured a hat-trick of her own.
Marchant added the 500m time trial title to her sprint and keirin victories at the National Cycling Centre before winning the team sprint with Jess Varnish.
Double Olympic champion Trott delivered a tactical masterclass to take the points race, having already collected gold medals in the scratch race and individual pursuit.
Marchant and Varnish saw off the challenge of Shanaze Reade and Vicky Williamson in the gold medal final as Eleanor Richardson and Helen Scott won bronze.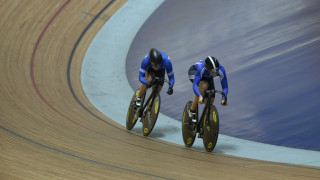 'We've worked really, really well as a team," Marchant said.
"It would be nice to get a fresh performance and see how we go on, but obviously we've done a lot of rides today and the last few days have been pretty hefty.
"But each ride got quicker and quicker and so did Jess's, which is ultimately what we set out to do.
"So we're really, really happy. I don't know how my legs have still got it in them! I think my lap was a PB, so I'm really, really happy with that."
Earlier Marchant confirmed her excellent form by setting a winning time of 34.496 seconds over the two laps in the 500m time trial.
Williamson was second in 34.743 seconds with Scotland's Richardson picking up the first of two bronze medals in 35.960 seconds.
Trott once again saw off a determined challenge from Archibald in the 30km scratch race.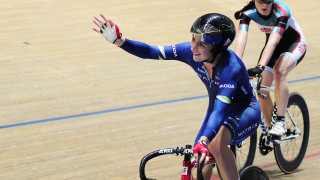 It was third occasion in three days that the duo has been on the top two steps of the podium – the individual pursuit and scratch race the previous two - each time Trott edging close contests.
Both riders gained three laps on the field but it was Trott who won five of the 12 sprints on her way to 100 points to Archibald's 88.
Emily Kay impressed to take the bronze medal on 80 points.
"My legs aren't feeling so great now but during the race I absolutely loved it! I need the confidence boost before Rio."
"I've been working really hard on group races and the strength and speed side of things. For me to be able to put a race together like that has given me the confidence boost that I need, and proved to myself that I can go out there and race the way I want to race, rather than be controlled by everybody else."
Gallery
Philip Hindes, Jason Kenny and Matt Crampton had too much quality in the men's team sprint to defeat Peter Mitchell, Matthew Roper and Tom Scammell in a time of 44.001 seconds to 46.763 seconds.
Matt Rotherham, Jack Payne and Tom Rotherham collected bronze in 46.242 seconds against Jonathan Biggin, Jack Carlin and Jonathan Mitchell.
"Today was really good," said Crampton, who also won the keirin title.
"It's difficult to get good hit-outs as a team, but we've all got reasonable form and this means something. We all did consistent laps and have something to build on now.
"There's a big selection criteria for man three, so it's good for me personally to have three bites at the cherry. We've got to go faster and faster and keep improving."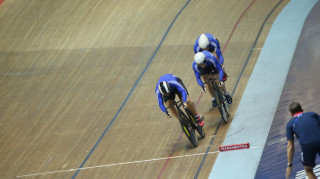 In the men's team pursuit, 100%ME successfully defended the title by making the catch in the final.
Germain Burton, Jake Kelly, Mark Stewart and Oliver Wood started and caught Scotland Development's Peter Anderson, Tom Arnstein, Philip Trodden and Ruari Yeoman in 3:05.704.
The champions continued their ride and stopped the clock in 4:06.481.
Scotland Juniors' Andy Brown, Tom Chandler, Angus Claxton and Lewis Mulholland won bronze, defeating NAB Racing in 4:17.795.
Stewart's day was to get even better as he took a second gold with an excellent victory in the men's scratch race.
Stewart, Jon Dibben, Chris Latham, Germain Burton, Matt Gibson and Tristan Robbins all took two laps on the field before Burton made a move off the front inside the last 10 laps.
Stewart waited before launching his own offensive on the penultimate lap with Jon Dibben the only rider who could respond to take silver.
Chris Latham collected bronze.
"It's been a really long weekend, there was a lot of tired legs!" Stewart said.
"It's gone really well. The level, especially with the GB academy guys, has really gone up this year, so I came here knowing that it was going to be tough. But we all want to win it and everyone goes in pretty motivated."
Results