The opening two rounds of the 2023 National BMX Racing Series at Cyclopark in Kent saw back-to-back Championship wins for 15-year-old Freia Challis, while Ed Moore and Cal Strickland secured victories in the Superclass category.
We were pleased to be able to provide live coverage from both rounds this weekend by teaming up with BMX Race Hub, and you can catch up on all the action on YouTube here.
Round 1
The first round of the series saw Freia Challis (Radio Box) in a dominant mood, with a clean sweep across all four motos to take an easy victory, on what was the 15-year-old's debut in the Women's Championship category. Elsa Rendall-Todd (DC Cycles) secured a commendable second place, on what was also her debut, while Sienna Harvey (Crucial BMX) finished in third place.
In the Superclass category, it was Ed Moore (Crucial BMX) that had the edge after a close battle with Quillan Isidore (Pure) to take the win, while Matthew Hutt (Concept Meybo) rounded off the podium in third place.
Afterwards Moore said: "I was happy to have lane one and I didn't expect to beat Quillan down the first straight as I've been trying to get over some recent injuries. I got some good acceleration coming out of the second corner so my third straight was perfect, and then I spotted the gap going into the last berm and was able to make the block pass stick and go on to take the win which I was very happy about."
In the Junior Men's category Ben Cornish led for most of the race, coming quickly out of the gate with some amazing speed, until Taylor Hunt (Crucial BMX) was able to squeeze through a gap after the last berm and pass Cornish down the final straight, securing the win. Ned Penny finished in third place.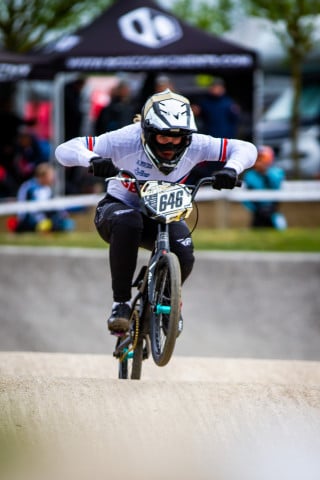 Round 2
Challis was even quicker on the second day in Kent, and just as formidable in winning all of her motos, capping off a perfect start to racing in the Women's Championship class.
Afterwards she said: "I had a big winter of training leading up to this season as it's my first year racing in this category. I went in with no expectations and just wanted to go and have fun and so I'm over the moon with the results. I managed to get clean laps throughout the weekend, and I can't wait for the rest of the season, mixing it with the best women in the UK - it's going to be a fun season ahead!"
The Superclass final got off to a chaotic start, with Isidore and Moore both crashing out at the same time to leave the race wide open. Cal Strickland (Staystrong) managed to stay clear of trouble and keep composed to go on to take the win, while George Hunt took second place and Birmingham rider Jos Marnham came in third.
Strickland said: "I wasn't really pulling with the top guys this weekend so I was a bit out of the way. I saw and heard riders getting blown off to my right in the first straight but didn't expect it to be more than one rider so I was surprised to find myself leading.
"I came within an inch of crashing down the pro set on two occasions due to strong gusts of wind, and after that it was just a case of hanging on. Luckily I had a big enough lead towards the end, so my current lack of lap fitness wasn't an issue."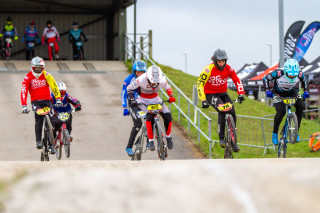 The Junior Men's final saw a pile up in the first berm after Absolute teammates Penny and Harrison Collis made contact with each other and took out all but the two riders up front. It was a very close battle between Hunt and Cornish, but it was to be Cornish that secured his second victory of the weekend. Harry Tanner (GT Bicycles) rounded off the podium to finish in third place.
The series will resume in June when Manchester's Platt Fields will play host to rounds three and four. You can find the full series information here.
Podium places
Round 1:
Superclass
Eddie Moore
Quillan Isidore
Matthew Hutt
Mark Fletcher
Cal Strickland
Dean Reeves
Joel Clarke
Jos Marnham
Championship Women (17+)
Freia Challis
Elsa Rendall-Todd
Sienna Harvey
Ava Brown
Theia Gaynor
Evie Webster
Morgan Haslam
Charlie Hartwell
Junior Men
Taylor Hunt
Ben Cornish
Ned Penny
Ben Fitzsimmons
Harvey Fawcett
Harrison Collis
Adam Gilbert
Harrison Bell
Round 2:
Superclass
Cal Strickland
George Hunt
Jos Marnham
Matthew Hutt
Joel Clarke
Mark Fletcher
Championship Women (17+)
Freia Challis
Elsa Rendall-Todd
Sienna Harvey
Theia Gaynor
Ava Brown
Evie Webster
Charlie Hartwell
Betsy Bax
Junior Men
Ben Cornish
Taylor Hunt
Harry Tanner
Charlie Roy
Harrison Bell
Casey Markley