Birmingham BMX Club played host to the final rounds of the 2022 National BMX Racing Series, with Ross Cullen and Emily Hutt securing incredible double victories in Rounds 9 and 10.
Round 9
Round 9 of the series kicked off on Saturday with a rocky start after an issue with a gate caused a long delay. But it did not dampen the spirits of the volunteers and riders, who were excited to get racing under way.
Great Britain rider Ross Cullen was easily the star of the Superclass category, showing lightning speed and skill to take the win ahead of Callum Russell. Local Birmingham rider Chad Hartwell rounded off the podium in third place to the delight of the home crowd.
Beth Shriever dominated the Championship Women motos with back-to-back wins before unfortunately having to pull out of the event for extenuating circumstances, leaving Emily Hutt room to shine in the final race. Hutt fought a close battle with Morgan Haslam, taking it to the line to steal the win, while Markella Houli finished in third.
The junior men category saw Alexander Talbott take the win after passing Mark Fletcher down the third straight, while William Goode finishing in third place.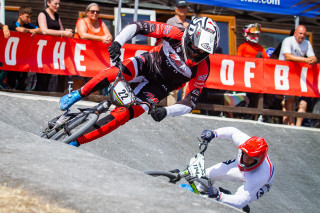 2022 BMX National Series Rd9 Results
Superclass
1st Ross Cullen
2nd Callum Russell
3rd Chad Hartwell
4th Eddie Moore
5th Dean Reeves
6th Jos Marnham
7th Oliver Moran
8th Cal Strickland
Championship Women (17+)
1st Emily Hutt
2nd Bethany Shriever
3rd Markella Houli
4th Charlie Hartwell
5th Morgan Haslam
6th Lily Chiziwa
Junior Men
1st Alexander Talbott
2nd Mark Fletcher
3rd William Goode
4th Bradley Russell
5th George Hunt
6th Adam Gilbert
7th Casey Markley
8th Spencer Gibson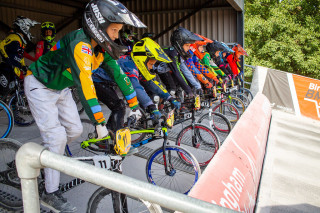 Round 10
Cullen again showed his domination with another win in the Superclass category but was closely followed by Hartwell in second. Ed Moore had a slow start out of the gate, but bravely fought back to finish in third place.
Hutt also secured another win after finishing first in all four motos, demonstrating her consistent strength. Still a junior, Hutt has a bright future, having secured a European junior silver medal earlier this summer. Hutt was followed by Staystrong rider Betsy Bax for an impressive second place ahead of Birmingham rider Haslam.
In the junior men's races, George Hunt led the final from start to finish, while it was another close fight between Talbott and Fletcher to see them finish second and third respectively.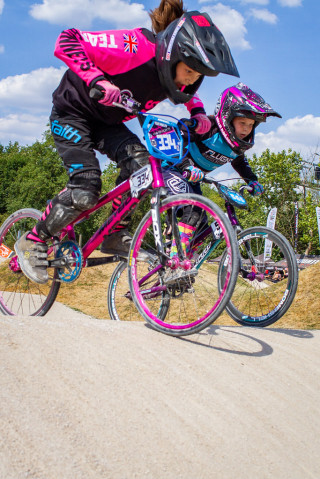 2022 BMX National Series Rd10 Results
Superclass
1st Ross Cullen
2nd Chad Hartwell
3rd Eddie Moore
4th Cal Strickland
5th Dean Reeves
6th Jay Bovill
7th Callum Russell
8th Jos Marnham
Championship Women (17+)
1st Emily Hutt
2nd Betsy Bax
3rd Morgan Haslam
4th Charlie Hartwell
5th Lily Chiziwa
Junior Men
1st George Hunt
2nd Alexander Talbott
3rd Mark Fletcher
4th Bradley Russell
5th William Goode
6th Adam Gilbert
7th Casey Markley
8th Charlie Roy