Last year's Superclass runner-up Eddie Moore says he is 'feeling in great shape' ahead of this season's HSBC UK | BMX National Series.
The series gets under way with the traditional opener at the HSBC UK National Cycling Centre across the weekend of March 7 and 8.
Moore took victory in round 1 last year, the first ride of a strong season which saw him finish second only to Curtis Manaton in the overall Superclass standings.
This year, he is out to improve on that, despite suffering setbacks over the winter off-season.
He says:
"My winter training has been challenging. I've had a couple of setbacks with illness and injury, and the weather has stopped me riding a lot, as I live down in Devon.
"However, I've come back from those setbacks, done a lot of gym-based work and sprints, worked hard, and I'm feeling in great shape – better than last year.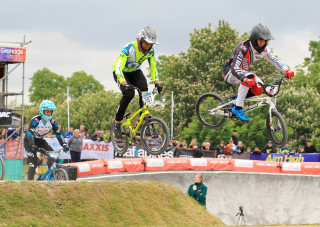 "Ahead of the opening rounds in Manchester, I've managed to get a Monday session on the track, and raced Racing Under the Roof – both of which have been very important, as I've benefited a lot from having access to the 8m start ramp. I'm feeling confident for the first rounds there now."
Manaton and Moore led a leaderboard which included the likes of Kye Whyte, Paddy Sharrock, Quillan Isidore and Ross Cullen last year, and while Moore acknowledges the strong standard of riders currently competing, he has clear aims for improvement this year.
He adds:
"The standard of riders in the UK is very high at the moment, and it would be good to get more opportunity to race against each other.
"Personally, my aims for this season are to win the British and national title, and to improve on my previous world cup results. I'm still young, so I think I will definitely improve a lot in the years to come."