Kye Whyte and Beth Shriever dominated racing in Peckham for rounds seven and eight of the HSBC UK | National BMX Series.
Whyte was locked in a fierce battle with Curtis Manaton, fighting hard for the top spot all weekend, both riders taking taking two wins each in the motos meant it was all to play for in the finals.
Kye took the holeshot on the final race off with Manaton looking to make a move on the first berm, but was unsuccessful leaving him in chase mode as Whyte rode off unchallenged making it two wins out of two for the GT rider.
Round seven saw Bethany Shriever once agin dominate the championship women class, with a clean sweep across the board, leaving Charlotte Green chasing her down for second and young rider Emily Hutt taking third.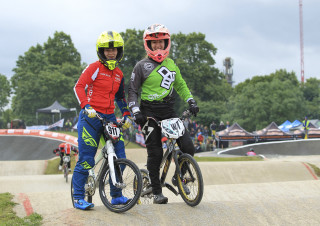 Shriever failed to start round eight due to unforeseen circumstances. Charlotte Green made the final her own, leading from the front and winning by a comfortable margin.
Meanwhile Emily Hutt had a good race battling for second just edging out Markella Houli on the final straight.
All the drama and excitement came from a packed junior men's field. Round seven saw Matt Hutt and Chad Hart taking it to the wire with Hutt taking the win, Hart second and Callum Russell third.
Round eight and it practically came down to last man standing, Hart chased as Hutt battled hard to take back control of the race and on the final berm made a very decisive move. It'd didn't come off leaving both Hutt and Hart on the floor.
Tyreese Bradshaw who had been chasing in third managed to miss the carnage and took the win.
Alex Reade was the only other rider to stay upright as everyone else became entangled in the crash and went on to take second, while Joel Clarke was the quickest to get back on his bike finishing third.