Bethany Shriever and Curtis Manaton proved themselves to be up to the task of a new track as both doubled up with victories in the HSBC UK | BMX National Series in Glasgow.
The pair were competing on a tough and technically difficult course, built for this summer's European Championships, showing their class as standouts in both rounds seven and eight of the series.
Shriever back to her best in Glasgow
A World Cup winner in Zolder last month, Shriever's stint at the World Championships in Baku didn't go quite to plan earlier this month.
But she bounced back in style in Scotland as she continued to dominate the UK scene with her rapid, smooth and controlled ride keeping her ahead of the competition.
Despite the inclement weather and soft track, the 19-year-old took control of all her motos and both finals to take a clean sweep of the weekend.
Emily Green stepped up the plate behind Shriever to take the runner-up position on both days, with Lauren Stack delighted to finally grab third place in round seven.
Ellie Featherstone enjoyed a breakthrough moment of her own, taking her first step onto the Championship podium with third place on Sunday.
Shriever said: "That was a great weekend, it went really well for me.
"The main reason to come and race was to come and get some practice in for the Europeans in August.
"I had a bit of a disappointment in Baku so it was good to get stuck in here and get a feel for the track, take a few wins and be able to enjoy it."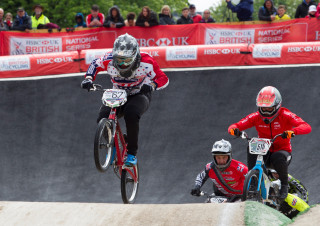 Manaton the man with double success
Once again Manaton showed himself to be in top form over the weekend, looking strong and confident on the new track. Despite a number of consistently strong performances in the motos, he didn't have it all his own way but he kept his powder dry for the finals coming out all guns blazing.
With reservations for the toughness of the new track, the Superclass riders opted to race the amateur section of track rather than the pro section due to conditions – a decision Manaton took in his stride.
Keeping his wits about him despite wheeling out of the start gate in round seven, he quickly took control leading from the front with the battle raging behind him for runner up spots, with Eddie Moore and Paddy Sharrock taking those honours.
The round eight finals saw Manaton once again take the holeshot, keeping his eye on Grant Hill who seemed glued to his wheel ready to take his chance.
A push through the technical third corner into the final straight saw Manaton take it to the line while Hill – continuing his comeback – stormed to second with Sharrock picking up a pair of third places across the weekend.
"It was a great weekend, eventually," said Manaton. "Day one went well, the weather was a bit challenging which made the racing interesting.
"The track is quite technical and only recently completed and quite tough. There are sections that although you've ridden it a few times it just feels like you've never ridden it before. So you have to keep your wits about you.
"This meant you really had to focus on the start with the hill being quite wet.
"I knew I had to pick and choose the right lines and just stay smooth.
"Glasgow delivered some really good racing. The track is definitely challenging and should prove a worthy track for the Europeans in August."
Results
Round 8 - Women
1. Bethany Shriever
2. Emily Green
3. Ellie Featherstone
Round 8 - Men
1. Curtis Manaton
2. Grant Hill
3. Paddy Sharrock
Round 7 - Women
1. Bethany Shriever
2. Emily Green
3. Lauren Stack
Round 7 - Men
1. Curtis Manaton
2. Eddie Moore
3. Paddy Sharrock
Gallery