| | | | | | | | |
| --- | --- | --- | --- | --- | --- | --- | --- |
| | Follow britishcycling.org.uk on | | | | | | |

Putting It In Black And White:
Grant White Reacts To BMX Performance Programmes Selection
Posted November 26 2010
Words And Photography By Luke Webber
BMX: Road To 2012
British Cycling's Performance Programmes Explained
Team GB BMX Roster | Join Team GB
Today, British Cycling's selections for the 2010/11 Performance Programmes were released. Luke Webber talks exclusively to British Cycling's Olympic BMX Coach Grant White about the forthcoming year, the role each Programme plays and what it means to be part of the setup.
From a large pile of applications in August, to selection camps in September, the month of November concludes three months of waiting for Britain's most talented BMX racers.
For both Olympians and those dreaming of making the 2020 Games, today represents the start of the 2011 season as their inclusion on British Cycling's Performance Programmes is announced.
And though it has not been an easy series of decisions to make for Grant White - who has chosen a team of 14 riders based on the strict guidelines for making the grade - he does acknowledge the application process is becoming more respected, as the standard of rider accepted onto the Programmes becomes obvious.
"Since the BMX Olympic Programme started in 2007 the standard of athlete has increased, and the standard of applicant has increased. We can see that by looking at key performance indicators. An example of this is the power output of an ODP rider in 2010 is 25% higher compared to 2008 - and with a modest 10% increase in bodyweight. This is a sign that things are moving in the right direction
"So the power to weight is up and our quality of application is up in 2010 - but it would certainly be nice to have more numbers at Olympic Development Programme (ODP) level."
However, should a rider not meet the requirements for the Performance Programmes, a no-closed-door policy is in operation - meaning if future performance targets are met there is an opportunity to join the team, as White explains.
"We have on ongoing reviews - the intention is to have all riders on these Programmes for 12 months, but it is definitely reviewed throughout and the athletes need to keep up their end of the bargain, as we keep up British Cycling's commitment as well."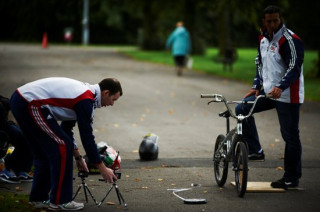 Data matters: Grant White (left) and Jeremy Hayes (right) set a sprint test area in Manchester.
BRITISH CYCLING'S COMMITIMENT
That commitment starts with developing the core skills of future champions at the Talent Team level (riders aged 14-17), through to ensuring Olympic medals are delivered on the Podium Programme - the latter now increasingly becoming the key focus.
"The view is definitely more toward London now, compared to previous years. Last year is when the focus actually started to be introduced, but in these final two years my primary focus is on the athletes who are capable of medals come London, while at the same time ensuring the ODP and Talent Team are still operating and the athletes are still performing along their pathway. To this end our plan is to deal with London, before focussing on 2016, where these kids are going to factor quite highly."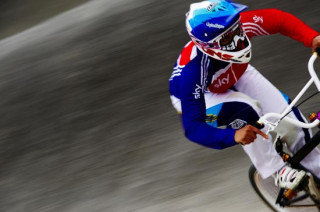 Shanaze Reade: BMX World Champion and 2012 medal contender.
A CHANGING GAME
With this in mind there is the possibility of an extension of the ODP from a three to a four year cycle in 2011, catering specifically for the London Games and the current generation of developing riders.
Because as the curtain raises on London 2012, any rider hoping to successfully apply for the Olympic Academy will need to be a medal prospect - and with this in mind White currently believes it is more productive to extend the ODP age limit by one year, than source a new intake of riders to the Olympic Academy.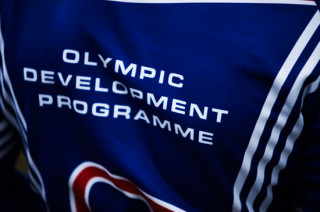 OLYMPIC DEVELOPMENT
For those on the ODP, that will mean continued development in line with the Programme guidelines, which highlight athletes which are perceived to have capabilities to medal in the 2016 Olympic Games. But for this to hold true, White reveals there needs to be a new level of commitment by current ODP riders - something he was keen to reinforce on the selection camp.
"I don't think it is obvious to these riders what it takes to be exceptional, what it takes to be a World Champion or an Olympic medallist. I'd like to say different but I think that's the truth. We had a bit of a session with the ODP applicants on the selection day and we discussed some of these points with them. I think the reaction showed that we need to spend more time on that area and they need to have a good appreciation that at this moment, none are at the top of their class on an international stage.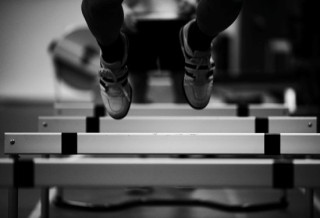 "So if they want to get to that level, they are already starting from a position behind. We talked about how we will bridge that gap and overcome it. So doing a sprint session, or a track session or a gym session here and there isn't going to cut it. It will take consistency; they need to train harder and smarter. It's not going to be easy, but if that's the path and destination that they want to arrive at then it's our role to ensure they have the tools to get that job done."
White explains how the biggest shock for the younger riders came when classroom work started - as the facts were put before the riders.
"I think the biggest shock was the realisation, putting it in black and white. We looked at the bare facts. Strengths and weaknesses, position compared to your competitors, how do you improve and what does it look like to make a substantial change. And when you look at the hard facts like that, taking away all the frills, the wishy washy things...potentially it's a bit daunting."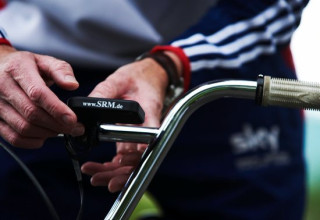 Raw data: It's what's measured, and what determines performance gains.
GETTING DOWN TO BUSINESS
According to White, despite the initial reaction from riders positive feedback followed - something he put down to "refreshing the hunger of the athletes."
"The reality is," White continues "that British Cycling have the philosophy of a medal or nothing at the top end. That means the hard work starts today - even for development riders.
"And it's this message that I will be taking to the newly selected riders on the introductory camps."
Those camps take place in the coming weeks, and British Cycling will be there to document the first days of the 2011 season, for the riders that made the grade.