Follow britishcycling.org.uk on
Report: British BMX Series Rounds 1 & 2
Words By James 'Rooster' Tresman Photography By Richard Robotham
24-25 April 2010, Cheddar

Results Round 1 | Results Round 2 | 2010 BMX Coverage Home | 2010 British BMX Series Home

The opening round of the 2010 Monster Energy British BMX Series saw the traditional mix of brilliant racing, occasional crashes and standout perfomances as over 500 riders took on the Cheddar track. We've got the official video from Corinne Walder, images from Richard Robotham and words from James 'Rooster' Tresman.

I'm exhausted as I type this. Not just from racing, but from a weekend of thrilling action! There are so many highlights it's hard to know where to begin!
How about over 500 entries, the highest we've had at for years? Or 21 riders in Elite Men? What about a stacked Masters class? Throw in the facts that there weren't less than 20 riders in each class from 7 Boys up to 17-24 (30 in 8's!) the weather was beautiful (mostly) and the "BMX Village" made up of team/club tents was brimming, and it's fair to say the 2010 British BMX Series started with a bang!
Cruisers got the early practice (and I mean early, try an 8am start!) and were first on the gate come race time. 15-16's produced some great action, it finished with Groove's Toby Bearne taking the win both days ahead of Cam Howard (Redman/Rockstar) and Bradley Minns (Alan's BMX)
17-29 saw Kieron McAvoy in blistering form do the double. This is a stacked class and will be interesting to watch, as last year's champ, Mark Maddox (UCR/Finelines) gets back in form after an injury hit offseason and other riders like Josh Hanlon emerge. The riders in 30-34 went all out to prove the class isn't the poor relation of 35-39, with Dialled Bikes rider Neil "Hitman" Harbour dominating and ending a 27 year Nationals win drought with victories both days.
The older half of the 30+ Cruiser crowd put on a show of their own, with Paul Eccles (Kuwahara) winning 35-39 on Sat and Redline's Alan Hill getting it done on Sunday. 40-44 saw Intense's Tony Fleming win on Sat (he rode down in 35-39 on Sun) ahead of Karl Sanderson and Kev Blackman. Dialled's Jon Moore took the win on Sun, with Karl again taking second.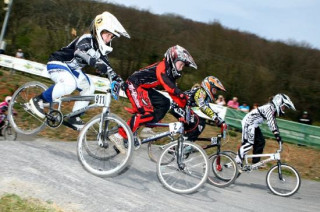 On 20" local boy Jack Hawkins went 1-1-1 in motos both days and bagged the double in 6's, the Preston Pirates certainly started as they left off last year, with Keon Smith McDermott doing the double ahead of clubmate Alex Brookes (Intense/Route 55) in 7 Boys. 8's saw Matt Hutt win ahead of Kobi Joyce on Sat, but Preston were at it again on Sun with Pirate Ryan Brookes getting the win ahead of Ryan O'Laughlin and Kieran Bolton putting in a great performance for third. Kim Baptista was dominating in 9-10 Girls, but clubmate Ellie Chappell (UCR/Finelines) will keep her honest this season with a pair of seconds.
It can be difficult to write race reports of the youth without seeming biased towards the Pirates, but the fact is, their riders keep winning! Ross Cullen (Team Dirtsport) and Finn Hall (Dialled Bikes) battled it out last year, with Finn edging his clubmate. Cheddar saw Ross do the double to add a new twist to the rivalry between these friends. Mason Chidley rides on plate 666. Scary. Good riding though, with fourth and third from the weekend. Lauren Stack (EA/Pure) got the win in 11-12 Girls on Sat but Peckham's Katurah Davidson edged her on Sun. This will be a battle all season. Urbanair's Bethany Campbell doubled in 13-14 Girls and looks like the rider to beat in that class.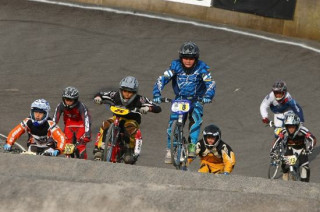 10 Boys and SE's Gideon Orena didn't lose a race all weekend. EA's Ethan Vernon wasn't too shabby either in getting 2nd both days, this one may go to the wire....Paddy Sharrock was his usual self in 13 Boys, amazing berm moves and smooth effortless style, but the wins went to Jimmy Orena (SE) and Jordan Hatcher. Dialled's Quillan Isidore was another rider who didn't lose a race both days in 14's, Dan Pullen was pushed hard by Cemil Sabri in 15's but got the double as did Redline's Jacob Roberts, racing up in 16's, although Intense/Route 55's Jordan Perry and Toby Bearne will be gunning for the top spot.
17-24 was loaded with talent and produced some great action. Profile's Billy Luckhurst took his new mullet to the win on day one, whilst Ash Davey, doing it for Clark & Kent Contractors added a win on Sunday to his second on Saturday. Kieron McAvoy got a second and a third and heads off to the fourcross World Cup in great form. Levi Ashley had a bad off, resulting in a serious ankle injury. He wasn't alone in crashing over the weekend, with Cheddar rated as a tough track and the added intensity of Nationals thrown in.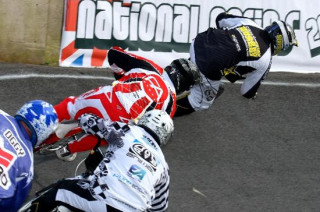 One of the highlights of the weekend was Masters; with the influx of so many big hitters thanks to the realignment of age classes, the racing was outstanding! The B Final on both days could easily have been mistaken for the main, such was the talent that didn't make the cut - Redline's Alan Hill took the B on Saturday, with a factory looking Paul Cope (FreeAgent) taking it on Sunday. Defending champ Matt Barnard (Redman/Rockstar) was a B finalist both days. Taking the glory was Marco Dell'Isola (Stay Strong) with Tony Fleming (Intense) putting in a great performance both days to get a second and a third. This class will be a great one for spectators all year!
Junior Men was without Adam Brazil, Tre Whyte and Kyle Evans who have all moved up to Elite, but this didn't detract from the action. Saturday saw some all out berm warfare as Intense/Route 55 team-mates Jack Hall and Grant Hill were elbow to elbow in the second berm, neither giving an inch. Grant looked to be leaning on Jack, who lent back resulting in Grant exiting the track! Jordan Hayes was the winner though, looking smooth and in control. On Sunday, Grant was fired up and got second, but it was Jordan who put on a show, with a beautiful move in the last berm, entering it third and going high and wide before diving to the inside and pulling down the final straight. Win number two for Jordan.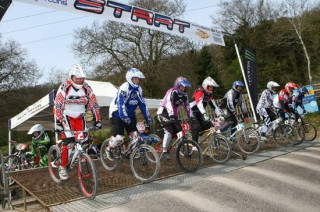 Championship is the new name for Junior Women, but it still features the same tough competition. Charlotte Green powered away from her rivals to win both days, perhaps taking a measure of consolation in winning on the track where she'd lost the Brits by the narrowest of margins last year. EA/Pure's Ria Goodman and Dialled's Emily James look in good form, as does Redline rider Ayesha McLelland.
Elite Men is always the main event and had 20 riders at Cheddar. Defending champ Kelvin Batey (Intense/Route 55) was up against the Ultimate Pro BMX pairing of Liam Phillips, fresh off a good showing at the Madrid SX and Marcus Bloomfield as well as Fastlane's Cal Strickland, Stay Strong's Aussie sensation Darryn Goodwin, GT's Joey Bradford over from the US for a spot of British racing, Intense's Dan Whyte, Groove's Scott Waterhouse, Redline's Tom Palmer and more talent than a Saturday night Simon Cowell concoction.
The planned showcase event of Elite and Junior racing on Saturday evening didn't go to plan, as delays to the action earlier in the day meant the evening events started late. Fading light prompted the race referee to postpone the finals until Sunday. A few cheeky boos from the crowd were silenced by a sweet toboggan over the last jump on the third straight by Darryn Goodwin. I could draw comparisons to a kangaroo but I'll resist that particular temptation.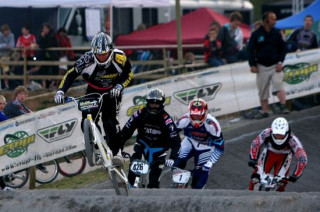 The rescheduled Saturday final saw Kelvin clash with Dan McBride and both go down, neither were at fault, but it ended their race. Nothing was stopping Liam as he tore round the track for the win, Bloomy took second with Lewis Lacey third. Darryn took fourth, followed by Dan Whyte and Scott Waterhouse.
The second final of the day saw Liam double up but in his tracks the fight was a fierce one. Kelvin had Bloomy in his sights and made a move into the last berm, both riders touched with Kelvin coming out of the turn ahead and Marcus losing momentum, leaving the door open for Cal to get by and hold off a fast finishing Darryn for third. Dan McBride took fifth, Lewis sixth and Gabor Deli seventh, with Bloomy crossing in eighth.
So, the first rounds are in the bag! Cheddar certainly started 2010 off well, the series moves on to Derby on three weeks for two more rounds of exciting action. See you there!
Rooster