Prince of Peckham Kye Whyte thrilled his home crowd this weekend as the 2022 National BMX Series continued in Peckham, while Beth Shriever continued to dominate the Championship Women's category with two more flawless days of racing.
National championship races
The 2022 National Championship races kicked off the weekend ahead of the national series action, with five riders taking home the coveted red, white, and blue jerseys.
Shriever claimed the Elite Women's title, while Eddie Moore secured the Elite Men's and Cameron Moore took the Under-23 Men's titles. In the junior categories, Ashton Cooper won the men's title and Emily Hutt was crowned the victor in the women's.
Round 7
Whyte put on a show in Saturday's Round 7 with a typically confident performance, but was pushed hard by Eddie Moore, who finished in second place, followed by a well-deserved third place for Cal Strickland.
A dominant performance again from the Olympic and world champion Shriever saw her win four out of four races on Saturday, with Emily Hutt and Shani Harris-Sherwood battling it out all day long for the remaining spots on the podium, and in the end Hutt claimed second and Harris-Sherwood took third.
In the Junior Men's category, it was Leon Parker-Livesey who got off to a flying start, but due to the windy conditions he was unable to jump the last pro jump, which gave George Hunt the chance to pass in the second berm and go on to take the win. Parker-Livesey just managed to sneak into second place ahead of Spencer Gibson in a tight finish.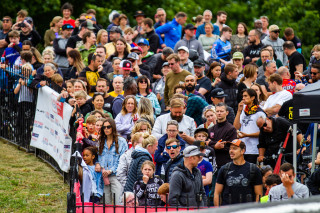 Round 8
In the Superclass category, Moore went one better than Saturday to take the top step of the podium, while Strickland also went one better to take second, ahead of local rider Dean Reeves from Peckham.
Shriever returned on Sunday to win all her motos in style, and it was Hutt and Harris-Sherwood that would again replicate their results from Saturday to finish off the podium.
In the Junior Men's category, it was Adam Gilbert who took the win in Round 8, followed by Parker-Livesey, with Ashton Cooper in third place. George Hunt was lucky to walk away from a huge crash on the last pro jump whilst out in the lead and would go on to take sixth place overall.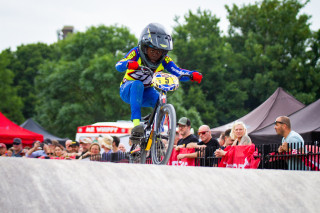 Round 7 Results
Superclass:
Kye Whyte
Eddie Moore
Calum Strickland
Dean Reeves
Joel Clarke
Oliver Cope
Daniel Alvarez
Jos Marnham
Championship Women (17+):
Bethany Shriever
Emily Hutt
Shani Harris-Sherwood
Betsy Bax
Lily Chiziwa
Morgan Haslam
Junior Men:
Leon Parker-Livesey
George Hunt
Spencer Gibson
Ashton Cooper
Charlie Roy
Adam Gilbert
Casey Markley
Round 8 Results
Superclass:
Eddie Moore
Calum Strickland
Dean Reeves
Jos Marnham
Joel Clarke
Oliver Cope
Cameron Reid
Daniel Alvarez
Championship Women (17+):
Bethany Shriever
Emily Hutt
Shani Harris-Sherwood
Betsy Bax
Morgan Haslam
Lily Chiziwa
Junior Men:
Adam Gilbert
Leon Parker-Livesey
Ashton Cooper
Spencer Gibson
Charlie Roy
George Hunt
Casey Markley