---
Work to hand build a BMX track fit for the 2012 UCI BMX World Championships continues as Birmingham's National Indoor Arena is transformed into a 4000 seat BMX venue which will welcome the worlds best competitors on May 24-7.
In a matter of days a scale version of the illustration first presented on May 2 will be created, with two start hills in place.
Update: May 21
Now in the final stages, the track itself is complete with just the final cosmetic dressing required.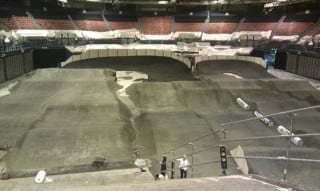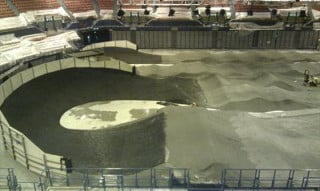 Update: May 18
The final stages of construction are now underway with most of the track build complete. Both start ramps are moving into their final positions, while the third and fourth straights have already had the first tyre tracks laid.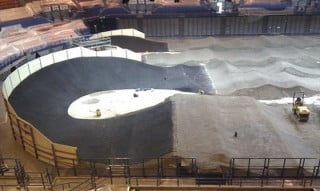 Update: May 17
The first coat of tarmac is being applied to the berms - in total three will be constructed, laid and smoothed with whacker plates before the final touch of the white racing line is applied.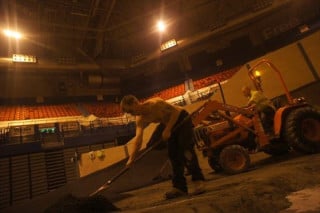 First, tarmac is spread evenly across the surface of the berm - a wider angle of shot shows the scale of the berm - with three in total to complete.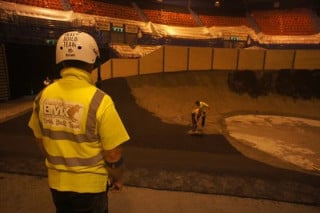 The next task is to smooth and compact the tarmac. This is achieved by rollering the straight and whacker plating the turn.
Update: May 16:
Already the NIA has been prepared with a custom lighting rig in place before the area of the track was marked and the first piles of dirt put in place.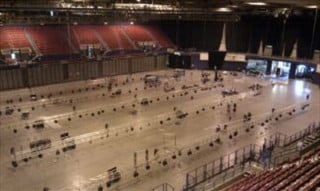 At first using an array of diggers and dumpers to deploy and distribute the raw material that will form the base of the track, later in the week jumps and berms will be finished with a more delicate touch, a topping of limestone dust the final coating.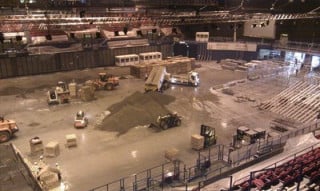 Piles of dirt are arranged with wooden pallets holding the shape in place. On the right of the picture are the two start hills, the eight metre start ramp the furthest from camera.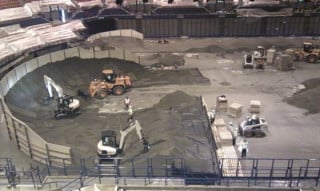 At the far end of the track, two berms and the landing to the final jump of the first straight are given initial shape by digger buckets.
After the first build stage of the track is complete, with all the jumps and berms in place, phase two will begin - shaping the track.