Interview: Rebecca Ransom
Photos: Courtesy of Luke Rowe
---
Luke Rowe has been enjoying some downtime since he returned from the Tour of Oman, after 3 weeks away on the roads. He's been taking in some Welsh sporting events; attending the Nathan Cleverly boxing match at the Motorpoint Arena, Cardiff at the weekend and supporting Cardiff City at Wembley, but he's been putting in the efforts in preparation for West Flanders this weekend.
Luke kicked off his pro cyclist career at the Challenge Mallorca in February. Team Sky went to the Challenge Mallorca to start the season, with little pressure on the team to deliver, as Luke explains.
"Mallorca was good, and as a team we went there to find our feet with no big pressure. We came out of it with Lars-Petter Nordhaug winning a stage so it was a successful start to the season."
Luke with Team Sky training before the Tour of Oman
After the cancellation of the last stage, Luke was also awarded the points jersey in Mallorca. On the return, Luke had a few days in Wales before heading back to Europe for the Volta ao Algarve. In the meantime, Canadian Michael Barry had been riding the Tour of Qatar where he crashed on stage four and suffered a broken elbow. This meant Luke had the call up to replace Barry at the Tour of Oman, riding for World Champion Mark Cavendish.
"To be able to step in to such a big squad; the list of riders speaks for itself. To be able to go there and support Mark Cavendish was a pretty big opportunity. I grabbed it with both hands and did all I could for the team. It never quite come off; we never won a stage there. Everything went against us, but it was good to be part of that team. Obviously, Michael Barry is a great guy and I wish him a speedy recovery."
The team that went to Oman included Mark Cavendish, Ian Stannard and Mathew Hayman, who have a depth of experience in riding the pro tours and are some of the world's greatest cyclists. Riding in a team with those esteemed cyclist provided Luke with a huge learning curve.
"It was great to be able to go to Oman and support Mark Cavendish, he is world champion; the best guy out there at the moment. And with him, Bernie Eisel and Mat Hayman, real leaders like them I learnt in that one week more than I have learnt in my whole cycling experience. That one week was so valuable and a big step forward in my career.
We were all riding for Mark. The way that group of riders ride together is as a unit. They always ride together towards the front of the peloton. It was an eye opener to how much you have to stick together. In the past, we would come together towards the end of the stage, but these guys ride together for the whole stage, 180k, 200k, however long it is. That was a bit of a shock, but definitely an experience I would share with others."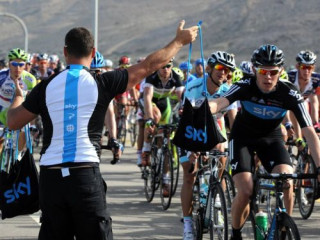 Luke in the Tour of Oman
Moving to a pro team means you have to step up and work hard in training and in the tours. But it has its perks of travelling the world to some exotic locations.
"Oman was a really amazing country and I really enjoyed my time there. The weather was different to the UK at this time of year, a lot warmer, and that helped. But it was a beautiful country and I would definitely go back. Staying in a nice 6 star luxury hotel was a perk; I could have happily stayed there a bit longer! As you step through the ranks these are things that come with job I suppose. It's great to stay in such a beautiful place; it makes a difference and makes the whole thing easier."
This weekend Luke heads to West Flanders to compete in the 3 day tour.
"I've been doing a lot of tough efforts; I haven't been doing steady rides. I think the top end stuff is what you need to tackle those short punchy climbs and cobbled sections that I will be facing in West Flanders. I think effort is key.
We have guys like Alex Dowsett and Michael Rogers who can go well in the prologue and overall, and then Ben Swift who can sprint really well. To be honest I think I will be supporting them and try and deepen out the sprints and look after them boys for the general classification. It will be working for the team again which there is going to be a lot of this year. So far I seem to be doing a decent job and I really enjoy working for the team; I will be doing a lot more grafting and I look forward to it."