Interview: Rebecca Ransom
Photos: Courtesy of
It's the start of the 2012 Road season, and for Luke Rowe the start of his career as a pro cyclist for one of the best teams in the world. He joins the likes of Bradley Wiggins, Mark Cavendish and fellow Welshman Geraint Thomas at Team Sky where he is set to make his mark on the roads in 2012. He began his first pro tour this weekend, Challenge Mallorca, finishing 13th at Trofeo Palma on day one.
"To be part of the Team Sky establishment is a great honour. It's the best place for me to build a lot of my skills and adapt as a rider. So far I have spent most of my time out in Mallorca training with the lads. Literally all you have to do is ride your bike, as opposed to being on the GB academy where you have to learn to look after yourself and you are doing everything. That's the main difference in making the jump to pro cycling; they really look after you and do everything possible for you.
When I first got told I would be joining Team Sky in 2012, it was half way through the 2011 season, so it all seemed so far away and distant and a bit surreal. In the Autumn, it really hit home. At the first camp in Milan I got my kit (and had my first team initiation) and started to train in my kit. At first it was a bit daunting, being in a room with all these stars I'd looked up to all my life. But they are all just real nice down to earth guys and I started to feel at home, just chatting with them and playing pool; I've settled in well.
At the first training camp in Mallorca, I turned up and someone had attached learner 'L' plates to the front and back of my bike for the first team ride out there. There's great banter; I think in any sort of team you have to give and take, it's all part of keeping the morale up."
Luke's bike in the Mallorca training camp
Luke has left the GB Academy and stepped up into the world of pro cycling, making cycling his career. His first pro training camp in Mallorca in December demonstrated how different being a pro cyclist could be.
"The speed they train and the way the guys go up hill, as opposed to on the flat, is really impressive. And the training programme is really structured. I've never done training as structured as this before. I've always trained within a structure and to a plan, but with Team Sky there's real structure and real pin pointing in your training. I guess that's what makes them one of the best teams in the world. Most days we were out for at least five hours. I completed over forty hours in nine days. The days were varied with different terrain and effort required, but everyday involved a lot of effort. The camp before the Challenge Mallorca will be more intense, more top end, maybe not so many miles and time spent in the saddle, but it will be more intense for the few days we have before the racing begins."
Speaking before the Challenge, Luke said he wanted to tackle his first race and hit the ground running. At Trofeo Palma, Luke finished 13th, the first Team Sky rider across the line. But there were cold and slippery conditions in Palma; as Luke tweeted a photo of snow on the way to the start. There was a crash towards the finish line, but Team Sky managed to avoid any trouble. Fellow British neo-pro Andy Fenn (Omega Pharma – Quickstep) claimed victory in the sprint at the end of day one.
Luke tweeted after the race, "First pro race done and dusted. Came 13th. Not bad. Respect to big Fenny for the win!!! 1 down, 3 to go!"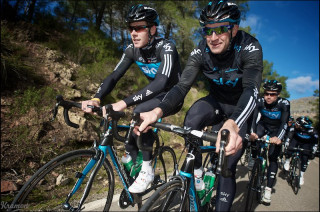 On a training ride in Mallorca alongside Ian Stannard
Looking at the rest of the 2012 season, Luke has got his head screwed on and knows what he has to do for Team Sky. "This year I'm going to do my job, do what I'm told and basically do my job for the boys. Like any job you have got to start from the bottom and work your way up to the top, which I appreciate and I will work for the boys a lot. I've got to find my feet, and if I do well enough I'll be given the chance myself.
My family and friends have been so supportive right from the get go. My mum, dad and my brother are all in to cycling and it was a massive part of my life growing up. And my girlfriend has travelled with me around the world to a lot of races, and without her there it would make it a lot harder. I have a lot of people to thank, which without them I probably wouldn't be where I am today. The new fan base through Facebook and Twitter has surprised me, and they are all quite excited about the start of the season, just like me. It's great to see there is quite a lot of support out there and when I see stuff like that on the web, it definitely puts a smile on face."
Luke will continue to ride the Challenge Mallorca this week and will then go straight into the Volta ao Algarve, Portugal 15th – 19thFebruary riding in the team alongside Edvald Boasson Hagen, Chris Froome, Thomas Löfkvist, Lars-Petter Nordhaug, Kanstantsin Siutsou, Bradley Wiggins and Xabier Zandio. Keep up to date with all Team Sky news here.
You can also follow Luke Rowe on Twitter here and also like his Facebook fan page here.