Go Race MTB Series comes to a wet and muddy but brilliant close
The 2018 North Wales Go Race MTB series drew to a close last weekend with the final round of racing hosted by Clwb Beicio Mynydd Dyffryn Conwy at Nant BH Outdoor Centre near Llanrwst.
The weather wasnt going to stop them this time
After postponing the original date due to Storm Callum, the heavy rain overnight didn't deter over 30 riders from participating in an exciting event demonstrating a skills course and a multi lap cross country race.
Wet and Muddy Course made it highly competitive
The wet surface and muddy course leant itself to some highly competitive racing utilising the technical sections that Nant provides from all age categories. The racing got underway with the Under 6's and Under 8's first to take on the course and saw Tryfan Mclean (CBM Dyffryn Conwy) and Polly Hext (Dreigiau Coed y Brenin Dragons) take first place in the Under 6 boys and girls respectively, with Isaac Vickery (CBM Dyffryn Conwy) and Lowri Howie (Dreigiau Coed y Brenin Dragons) claiming victory in the Under 8's event.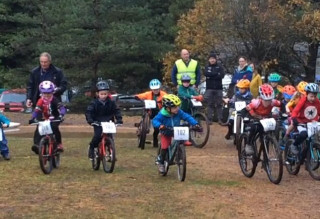 CBM Dyffryn Conwy sweeped the board.
As the rain threatened, the racing continued with the Under 10's event seeing Alex Carson (CBM Dyffryn Conwy) winning the boys race and Bethan Billington (CBM Dyffryn Conwy) the girls, with Owen Winston (CBM Dyffryn Conwy) and Isabelle Shaw (CBM Dyffryn Conwy) both finishing first in the Under 12's.
The last competitive races of the day saw Tom Carson (CBM Dyffryn Conwy) victorious in the Under 14 boys and Megan Blackburn (CBM Dyffryn Conwy) doing the same in the girl's event. A great day of racing was concluded with the fun Women's race, with 4 ladies battling it out and Jenny Billington (CBM Dyffryn Conwy) taking the victory.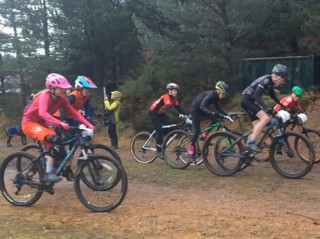 A race isnt a race without a BBQ
The traditional BBQ offered everyone a chance to warm up and re-fuel while the series results were being calculated and finalised. Congratulations to all the winners on the day and the series winners.
A Massive Thank You to all Involved
2018 has seen another highly successful series completed, a big thank you to all of the clubs and volunteers that have supported the series.
To continue to run this popular series and develop our young riders, we are looking for a team of volunteers to support in organising and running the 2019 event.
For further information please contact Tim Matthews - tim.matthews@welshcycling.co.uk or 07718 578433.