Construction has begun to redevelop Carmarthen Velodrome, which is set to open in September.
The development of the iconic venue will enable Carmarthenshire to once again host regular national cycling competitions, and become a hub for cycling clubs and the local community.
Contractors are now on site at the 117 year old site in the heart of the park and work is expected to take 20 weeks, with a target completion date of September.
Carmarthen town and county councillor Alun Lenny told WalesOnline: "It is great to see the building work going ahead. Planning consent was granted in April and a formal tendering procedure was then undertaken resulting in GD Harries and Sons Ltd being appointed as the sole contractor.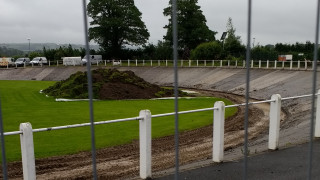 "The project has taken a few years to get to this point due to the uniquely challenging nature of the work involved. Because the velodrome is a listed building located within Carmarthen Park – which is a conservation area - we have taken specialist advice at every stage of the process to ensure that the redeveloped velodrome does not adversely affect the historical appearance and character of the Park.
"On top of that we had to consider very carefully the right type of surface for the redeveloped velodrome, making sure that public money is being spent in the most cost effective and appropriate way.
"Several different types of surface had to be tested by cyclists during the last year and ultimately this has resulted in the decision to replace all of the existing concrete – 232 concrete bays – with brand new concrete that hopefully will last another hundred years or so.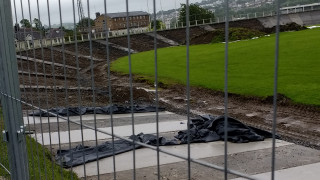 He added: "We have worked very closely with the local cycling community and the wider national cycling bodies (British Cycling and Welsh Cycling) to ensure that the new cycling surface will be fit for purpose and will be of the required standard that will allow national and possibly international competitions to take place once again in Carmarthen.
Two new key features will see a safety zone (or blue zone) being built along the entire inside perimeter of the track and also a safety fence around the entire outside edge of the track to afford protection to cyclists from coming into contact with the existing barriers – that cannot be removed due to their listed building status."
The existing floodlights – designed to cater for rugby at the park – will also need to be upgraded to ensure the safety of cyclists using the track during the darker winter evenings.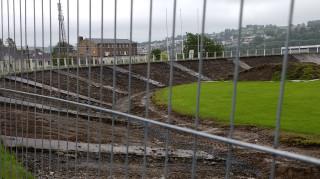 Investment
In 2015, Carmarthenshire County Council's Executive Board agreed to support the regeneration of the historic velodrome in Carmarthen with a capital funding contribution of £286,000. The funding has enabled a further £296,000 grant from Sport Wales, and will see the velodrome at Carmarthen Park become a regional centre of excellence for cycling.
Welsh Cycling is looking forward to Carmarthen Velodrome returning to full usage this autumn. For more information on cycling in West Wales, contact Aled Jones Cycling Development Officer West Wales.