Abergavenny Road Club have been shortlisted for a #BeAGameChanger Award 2016 for their work to inspire more women and girls to take part in cycling.
The club are finalists in the Inspiring Initiative Local/Grassroots category, sponsored by Inclusion@Lloyd's. The winner will be decided by public vote, and announnced on Thursday 12 May 2016.
Abergavenny Road Club has an ethos that on or off-road, competitive or social, we all share a passion for the bike. The club now has almost 300 members.
The club has set up an outstanding mix of accessible or no-cost training and coaching, high performance development and a seemingly endless supply of encouragement, energy and enjoyment from coaches, participants and parents alike.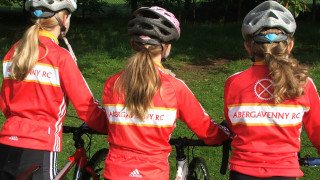 There are specific programmes and initiatives to engage and encourage women and girls. Club Coach Paul Crapper started women only sessions every Saturday morning, taking place off-road, on grass and tracks. These sessions are incredibly well attended – sometimes with mothers and daughters coming together to the same session. With women and girls membership growing in numbers, they cite inspiration from club role models including GB cyclists, sisters, Becky, Ffion and Rachel James.
Abergavenny Road Club's women only sessions have had a significant impact in the local area. Women have arrived as complete beginners, and then become immersed in the world of cycling, enjoying coaching and racing in both cyclocross and mountain biking.
The Aviva Women's Tour is also shortlisted for Inspiring Initiative - National, a cycling event that has given women an opportunity to compete in cycling at the highest level in the UK.
You can vote for Abergavenny Road Club on the Women's Sport Trust website, and find out more about the other finalists. Winners will be announced on Thursday 12 May 2016.