Minister for Communities and Tackling Poverty, Lesley Griffiths, has spoken of the power of sport to tackle inequality and transform people's lives, while meeting Breeze Champions and riders in Torfaen.
Breeze Champions Mary Trenfield and Christine Smith led 16 women on a fun and friendly bike ride along the canal path, stopping in Sebastopol for coffee where they met Minister for Communities and Tackling Poverty, Lesley Griffiths.
British Cycling's Breeze Network was introduced to Wales in October last year and is part of Welsh Cycling's SheCycles Wales programme which aims to remove barriers to sport by giving women and girls more fun opportunities to cycle free of charge. The national programme is aiming to provide more than 10,000 opportunities for women and girls, as well as helping those who want to progress from social riding to competitive cycling to make the transition.
Minister for Communities and Tackling Poverty, Lesley Griffiths, said: "What I have seen today confirms my belief in the undeniable power of sport to change peoples' lives. SheCycles Wales is an innovative project which provides opportunities for women and girls to improve their health and wellbeing.
"We need to get more girls and women hooked on sport in Wales and I am confident we are on the right track. As Minister with responsibility for equality, I am pleased SheCycles Wales is helping to remove the barriers which, unfortunately, so often stop women participating in sport and enabling them to develop their confidence and keep active.
"This project is helping us to fulfil the Welsh Government's vision of a Wales where people have the skills and opportunities they need to lead active, successful lives."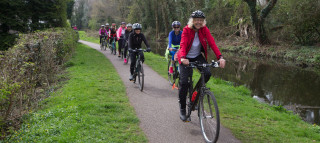 Georgina Harper, National Development Manager at Welsh Cycling said: "It is an exciting time to be involved with cycling and we are delighted to be able to encourage more women and girls to get involved, through the SheCycles Wales programme.
"The pilot in Wales has already demonstrated that it has the potential to break down the barriers to participation. Cycling is a sport that has numerous strands, not least towards improving health and wellbeing, but also around transport and tackling inequality. There will be thousands of opportunities for women and girls across the country through the programme, so I would encourage everyone to get on your bike and get involved."
To find your local Breeze ride, visit www.breezebikerides.com