East Newport v Ipswich 27th March 2011

With both teams being Premier League newcomers things were always going to be nervous and this played out in the first four races of a very exciting match. After a drawn heat one, Ipswich took the first blood after home rider Dan Bock moved under starters orders and was excluded from the rerun. The away side banged in a 6-4 heat win straight after Dan Pike and George Solomon combined well and for a moment Ipswich looked good for their first win.
East Newport obviously hadn't read the script and in the next three races, two 6 - 4s and a 7 - 2 completely changed the tempo of the match. Another maximum 7 - 3 to the East Newport side counteracted the Ipswich 6-3 just before the interval and the scores on the doors going into the interval was 47 to East Newport and 40 to Ipswich.
Straight after the interval East Newport enjoyed two more heat wins before the match really kicked into life for the away side when they enjoyed their only 7-3 of the day in heat 13. The final five races were real battles with both sides taking heat wins but every heat counted down the match and took away all hope of Ipswich rescuing the vital league points. It may have been the first match of the season but this victory will prove to be very significant at the end of the season. For East Newport every rider played a part in the victory but the ones who stood out were clearly Ben Mould who scored a perfect maximum and this was more remarkable given he took grids three and four for most of the day and team manager afforded him with a grid one in his final race. Aaron Hughes rode so well and looked far better than his age. For the visitors Leon Mower and Dan Pike looked the pick of the bunch on the compact East Newport track.
RESULT
East Newport 96: Aaron Herbert 11 +1, Aaron Hughes 14 +2, Ben Mould 20, Dan Bock 9 +2, Chris Davies 9, Craig Nethercott 12, Nicky Evans 9+1, Neil Power 12.
Ipswich 80: Jamie Chittock 11 +1, Rich Williamson 8, Leon Mower 14 +1, Marcus Szyszlyk 10 +1, Dan Pike 13, George Soloman 11+1, Ashley Hill 3, Jordan Stant 10
In the following combination event East Newport took a win in a nail biting match. Riders from both sides performed well and proved to their managers their worth in this most prestigious of leagues in cycle speedway.
COMBINATION RESULT
East Newport 66 Ipswich 65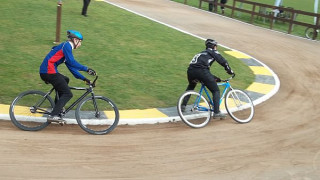 East Newport's Chris Davies leading