Saturday 1st June & Sunday 2nd June, Rhuthun.
Welsh Cycling are thrilled to announce that we will be hosting the 2019 Welsh Championships which will be taking place in Rhuthun on the weekend of June 1 and 2.
Mae Beicio Cymru yn falch iawn o gyhoeddi y byddwn yn cynnal Pencampwriaethau Ffyrdd Cymru 2019. Bydd y pencampwriaethau yn cael eu cynnal yn Rhuthun ar benwythnos 1 a 2 Mehefin.
The weekend will see a feast of cycling action, as the challenging yet fast 26 mile time trial course around the outskirts of Rhuthun will take place first on the Saturday. Then on the Sunday, the road race will take centre stage as riders battle it out for the Welsh national jersey.
The TT course is a technical course 42km course, which sees a max elevation of 1,548ft and a max gradient of 7%.
The road race is an undulating course with approximately 2128 feet of climbing over a full lap of the course. It will start from the Rugby Club in Rhuthun, before heading out onto the 42km circuit.
The circuit will also include the twisty bends of Nant Y Garth, the undulating road to Corwen and the fast winding road back towards Rhuthun on the A494. A new introduction for this year's championships will be a town style criterium to finish the race on – a technical 8km course for the riders which will sort the rider's with the best handling skills.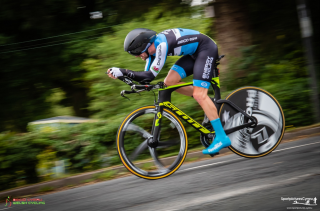 In 2018, James Philips (Bristol RC) won senior men's road race event whilst Elizabeth Bennett (Team Jadan Weldtite-Vive le Velo) took home the honours in the senior women event.
In the TT Bennett doubled up by winning the senior women's event, while George Evans (Team Bottrill - Vangaurd) won the senior's men's event.
How to Enter
Entries for the 2019 Welsh Championships are now open.
Mae ceisiadau ar gyfer Pencampwriaethau Ffyrdd Cymru 2019 bellach ar agor.
Click here for TT Champs- https://bit.ly/2WZU3oD
Click here for the Road Champs- https://bit.ly/2P3Ogvm
No entries on the day or after the closing date of May 19th and you must match the following criteria of the Welsh Championships:
Have been born in Wales.
Be the son or daughter of a person born in Wales or whose parents' principal place of domicile was in Wales.
Have resided in Wales for 5 years consecutively prior to the date of the Championship.
Stay tuned to our social media channels for more exciting announcements regarding the Welsh Championships.