Images: BikeAbility Wales
This weekend, BikeAbility Wales celebrates it's tenth anniversary, and you're invited to join in the fun!
BikeAbility Wales celebrations will take place at Dunvant RFC Saturday 12 April from 11.00am – 3.00pm where refreshments will be provided with the opportunity to try out specialist cycle sessions, skills sessions and much more.
BikeAbility Wales is a registered charity set up in 2004 by Laura Bolton to provide cycling facilities and opportunities for disabled people in South West Wales. Our slogan has always been 'Everyone Rides' and over the last ten years we have enabled people from two to ninety two years old to ride on a cycle. Whether they are confined to a wheelchair or fit and able there is a cycle that they can use and skills they can develop.
Whilst Laura was working to develop cycle routes in South West Wales, she met a mother and her blind son in Pembrokeshire who wanted to try out cycling. A tandem became available from Wheelrights, which they used and inspired Laura and set her on a mission.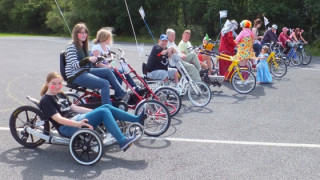 There was a lack of cycling facilities for disabled people across South West Wales so Laura looked into schemes developed by Wheels for All, England and Pedal Power, Cardiff, two organisations which provide all ability cycling opportunities. Jointly with Wheelrights Laura acquired a shipping container and, with a selection of second hand tricycles and a couple of specialist cycles, set up at the very accommodating Ramada Jarvis Hotel (now Mercure) on land alongside their car park in Llansamlet, Swansea and so BikeAbility Wales was born in 2004.
In the autumn of 2008 it was clear to Laura that the project needed to develop further so she registered BikeAbility Wales as a charity and we moved to Dunvant Rugby Football Club in Killay where we had more opportunity to expand and link to the National Cycle Network in Clyne Valley.
Laura also wrote a number of successful funding bids which enabled BikeAbility Wales to develop outreach work and to purchase a range of specialist cycles, she forged links with Pembrokeshire and Carmarthenshire councils and assisted Neath Port Talbot council in the setting up of their Intandem all ability cycle project .
Sadly in the spring of 2009 Laura died unexpectedly. However, she had created an organisation with a solid board of trustees and established links with a wide range of clients, schools, groups and organisations across South West Wales, so after an initial wobble the organisation has carried on developing.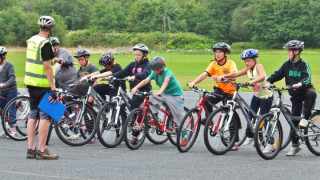 Today the organisation has over 80 cycles, ranging from wheelchair transporter cycles, hand cycles and tricycles to recumbents, kick bikes and various children's bicycles. Last year we had over seven thousand visits from schools, day centres, youth groups, ethnic minority groups and individual members of the public.
BikeAbility Wales has expanded into providing cycle training, ranging from teaching complete beginners to ride both specialist cycles and bicycles through National Standards Cycle training, which was provided to 200 children and adults last year.
Ten years ago Laura had a vision to develop a Swansea cycle facility and to roll out opportunities for people of all abilities to cycle across the region. We are still striving to make this vision a reality through the Swansea Cycling Facility Group, made up of local cycle clubs, the council and the University based WeCycle project. On a national scale, BikeAbility Wales is a partner in the Wales Inclusive Cycle Forum which promotes all ability cycling across Wales.
So celebrate our tenth anniversary and join us at Dunvant RFC, Killay this weekend.
For more information about BikeAbility Wales visit www.bikeabilitywales.org.uk or email Mike Cherry bikeabilitywales@ymail.com