|
---
Wales' biggest cycling stars have been honoured at the 2013 USN Welsh Cycling Awards, a glittering ceremony in Cardiff held on Friday 4 October to celebrate the success of athletes, clubs, and volunteers from across Wales celebrating over the last twelve months.
Cardiff's Geraint Thomas MBE was awarded Elite Cyclist of the Year, sponsored by Kilsby & Williams LLP, for his achievements in the 2013 season. Thomas began the year with an overall victory in the Tour Down Under, and this summer rode the 100th edition of the Tour de France with a fractured pelvis to help Chris Froome to victory as Team Sky's second Tour winner.
Abergavenny's Becky James received Outstanding Performance of the Year, sponsored by the University of South Wales, for her world class performance at the 2013 UCI Track World Championships where she became the first Briton to win four medals at one championship event.
With over thirty years' experience in organising and promoting cycling events in Wales, Bill Owen, of Gwent, was honoured for his efforts with the Lifetime Contribution to cycling in Wales presented by the Managing Director of USN Jason Oakley.
Jason Oakley, Managing Director USN presents Bill Owen with his accolade
Bill is the man behind the Abergavenny Festival of Cycling, an event that attracts Britain's best riders to the market town year on year. In 2013, the Festival encompassed the Elite Circuit Series, Premier Calendar, the Iron Mountain Sportif and Wales' first Paracycling Grand Prix. On the same day, it was also revealed that Bill Owen had won the bid to bring the 2014 British National Road and Time Trial Championships to Monmouthshire once again.
Retired paralympian Mark Colbourne MBE was also honoured as Paracyclist of the Year, sponsored by Cwmtillery Glass Centre, as a result of his outstanding achievements at the London 2012 Paralympic Games.
Other winners at this year's ceremony include Stephen Lane, Coach Co-ordinator at Abergavenny Road Club who picked up Coach of the Year, sponsored by Craft. Abergavenny Road Club was also named Club of the Year, sponsored by S & D Sealants Ltd. John Wheat was awarded Cycling Innovation for continuing the Newport Social Cycling Network in South Wales.
Matt Beckett, Cardiff JIF was recognised as Club Cyclist of the Year for his support of cycle racing in Wales, not only as a keen competitor but for his contribution to the organisation of events in Wales.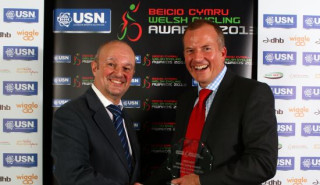 British Cycling Director, Colin Docker presents Dave Robson for his Services to Commissairing
Rhos-on-Sea Cycling Club's father of three, Dave Robson, also scooped an award for Services to Commissairing. Cycling Commissaires are race officials and Dave has dedicated many hours as a volunteer to enable competitive cycle races to take place safely under British Cycling regulations.
Reg Pharoah, President of Cardiff Ajax Cycling Club, was hailed Unsung Hero of Cycling, sponsored by Griffin Mill. At the grand age of 79, Reg has volunteered many years of his life to assist in supporting cycling in Wales as a race marshal, event organiser and inspired dozens of cyclists as a positive role model in the cycling community.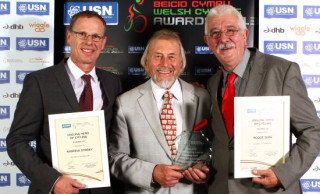 Andrew Storey, Reg Pharoah and Roger Sims recognised as Unsung Heroes of Cycling
Elinor Barker was recognised for her achievements as a junior cyclist as the first to receive the Colin Thornton Memorial for Junior Performance. In September 2012 she became World Junior Time Trial Champion, and as an 18 year old cyclist reached the podium in the Women's Team Pursuit at the UCI Track World Cup with Team USN and Great Britain.
Welsh Cycling's new youth initiative, Wiggle Project 2018, was also showcased on the night with the Wiggle Project 2018 Race Series Overall Champions revealed. Youth riders Jack Broadley, Ffion James, Megan James and Tom Nesham claimed the titles in their respective categories, but as committed athletes were unable to attend as they competed at the Inter Regional Mountain Bike Championships at Olympic venue, Hadleigh Farm in Essex.
Nick Smith, Chair of Welsh Cycling said:
"It is fantastic to see Welsh Cycling clubs and members come together to celebrate and recognise the achievements across the whole of the cycling community in Wales.
Year in, year out, the members support the cycling scene here in Wales. They put on events from mini leagues to national competitions whilst also developing riders to compete at the highest level to represent Wales and Great Britain on the international stage.
The volunteers give up hours of their time as CSAS marshalls, commissiares, time keepers and coaches and it is important that we, as the national governing body of cycle sport in Wales, recognise the efforts that are put in to sustain the sport in the Principality. We also welcome new sponsors who have supported the inaugural event, and hope to continue our relationships with them.
It has been an incredible twelve months for Wales, with new world track champions Becky James and Elinor Barker. Geraint Thomas has excelled as part of Team Sky on the road, supporting their second Tour de France win. Manon Carpenter has continued to perform on the downhill mountain bike scene, reaching the podium across the world.
We now look forward to preparing our athletes for the 2014 Commonwealth Games and hosting the British National Road and Time Trial Championships next summer. "
To find out more about getting involved with Welsh Cycling, as a volunteer, coach or cyclist visit www.welshcycling.co.uk and keep up to date with latest news and events by liking us on Facebook and following us on Twitter.
---
The Winners:
Cycling Innovation
John Wheat, Newport Social Cycling Network
Runners Up:
Bonna Williams, Daisy Chain MTB Events
Maindy Flyers Youth CC, MTB & Cyclo Cross Sessions
Services to Commissairing
Dave Robson, Rhos on Sea Cycling Club
Runners Up:
Ken WIlliams & Glyn Evans, Ystwyth CC
Colin Simmons, Newport Cycle Speedway Club
Individual Race Organiser of the Year
Bill Owen, The Abergavenny Festival of Cycling
Runners Up:
Tudor Thomas, Bynea CC Tour of Carmarthenshire & Club Time Trials
Talbot Thrudh, NFTO Junior Tour of Wales
Club of the Year sponsored by S & D Sealants Ltd
Abergavenny Road Club
Runners Up:
Sosban Riders
Towy Riders
Coach of the Year sponsored by Craft
Stephen Lane, Abergavenny Road Club
Runners Up:
Alan Davis, Maindy Flyers Youth CC
Alan Overson, Marsh Tracks Race Team
Club Cyclist of the Year
Matt Beckett, Cardiff JIF
Runners Up:
Hefin Evans, Towy Riders
Zach Bridges, Newport Olympic CC
Wiggle Project 2018 Overall Champions
Jack Broadley, Cardiff Ajax Cycling Club (Youth A)
Tom Nesham, Cardiff JIF (Youth B)
Ffion James, Abergavenny Road Club (Youth A)
Megan James, Abergavenny Road Club (Youth B)
Colin Thornton Memorial for Welsh Junior Performance
Elinor Barker, Team USN/Wiggle Honda
Runners Up:
Scott Davies, Liverpool Mercury (Dolan) CC
Amy Hill, Abergavenny Road Club
Paracyclist of the Year sponsored by Cwmtillery Glass Centre
Mark Colbourne MBE, Para-T Cycling Team
Runners Up:
Tom Smith, UK Deaf Cycling Programme
Lauren Booth, Newport Velo Youth CC
Elite Cyclist of the Year sponsored by Kilsby & Williams LLP
Geraint Thomas MBE, Team Sky
Runners Up:
Becky James, Abergavenny Road Club
Luke Rowe, Team Sky
Elinor Barker, Team USN/Wiggle Honda
Outstanding Performance of the Year sponsored by the University of South Wales
Becky James, Abergavenny Road Club
Runners Up:
Elinor Barker, Team USN/Wiggle Honda
Scott Davies, Liverpool Mercury (Dolan) CC
Geraint Thomas MBE, Team Sky
Unsung Hero of Cycling
Reg Pharoah, Cardiff Ajax Cycling Club
Runners Up:
Andrew Storey, Newport Olympic CC
Roger Sims, Cwmcarn Paragon
Lifetime Contribution to Cycling in Wales sponsored by USN (Ultimate Sports Nutrition)
Bill Owen, CC Abergavenny