---
The 2013 Welsh Circuit Championships are re-scheduled to take place on Sunday 20 October with support from individual members, Welsh Cycling has today revealed.
Racing will follow the same format as the Porthcawl Seafront Criterium. Photo: Huw Fairclough

The re-scheduled event will run at Llandow Motor Racing Circuit in the Vale of Glamorgan, organised with support from Courtney Rowe of Cardiff JIF.

Riders who previously entered the Porthcawl Seafront Criterium will automatically be transferred to the re-staged event at no cost, and there is no need to re-enter. Participants will need to bring their British Cycling race licences and sign-on as usual on the day.

Any riders who did not previously enter the Open Races or the Championships but meet the eligibility criteria will now have a chance to re-enter.

New entrants can enter via the British Cycling online entry system from Friday, and have until midnight on Sunday, 6 October to enter.

Previous awards still stand, and categories and race prizes will reflect the same format as the original event.

It means that riders will be able to take part in the same races and compete for the same prizes, including Welsh Championship awards for those who are eligible.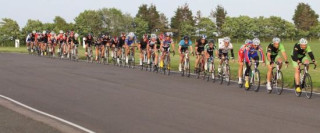 The re-scheduled event will take place at Llandow Motor Racing Circuit, Vale of Glamorgan
Severe weather conditions meant races at the Porthcawl Seafront Criterium – a new seafront circuit event set to host the Championships just over a week ago - had to be cancelled for safety reasons.
Chair of Welsh Cycling, Nick Smith, said: "We want to ensure there is still an opportunity for riders to compete for a Circuit Championship title this year and extend our thanks to all clubs and members who came forward and offered to help re-stage the event.

"We're extremely grateful to Courtney for their help in re-staging it in October, which we felt offered riders enough time to prepare before it gets too late into the season.

"It's a huge shame when weather conditions affect so much hard work, and we'd like to thank David Lloyd, Port Talbot Wheelers and Bridgend Borough Council for their considerable efforts organising the Porthcawl Seafront Criterium this year. We understand discussions are taking place between the club and Bridgend Borough Council about possibly re-staging the criterium in 2014 and we look forward to the outcome of those meetings."

Further details about the re-scheduled event, including start times and a running order of events will be made live on the British Cycling online calendar later this week.

Riders should keep checking the Welsh Cycling website at www.welshcycling.co.uk for details.