Geraint Thomas: Nothing beats Welsh Lamb or Beef
Photos: Ian Cook
Video Interview: here>>>
Last week I was lucky enough to spend some time with some young cyclists from Maindy Flyers which is the cycling club I started out at. I was with them at the Vale Hotel in Cardiff, doing a cookery demonstration with Elwen Roberts from Meat Promotion Wales. As a professional athlete it is really important to me that I eat the right things to fuel me for my races, so eating a very balanced diet is essential! The children were great and asked lots of questions on the type of food I ate before my races like the Tour de France. Some even gave me a race at eating noodles with chop sticks which is harder than it looks I can tell you!
We cooked my favourite recipe Welsh Beef steak with a lovely horseradish new pototo salad which was absolutely delicious. I don't think I helped much with the cookery - I was more of a hindrance but it did taste great thanks to Elwen and I was quite surprised at how easy it was! Welsh Lamb and Welsh Beef are both my favourite types of meat as they are both reared naturally to high animal welfare standards. I also know there is nothing nasty in there.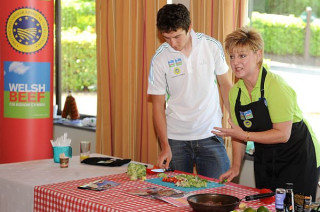 I can honestly say that I have travelled to lots of places across the world but have never found another meat that compares to Welsh Lamb and Welsh Beef. It is simply delicious! I am very proud to be an ambassador for Welsh Lamb and Welsh Beef and look forward to teaching children about the benefits of eating the correct diet.