2010 Inter-Area Team Cyclo-Cross Championships
Two Youth teams and one Senior team returned to Beaumont Park on the outskirts of Leicester to represent Wales in the 2010 Inter-Area Team Cyclo-Cross Championships. Despite some rain during the night there was no repeat of the previous year's deluge and blue sky and bright sunshine prevailed. Due to construction work the course had been altered slightly and made more compact by the addition of more loops; bike-handling skills were tested on the many slippery sharp turns and off-camber banks.
The Youth teams comprised U16s Adam King, Scott Davies, Geraint Manley, Ben Dunster, Sam Beckingsale, Rebecca Hunt and Amy Hill and U14 Ffion James. Although starting on the second row King was soon up in the top 20 with Davies and Manley heading the rest of the Welsh riders. King held his own despite some barging from a rival rider and finished 1st Welsh rider in 21st position. Davies was unfortunate to have his cleat detach in his shoe on the penultimate lap and, struggling to put any pressure on the pedal, he dropped back, finishing in 38th place. Mid-field, Manley led in the remaining, closely-packed Welsh riders, all of whom had put in very creditable performances; the two teams finished 10th and 14th out of 23.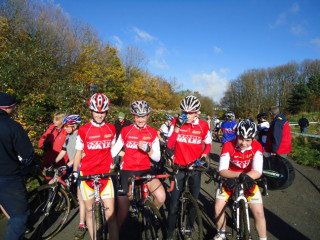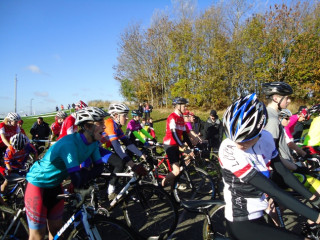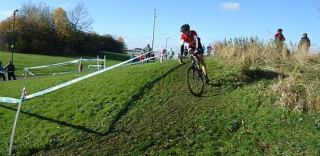 Sadly the Senior team was without Welsh 'Cross Champion Lee Williams due to a chest infection but Andy Baum admirably took his place up front. Gridded on the front row Junior Will Worrall and Baum had a cracking start and were in good company at the front of the field. Joe Lally, George Rose and Mark Davies were also riding strongly not far behind. Baum had no trouble staying in the top 10 and even picked up a couple of places towards the end to finish well under 2 minutes down on winner Liam Killeen - a performance that must surely rate as one, if not his best, ever. First year Junior Worrall also gave a very impressive performance before finally succumbing to the hour of racing and finishing 15th a minute behind Baum. Lally's progress was interrupted when his bike slid away from him approaching a set of hurdles but he later admitted that, on this occasion, he did not have the legs. Although strong on the straight, George Rose admits that he is not the best at negotiating slippery turns but his steady approach paid dividends in the end and he slowly picked off riders to finish 39th just ahead of Lally. Mark Davies was unlucky to suffer a second puncture in the space of two weeks, losing contact with Rose and Lally mid-race and finishing 56th. The team finished 7th out of 14.