2010 National Track Championships - Day 5

25th September 2010 - Manchester Velodrome | Reports Homepage

Men's Keirin & Team Pursuit, Women's Keirin & Team Pursuit, Junior Men's Madison
The final day of the 2010 National Track Champs saw drama on and off the track, with Chris Hoy withdrawing from the competition due to illness, leaving Ross Edgar to claim the Keirin title. Pendleton took gold in the women's keirin, while Sarah Storey led Horizon Fitness to gold in the Women's Pursuit. There was high drama in the Men's Team Pursuit, with catches and crashes punctuating proceedings. And to cap it all, a blistering Junior Madison which saw another big performance for the hard-charging Simon Yates, joined atop the podium by Adam Yates.
MEN'S TEAM PURSUIT
Video: Bronze Medal Final
Video: Gold Medal Final including scienceinsport.com crash
VC St Raphael's 'A' team won the national pursuit title in a dramatic final against the scienceinsport.com team. From the start, it was clear that SIS were attempting to catch the VCR team and finish the job early, with paracyclist sprinter Jody Cundy putting in an opening lap that would have looked more at home in a kilo. Cundy pulled off, leaving the three remaining SIS riders to finish the job.
And it looked like the gamble was going to pay off, with SIS winching themselves to within spitting distance of VCR's wheels. Then, disaster struck as wheels touched in the SIS squad, Tim Lawson falling heavily, meaning that SIS were down to two men and out of the competition. The gun was fired and VC St Raphael took the gold by default, as SIS's Tim Lawson remained on the apron attended by paramedics.
The early catch also seemed to be the tactic of choice in the Bronze medal-off, with Metaltek trying to kill off the challenge of the young Hargroves team. However, Metaltek almost imploded in the process and had to change tactics after regrouping, minus one man, forced to contest the remainder of the race in the red zone. The Hargroves team knew this and attempted to capitalise, slowly closing down and almost catching Metaltek, who just held onto the bronze medal.
Results (Full Results)
Gold Medal Final
1. VC St Raphael 'A'
2. Scienceinsport.com DNF
Bronze Medal Final
1. Cyclepremier.com Metaltek 4.30.759
2. Hargroves Cycles 4.30.827
Minor Finals (5th - 10th)
5. Agiskoviner 4.31.546
6. Scunthorpe Poly CC 4.34.546
7. Cottingham Coureurs 4.35.731
8. VC St Raphael 'B' 4.40.453
9. PSUK 4.51.577
10. Vortex 5.01.939
Qualifying
1. Scienceinsport.com 4.27.009
2. VC St Raphael 'A' 4.29.095
3. Hargroves Cycles 4.30.618
4. Cyclepremier.co.uk Metaltek 4.31.411
5. Agiskoviner 4.33.508
6. Scunthorpe Poly CC 4.33.882
7. Cottingham Coureurs RT 4.38.848
8. VC St Raphael 'B' 4.43.135
9. PSUK 4.53.952
10. Vortex RT 5.06.959
WOMEN'S TEAM PURSUIT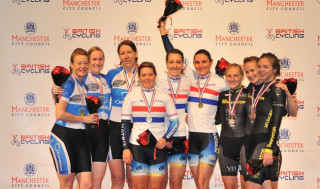 Video: Women's Team Pursuit Final
The Horizon Fitness team of Sarah Storey, Dani King and Alex Greenfield took the national team pursuit title in a fast, faultless ride. The trio comfortably topped the leaderboard in qualifying, a full ten seconds ahead of their nearest rivals, Orbea For Goodness Shakes. They made this numerical advantage pay in the final, catching their opponents just 2 ½ minutes into the Gold Medal ride.
The Bronze Medal final was a much closer affair, with the sleath-black trio of Team Terminator (comprising Louise Satherley, Donna Williams and Estelle Rogers) taking the medal, clawing back an early disadvantage in a composed, controlled and well-drilled performance.
Results (Full Results)
GOLD MEDAL FINAL
1. Horizon Fitness caught...
2. Team Orbea For Goodness Shakes
BRONZE MEDAL FINAL
1. Team Terminator 3.58.678
2. Maxgear RT 4.01.282
Qualifying
1. Horizon Fitness 3.35.772
2. Team Orbea for Goodness Shakes 3.45.818
3. Team Terminator 4.01.355
4. Maxgear RT 4.05.550
MEN'S KEIRIN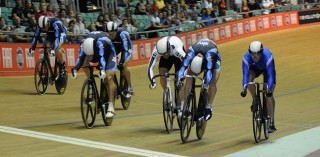 Video: Men's Keirin Final
Ross Edgar won the national keirin title in explosive style in a thrilling final which featured four of his Sky Track Cycling teammates. The news off the track was just as hot as the action on it, with Chris Hoy announcing his withdrawal from the competition due to illness (see below for more detail).
Edgar reached the final in unassuming fashion, coming second in his heat and slipping into the final almost under the radar, with all eyes on the blistering Jason Kenny and Keirin specialist Matt Crampton. Indeed, come the final, it looked as if Kenny had it in the bag, taking first wheel behind the derny and gapping the rest of the field, in the company of surprise package Chris Pritchard of SIS. The bell came and Kenny still appeared to be in charge. Then Edgar burst from shadows like a bullet, to the soundtrack of a few thousand gasps from the audience, to take the win and with it the national title. Kenny held on for silver while Pritchard held station for bronze.
Chris Hoy on his withdrawal from the competition (speaking to William Fotheringham): "I just didn't feel right at all, I woke up with the shivers, didn't feel 100 per cent. I thought I might be able to race myself into it today but I've decided it's better to make sure I'm fit and healthy for the Europeans. I'm certainly not healthy, whether it's a virus or a cold I don't know. It feels like a virus, I'm shivering and aching. It's easy to pick something up at the velodrome, you meet so many people."
I'll just take it easy for a couple of days until I feel well enough to train again. It's not a big deal but it's frustrating because I want to race every race I go to. But the training has been going really well, it's all looked good until the last couple of days. Yesterday when I was stamping on the pedals there was just nothing there. The goal now is to get fit for the Revolution on October 23rd, and then the Europeans."

Ross Edgar: "It has been a tough week for everybody really. I had a horrible sprint competition but it was good to come here today and feel that I was getting some where. I can go to Delhi now with a bit of confidence. It just goes to show that even if you don't have the best legs, you can still come out a winner".

"I knew Matt (Crampton) was on my wheel but I was sitting alright in third and was surprised when no-one hit out when the Derny pulled off. I was happy to sit there though for a bit and then David (Daniell) came over the top but I don't think he was fully committed to the attack. Then Jason (Kenny) didn't let him over which worked in my favour because it kept the speed really high. I ducked down onto Pritchard's wheel and managed to lay off a bit and give myself a bit of a run at them before managing to get them on the line".

Jason Kenny: "I was pleased with how the draw went for the Derny and I knew I would be in the thick of it straight away when the bike pulled off. I knew two and half laps was going to be a long way on my own especially with all these guys breathing down my neck. I was hoping for an early move from Matt (Crampton) or Pete (Mitchell) like a dive to the front to give me some help and it never came."

"The only move of note was from Dave (Daniell) and he didn't really commit to it and I felt I was going to get swamped which I had to defend against. That was it, with one and a half to go, you have to hit it so I got composed, took a breath and stamped on it with one to go. In hindsight, as we were already going at a good pace, I should have been a bit more patient and maybe left it a little later."

"I always knew that Ross would be the danger man for that kind of late move for the line and so I knew it was coming but couldn't do a lot about it! I'm happy with second because it was a fairly solid ride with some real quality riders behind me. It's been a really good week. I turned up not overly excited about this competition knowing the form was a bit 50-50. I've been having some really good days but also some really bad days in training so I am pleased with how it's turned out. I'm really pleased with the standing laps and that was the main thing, to set a good marker before the season kicks off."

"The Sprint too was amazing. I was getting stronger and stronger with every ride and that has really helped me and given me a lot of confidence."

Chris Pritchard: "That was alright wasn't it! I knew I was never going to win so the best wheel to get was Jason's as he's been flying all week and so I had held back. I was surprised that Ross came past me as I was thinking as the line approached, 'I've got second, hold it' and then he came from no-where."

"I just wanted to be in there and be in contention and if I could beat a few, then brilliant. I'm obviously going in the right direction and it would be nice to train with them full time and fulfil my potential."
Results (Full Results)
Final
1. Ross Edgar SKY
2. Jason Kenny SKY
3. Chris Pritchard SIS
4. Dave Daniell CLE
5. Peter Mitchell SKY
6. Matt Crampton SKY
Minor Final (7th to 11th)
1. Callum Skinner CED
2. John Paul CED
3. Bruce Croall CED
4. Miles Stovold TTR
WOMEN'S KEIRIN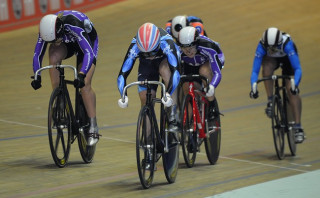 Video: Women's Keirin Final
Victoria Pendleton, riding for Sky Track Cycling, took her 6th Keirin title and 29th national title in typically dominant fashion. The Halesowen team-mates of Jess Varnish and Helen Scott took silver and bronze respectively, with Helen Scott battling through the repechage to earn her place in the final. Pendleton comfortably won her heat to progress to the final, easily gapping second placed Charlene Joiner of City of Edinburgh, with Varnish tussling with Motor Point Marshall's Pasta rider Becki James in her heat.
Come the final, Pendleton was out in front from the start, taking first wheel behind the derny and never letting go, despite a late charge from Varnish. Becki James, who came over the top a few laps out, looked good for a medal, but faded to finish fifth, whilst Scott timed her effort to perfection to bag the bronze.
Victoria Pendleton: "I unfortunately drew number 1 in the final which I hate but I decided whilst I was on the start line that I would try and hold the front and stay out of trouble. You don't want to be taking risks at this stage of the season so I thought I'll try and stay at the front".

"I wasn't really feeling that on it today to be honest. Could be the sore throat and I hope I don't have what Chris Hoy has got. I am not really feeling that great so I didn't have that high expectations so I'm not surprised it was close. Not in the slightest, especially with the form of those two girls in the Team Sprint (Jess Varnish and Becky James). These races are going to get harder and harder which is a good thing."

Asked whether the younger girls are closing the gap on her, Victoria replied "definitely. And they should be as well - I wouldn't expect anything less. When you come into training full time, it can take you a little bit of time to get used to it but last year Jess adapted really easy to it and Becky too this year has really got into it and made massive progression. So there are really good signs for the future of Women's sprinting."

"Jess pushed me hard out there and that hurt and I'm not going to deny that. It is no fun winning easily and there is no reward if the win is a cakewalk. You want it to be hard and feel like an achievement and the championships over the last few years have been a bit of a formality at times and that is a shame."

"So I'm really happy with my week here. My 200 metre time was faster than I expected and that was the most important thing to take out of this week and into the next six weeks of training for the Euros."

Jess Varnish: I'm really pleased with that result and didn't think I had that in my legs. I was in the gym yesterday and I woke up this morning and thought, I'll just try and get through the day and see how it goes. I'm really happy with how I rode that. Every senior nationals I seem to mess up the Keirin but finally this year I got a Silver and I was pretty close to Vicky. So it's all good, that ride has given me a real boost. Hopefully, as I keep training and working as hard as I am at the moment, I'll get closer".

Helen Scott: "I have got to be happy with that. This is the first year that I'm not a Sprinter now that I am training for the Tandem (Paracycling pilot) so I had nothing to lose. I got to the final the hard way through the repechage and I was in such good company with these girls getting faster and faster. Just to be in with them was great. I have to accept that the faster I get on the tandem, the harder it will be for me on the solo."

"I really enjoyed that race though and had a good opportunity to come underneath and keep in the wheels so I think it's helping my bike handling skills. I am chuffed to bits as I wanted a medal in these champs and so I'm really happy."
Results (Full Results)
1. Victoria Pendleton SKY
2. Jess Varnish HAL
3. Helen Scott HAL
4. Charlene Joiner CED
5. Rebecca James MPM
6. Cassie Gledhill TOR
JUNIOR MEN'S MADISON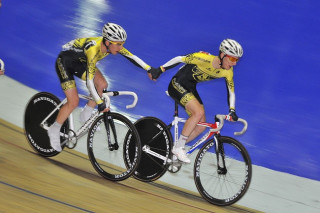 Video: Junior Men's Madison Highlights
The Maxgear RT pairing of Simon and Adam Yates took the 2010 Junior Madison title in a close fight with the GB development squad and the pairing of Hargroves and Maclay from Hargroves Cycles. The Yates duo struck early, gaining maximum points in the first sprint and scoring again in the second, putting them a point ahead of the GB and Hargroves teams, who shared second place on 6 points apiece.
Following the second sprint, the three aforementioned teams broke clear of Planet X and Manx Telecom, who lost a lap and dropped out of medal contention. Sprint three came and once again, Maxgear were dominant, pulling three points clear of the GB development squad, who in turn put daylight between themselves and the Hargroves pairing. As the lapboard ticked down, Planet X's team of Minting and Hayes stirred into life and attempted to regain their lost lap, much to the appreciation of the sell-out crowd.
However, the three teams ahead were beginning to wind things up for the final sprint, putting paid to any hopes of the Planet X guys getting back on the same page. Hargroves won the final sprint from the GB development pairing, with Maxgear picking up just one point, enough to hold on to the overall lead and the gold medal. However, confusingly Planet X were awarded 5pts in the final sprint, despite not regaining their lap. The scoring error made little difference to the final positions, GB and Hargroves holding on to silver and bronze respectively.
Results (Full Results)
1. Maxgear 13pts
2. GB Development Squad 11pts
3. Hargroves Cycles 10pts
4. Planet X 7pts
5. Manx Telecom 3pts