Jack Carlin added a sprint silver to his team sprint bronze on the fourth day of the European Championships, at the end of another eventful day of racing in Munich. Carlin's teammate, Hamish Turnbull, took fourth after losing out in a close-fought bronze medal final.
Having each eased through yesterday's qualifying and early rounds, Carlin and Turnbull took to the track once more for their best of three semi-finals, against the French pair of Rayan Helal and Sebastien Vigier respectively.
Both riders took a 1-0 lead, before Carlin sustained a heavy fall in his second leg following a collision with Helal, for which the French rider was subsequently relegated – sending Carlin through to the gold medal final.
However Vigier mounted a comeback against Turnbull to take the semi-final two legs to one, and after a monumental effort over the past four days the bronze medal final proved a step too far for Turnbull, with Helal taking the win in straight legs.
Despite his earlier crash Carlin started strongly in the final to take the first leg, and looked to have sealed the gold medal in the second, but a photo finish showed a narrow victory for Vigier. The Frenchman then showed his class once more in the final, leading from the front, and despite his best efforts Carlin could find no way past.
In the men's elimination race Will Tidball took fifth place in a high-class field, with Italy's Elia Viviani storming to a famous victory just hours after completing 207km en route to seventh place in the men's road race. In what was his first elimination race in a major championships, Tidball rode astutely throughout but was unfortunately caught out as the podium positions came into view.
Neah Evans made a promising start to the women's points race, taking 13 points from the first four of 12 sprints. However following this Evans found herself isolated on the track between the two main groups, while yesterday's elimination race winner Lotte Kopecky established an early lead by earning 20 points with her first lap gain of the race.
Evans's efforts had clearly taken their toll, and as a second group of riders gained a lap she soon found herself siting in seventh place. Despite rallying to take points from the final three sprints, she wasn't able to make up enough ground on the podium places, finishing in a creditable fifth place. A further two lap gains meant Kopecky took her second European title in as many days.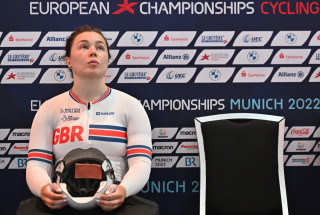 In qualifying for the women's sprint, Lauren Bell set a time of 10.933 to qualify for the 1/8 finals in 14th place, while Sophie Capewell's return to the track following Friday's crash in the team sprint saw her qualify in seventh with a time of 10.697.
While Bell exited at the 1/8 final stage, Capewell prevailed over Belgium's Nicky Degrendele to set up a 1/4 final tie against home favourite and world champion Emma Hinze. Despite Capewell's best efforts Hinze proved just too strong, taking the tie in straight legs.
The event continues tomorrow with the men's kilo, women's omnium, men's omnium and the conclusion of the women's sprint.
For full results and schedule, click here.