Our Team of the Week feature shines a light on our domestic teams and cycling clubs – finding out how they've adapted to life without racing, how they're keeping people engaged and what they've got planned for the months ahead. This week it's Midlands-based AeroLab Ward WheelZ.
AeroLab Ward WheelZ is a time trial and track focused race team comprising mainly of riders who competed for their respective universities at BUCS (British Universities and Colleges Sport), but didn't have teams to represent post-graduation. The Derby Velodrome serves as the hub for the team and its riders, with most hailing from the surrounding universities. The team was only formed in the spring of 2019 yet it has achieved extraordinary success on both regional and national stages in the months that followed.
"It all started with Will Perrett, Joe Perkins and myself", says Team Manager, Tom Ward.
"From the neighbouring Derby, Nottingham and Loughborough University teams respectively, we all trained together at the Derby Velodrome. We required a team to represent in team events and different options were considered for some time. The University of Derby were very accommodating, and our initial riders competed for the team for two years at the HSBC UK | National Track Championships, finishing in 4th place in the team pursuit on both occasions. The ALWW team formed out of necessity to continue riding these team events with other riders from further afield.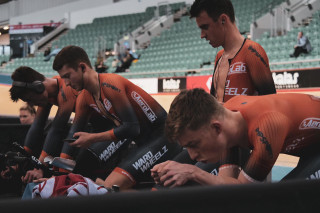 "Our main goals are to ride fast and have fun in a low-pressure environment, with the freedom to ride the fastest equipment and work alongside AeroLab components Ward WheelZ and Impsport clothing to develop even better equipment (feel free to get in touch if you're interested in these products). Having said that, some of us do strive to win medals at regional and national championships both in CTT Time Trial and British Cycling track events – but it is up to each rider which events they would like to do.
"Usually our target events would be 10 mile TTs, 25 miles TTs, TTT and track endurance events. I would like to develop into a more diverse team to include more women, masters and para athletes. A particular target would be the women's team pursuit, to complement the already successful men's squad. So if there are any interested riders, feel free to contact us by emailing aerolabwardwheelz@gmail.com, or you can contact us on social media @aerolab_wardwheelz.
"The values we look for in our riders are upbeat, kind personalities, who want to have fun riding and racing as well as, obviously, being fast bike riders. When looking at potential riders, these are the things we look for rather than just race results, pure speed or numbers. This ensures a great camaraderie in the team.
"The biggest achievement for the team on the British Cycling calendar has to be the bronze medal won in the men's team pursuit at the 2020 HSBC UK | National Track Championships. The opposition was extremely strong, well-supported and well-practiced, so it was no mean feat. The biggest achievement in CTT events has to be winning the team prize at the national 10 mile TT, while the biggest individual team rider achievement has to be Anna Morris' silver medal in the individual pursuit at the 2020 HSBC UK | National Track Cycling Championships."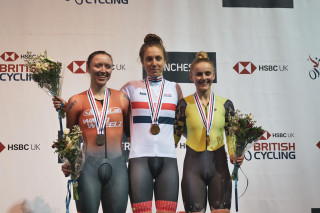 Unfortunately, the team has not been able to train or race together much at all this year due to the global pandemic, however the squad have continued to train at home, with riders including Zac Herrod in particular becoming regulars on Zwift.
"It was initially a balance of trying to scratch that racing itch on Zwift without trying to do too much, with the aim of doing well in some late season races", says Zac.
"When the postponement for racing was extended I decided to take Zwift racing up a bit more and make what I could of the season online. I have also been working on the TT bike at least a couple of times a week to ensure I can hopefully be competitive when the TTs start again.
"When racing was cancelled I hadn't fully transitioned into my [race] specific phase of training, so I reverted back to base training putting in around 20-25 hours a week. Since I've been picking up the Zwift racing the volume has dropped to 15-20. At the moment the races give me the intensity and I'm mixing that in with some eRacing specific sprint work. My sprint is not my strong point so working on this has been a focus for Zwift.
"I recently took part in the Virtual Joe Martin Stage Race which was organised by Project Echelon. This was a pretty big event with top American teams and domestic UK professional teams taking part. I was able to guest ride for a team who were on the start list. Stage 1 was tough as it was at 1:00am for the participants in the UK. I managed to secure the overall King of the Mountains jersey and take the win on the final stage. I finished 10th on GC after a few technical difficulties on stage 1. It was an amazing event and I get a real life jersey out of it!"
Most of the riders on the team have resorted back to a winter base miles phase of training, with a high volume of long, steady rides. Michael Gill and James Richards have both taken the opportunity to spend a lot of time on their TT bikes, becoming better adapted to riding in the aero position.
Tom continues: "I personally decided to take some time off training as for the last two years I have had a year-round race season packed with outdoor track, indoor track and time trial events. So I used the cancellation of races as a cue to have a much-needed rest. I have since gradually built back up from 'ground zero', initially doing only 1-2 hours cycling per week and some all-round body strength and conditioning. Luckily I have some barbells and weights in my garage, so I have been able to do some home gym strength sessions while the public gyms are closed.
"I've stayed motivated by setting strength or weight targets in my gym sessions, which I can work up to, while also building up the volume of my riding. I am no longer disappointed by the lack of racing, because I am satisfying my competitive urge by trying to add a little to my weights lifted each week!"
Bede Constantinides was keen to use the opportunity of lockdown and home working to experiment with training volume.
"I was wary of weakening my immune system by overdoing things.", says Bede.
"I eased off structured training for a few weeks, and gradually increased my low intensity riding volume. Without my normal gym routine I lost peak power, but was surprised to be posting power PBs over 30s and 60s by late April.
"With hindsight it's obvious that lack of base volume was limiting my long sprint performance, although lots of variables - like sleep and stress levels - have changed since lockdown began, so it isn't a straightforward comparison. I'm lucky to now have a basic home gym setup and be easing back into strength training, and I'm looking forward to squeezing into my lairy orange Impsport suit when track racing eventually restarts!"
While the team prepares to resume outdoor racing after a four-month break, Zac is still looking at the positives.
"I'm definitely lucky as I'm someone who enjoys the process, but if you break it down and think about why you got into cycling, there are often ways to find enjoyment in lockdown. I find if you're enjoying yourself, motivation is not as much of an issue. For me getting the racing in even if virtually has really helped. It's also allowed me to focus on a different aspect of my training (sprinting), and it's always satisfying to see some progression. I've also been engaging with the community more and making new friends"