County Cycles in Cross Hands, has been supporting the Breeze Network since Breeze rides started in Carmarthenshire two years ago.
In this time they have offered; discount for Breeze Participants and Leaders within their store, run a Ladies Primal Evening to discuss suitable cycling clothing in the winter, and several free women only maintenance evenings. The maintenance evenings enabled the women to practice basic maintenance in a safe environment with support from a qualified technician.
The Breeze programme was introduced by British Cycling in order to tackle the inequality between the number of male and female cyclists across the UK. It is a female only cycling programme aimed at helping women feel confident and comfortable on a ride. Led by women for women, our trained Breeze Champions organise free, local bike rides throughout the country, which provide a nurturing environment in which ladies can gain confidence in their cycling abilities.

County Cycles are always on hand to support the Breeze program. Recently members of the local Breeze Network took part in a Charity ride to raise funds for the Cancer Ward at the local Hospital, who were treating one of the Breeze riders; the shop made a considerable donation to the cause.
When organised Breeze Rides are started from County Cycles, they offer mechanical support to the ladies, including checking tyres where needed. Should any mechanical problems be encountered during the ride, which riders are not able to be fixed at the roadside, they also offer a pick-up service.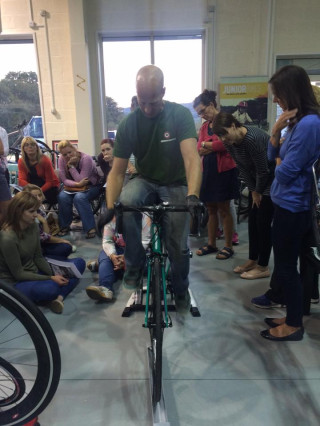 The bike store has been providing, best practice in the industry for over 30 years. They have a large selection of female specific bikes and biking equipment, and they offer professional bike fits on site. There is also a café based in the shop, called 'Bean on a Bike'.
The café serves a selection of teas and coffees; as well as home-made meals and cakes. Breeze champions and participants are given the opportunity to have a meal or snack, while benefiting from the Breeze discount offered. The café also offers Breeze Champions a space to hold get-togethers free of charge.
To find out more information about the services County Cycles offer please visit - https://www.county-cycles.com/
To find a Breeze Ride in your region visit – www.breezebikerides.com