Feature By Pete Maxwell
Photos By British Cycling and Andy Whitehouse
---
When he first appeared on the cycling scene in the early 1990's, cycling wasn't really on the radar. No Lottery Funding and no Academy or Podium Programme in place, if you were good enough you were thrown straight in at the top echelons of elite international cycling. A key member from a clique group of riders such as Chris Newton, Paul Manning, Craig MacLean and Chris Hoy, Rob Hayles has been influential in developing Britain's fortunes on both road and track.
Hayles established himself as one of the best Individual Pursuit riders of his generation
"There are a lot of people working for Team Sky who have the likes of me to thank for their jobs" he jokes. "But in all seriousness, it's been fantastic to have the career I've had, but over the time period I had it as well. That's been the major thing. We've got a lot of Olympic Champions now but I've still been up there and I think that's down to the longevity of the career I've had, and I'd like to think the way I've been during my career as well."
Champion
A challenging question came first - to pick out a defining moment of his career at the Manchester Velodrome. "There have been a few special moments here. The first Revolution was pretty memorable. That very first race was something really special. But from a career point of view being the first team to break the four minute barrier for the team pursuit was pretty good."
Role Model: Hayles offers David Millar (left) and a fresh looking Bradley Wiggins (centre) his opinion at the first ever Revolution in 2003
Hayles' career has seen him win various ten mile Time Trial events on the Road and other highlights included a National Road Race Championship win in 2008 and previously he enjoyed a two year spell on the Pro Continental team, Cofidis, alongside David Millar in 2001.
But arguably he is most famous for his success on the track, believed by some to have acted as a catalyst for Britain's stunning performance in the team Pursuit at the Olympics in Beijing (2008). Hayles competed at four Olympic Games and won multiple World and Olympic medals, a tally that included silver for the Team Pursuit at Athens in 2004 as well as Bronze medals in the Madison and the Team Pursuit at Sydney (2000).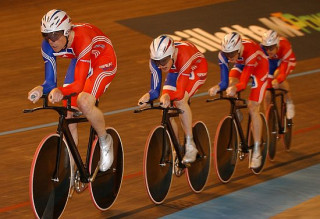 In Pursuit of Glory: Hayles enjoyed massive success in GB's Team Pursuit Squad. Here in 2006, he leads the train with Geraint Thomas, Steve Cummings and Paul Manning behind him
Respect
Jonny Clay, a former teammate during the mid nineties and during the Sydney Olympics is full of praise for a man he describes as 'amazing'. "His results speak for themselves in terms of what he's done. He was always a very fast rider and having ridden with all the best riders over that five year period, I think he was the fastest endurance rider in the world. When he was on form no one could match his pure speed.
"I think what is really important about Rob Hayles is yeah, he's very talented and very professional but just a really good person as well. A great all round guy who was always good fun to be around."
The respect for Hayles is nationwide within cycling. Cycling Weekly recently ran a six page feature on his achievements; he received thousands of good will messages through Twitter, and much to his delight, a fine bottle of red wine during a dedicated presentation to him at Revolution 34.
"One of the best things I've actually done in my career is retiring (Laughs), Hayles said. "The week after my retirement was one of the best times of my career if that makes any sense. It was just the reality of how many people have been following my career. I nearly didn't make a proper announcement because I thought 'well, I can just go into the darkness and get on with what I'm doing', but I'm so glad I did.
"The comments on Twitter were great. I was fortunate with the timing that I could use Twiiter to announce it and a lot of other guys haven't been able to but it's been absolutely mental. I'm really happy. It's a good moment for me and it's come at a good timing in cycling. Ideally I'd be twenty years old and starting out again but the flip side is it means there's a lot of opportunity for me to do other stuff which I'm excited about."
Next steps
There are no current plans to step into the coaching limelight for now and Hayles was at Revolution as a presenter for ITV4's coverage of the event, alongside Ned Boulting. He's also planning on continuing his Radio commentary with BBC during the World Track Championships, BMX World Championships and Olympic Games and when Hugh Porter asked the question at Revolution, his aspirations were simple; "I want your job Hugh."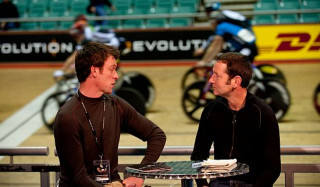 Hayles the pundit: Hayles is enjoying his new job on TV and Radio
His work in the media, he says, has helped him see cycling through a different perspective - that of a commentator, and he's already excited about the current crop of youngsters coming through as well as highlighting GB and Mark Cavendish's s win at the Road World Championships as "extra special".
Cavendish
"The talk after the worlds was that people actually began to understand what went on and what went into making him World Road Race Champion. Great Britain have an awful lot of World Champions in lots of different sports but from a cycling perspective, what he did along with the rest of the team and that was the other thing the way the team was put together by Rod (Ellingworth) and the way they rode, it was absolutely immense.
"The cycling press understand that and it's just getting the general press and public to understand exactly what was involved. How that might not happen again for a long time. It's not a case of 'oh he's world champion, can he win it next year'. It doesn't work like that. It's just getting that message through to people."
Hayles is full of praise for the man whom he shared a Madison World Title with in 2005 and says he should "definitely" win the 2011 BBC Sports Personality of the Year Award. "I probably didn't think he'd be as good as he is, as soon as he was, but I knew he was going to be bloody good. But the way he rode in that Madison, he gave it absolutely everything and it just showed me 'this is a special kid', and he is."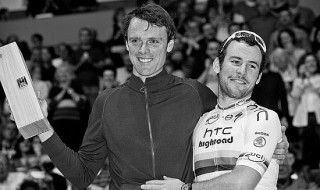 Best buddies: Both Hayles and Cavendish have a huge respect for each other
One of the most popular figures in the sport, don't bet against him being the next voice of cycling at some point in the future. The name of Rob Hayles will be associated with British cycling for a good while yet.