Happy Mother's Day! It's that day of the year when we celebrate the women we call mum. We send

gifts

. We phone mum's that are far away, we might cook dinner for mum's living closer to home

.
Mums who cycle will likely want to ride their bikes; some may want time on their own, whilst some may wish to cycle with friends. Some may arrange a family bike ride. But how many will volunteer their time as a Breeze Champion alongside their daughter in the same role? We only know one such pairing in Scotland and this Mother's Day we would like to celebrate this Mother-Daughter Breeze team: Tracey (mum) and Jordan Humphreys from the Scottish Borders.
Tracey Humphreys' own mum thought that bikes were for boys and so cycling was not a part of her childhood. She purchased her first bike with her first wages and has been cycling on and off since then. In contrast, her daughter Jordan was introduced to cycling from an early age. She had several bikes growing up, progressing through the different sizes as inches were added to her height. Like so many teenagers, the appeal of cycling waned during her teenage years, however she is now back on her bike and cycling again with mum.
In April 2018 Tracey began attending Breeze rides, becoming a regular participant with her local group. She loved it so much she signed up to train as a ride leader and volunteer as a Breeze Champion herself. Completing the course in October 2018, Tracey has since led over 100 Breeze rides, supporting women in her local area to build their cycling confidence and skills. Her local group, the Kelso Breezers, have their fifth anniversary later this month, and are hosting a charity race night to celebrate and raise funds for local charities.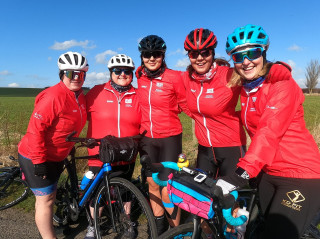 It was the quiet roads of lockdown that persuaded Jordan to take up cycling again and in October 2021 she joined her mum as part of the Breeze Champion volunteer network in Scotland. As a proud mum Tracey praises Jordan's cycling prowess and thinks she could become competitive. If she ever wants to dip her toe into road racing, we would recommend reading this article and watching this Scottish Cycling webinar as a good first step.
At 21 years old Jordan is our youngest Breeze Champion in Scotland, where the average age for volunteers is 51. As an aside, there are a number of upcoming Breeze Champion training coursesand we would love to welcome more young (not-so-young welcome too!) women to join our volunteer team in Scotland.
Tracey told us she and Jordan love cycling together and teaming up as the only mother and daughter (as far as we know) Breeze Champion pair in Scotland. She said they love spending this time together and there are no arguments over whose turn it is to pay for the cake at the café stop, no worries over who is the better cyclist, and participants on the rides have commented on how good their relationship is.
Cycling with Breeze has led them to spend even more time together on their bikes. Together with other friends from their Breeze group they have undertaken several bike packing holidays, including the Coast to Castles route from Newcastle to Edinburghand Sandstone Way from Berwick Upon Tweed to Hexham. They have also completed a number of cycling challenge and sportive events and both have signed up again this year to do the Etape Loch Ness.
Asked if they had any advice for any other mother and daughters interested in cycling together, Tracey told us:"It's a fantastic way to spend time together, there is great bonding, loads of laughs, we would thoroughly recommend it to other mums to encourage their family to cycle."