Last Friday, nearly 500 school children got the chance to experience cycling like they never have before, with a visit to the Emirates Arena.
With the Track Nations Cup taking place inside the Sir Chris Hoy Velodrome from Thursday to Sunday, and some world class stars in action including our very own Katie Archibald and Jack Carlin, it was the perfect opportunity to demonstrate how great cycling can be.
First up was coaching session in the sports hall adjacent to the velodrome, with the children put through their paces across a number of different cycling disciplines, testing their skills and improving their confidence on a bike.
Starting out with some basic bike handling skills in and out of cones, the extremely enthusiastic children progressed to riding mountain bikes on a banked, wooden track, kindly provided by Muckmeddan. From there they learnt to BMX under a limbo pole, before taking on ramps and a number of other obstacles.
Organised by Glasgow Life, and supported by Active Schools Coordinators from across the area, eight sessions were delivered across the day, lead by Scottish Cycling's Go-Ride coach Greig Mullen, with support from coaches from some of our local clubs.
What made this activity even more special however was the presence of two members of our Young People's Panel, Amelie Collins-Nimmo (BMX) and Oscar Parker (road and track), who helped give the children some brilliant pointers and encouragement. A number of the children noted how much they loved having younger role models coaching them through the different challenges.
One of the final stations was delivered by Peachy Keen, a human generated energy station, with stationary bikes for kids who couldn't cycle – this was a real life demonstration of how sustainable our sport can be.
To cap things off, some of the groups got a special visitor in the form of GBCT cyclist and local girl Lusia Steele, who cheered them on and posed for photos, before they all headed across to the velodrome to take in the racing action.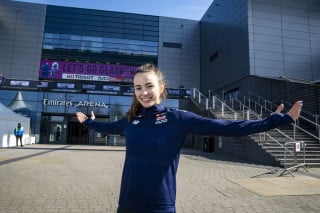 Speaking about the activity, Lusia noted:
"It's been really inspiring to come along and meet so many school pupils today as they see for themselves just how much fun it is to get on a bike and how varied cycling can be. It would be great if some of these kids go on to join cycling clubs and take up the sport like I have – but equally just getting out and riding with friends and family, for fun and to get fit, is also really cool."
Aisling Coyle, a teacher at one of the schools present, added:
"I think the kids love anything active and just getting away from sitting at their desk all day! I think it's important for them to get these opportunities – in our area some of them don't actually have their own bikes, so it's great that they are able to use the facilities today."
For more information on Glasgow's Go-Ride programme click here.