After a fantastic season that included his first senior UCI victories, Cameron Mason will take on the world's best at the UCI Walmart World Cyclocross Championships in Arkansas this Saturday.
Scottish Cycling sat down with the Linlithgow rider to preview the Championships and look back at his season in more detail.
Saturday's World Championships take place in the town of Fayetteville, Arkansas, a far cry from the Cyclocross heartlands of Falkirk, Belgium and the Netherlands, which has caused some logistical nightmares for riders.
"We flew out on Monday, but I raced on Sunday in the Netherlands, so logistics includes making sure the bikes are all okay to go" Mason explained.
"When you fly you have to bring a far more compact set up so I'm taking just two bikes. You must be very specific with what you are going to bring. It's been good being back home the last couple of weeks, as I've felt myself getting a bit stressed about things, but if I just make a list and stay organised, then things will be good."
Linlithgow's Mason will be competing in the Under 23 Men's event on Saturday evening at 8pm UK time. However, he won't be the sole Brit in contention:
"It's a really good little group actually, and when the selection came out, I was really happy to see Joe Blackmore on there as well from U23. Having two riders from U23 Men does represent the strength of the British scene at the moment."
The strength of the Scottish Under 23 riders have been somewhat of a revelation in 2021-22 with two more Scots in Rory McGuire (Wheelbase CabTech Castelli) and Corran Carrick-Anderson (T-MO Racing) making their World Cup debuts.
"It's a shame that riders like Rory McGuire and Corran [Carrick-Anderson] couldn't be selected off the back of their seasons, but the American Worlds are a wee bit special, with the travel, logistics and the size of it, so the team is smaller than normal, but it's still pretty competitive."
While the two Scots – that fought for National Trophy supremacy – haven't been selected for Fayetteville, we are sure they'll be in action at World Championships in the years to come.
After a spending a big block of racing in Belgium, Mason opted to spend the last two weeks back in bonnie Scotland training with his coach James McCallum, his rationale behind it was simple:
"I realised I ride well after lots of training, but that's hard to get in when I'm in Belgium. When you're between races you just want to keep an eye on your fatigue and when you're racing twice a week you're only just getting over fatigue and then going into a race."
Expanded on his choice to sacrificing his chances in the U23 World Cup Series in order to train for the World Champs – Mason admitted:
"I decided to skip Flamanville, which is a shame, as I was high in the World Cup standings. In the long run, I think it'll pay off and it was good to be back home – the familiarity of not needing to think about routes or anything and the home comforts is really good."
The course for the Walmart World Championships has been a topic of much discussion. The Fayetteville course was built especially for these championships and measures just over 3km with 53m of elevation change on each lap. Which are numbers closer to that of a Mountain Bike race:
"It's a weird one - a lot of people have questions about it as the World Cup round was in heavier muddy conditions. We're expecting more settled winter conditions now. The main thing to look out for will be the hills on the course, where you could be climbing for a straight minute, which is pretty solid in cross. I'm hoping it's a bit softer and a bit muddier as that would suit me better.
"When I've done Worlds before and they've been in Europe the Belgian and Netherlands riders have had home advantage, now this time in they'll be in the same situation as me."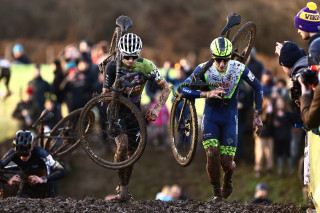 Cameron Mason has really had a breakthrough season in 2021-22 with his first UCI wins coming in the UK at Clanfield and Gravesend before claiming his first World Cup win at Dendermonde on Boxing Day. A great duel ensued in the Elites at the British Championships between himself and Thomas Mein – which the Englishman narrowly won. On his historic season, that's seen him rise to 30th in the Elite World Rankings, Mason was typically candid:
"The World Cup win was the pinnacle of what I'd been working towards in a season - I'd shown bits of what's possible. People were saying 'oh you'll win one soon' and that got a bit frustrating as you don't win one until you actually do. There's no point being close."
With this great run of form of late, it begged the question, what is the goal for Mason in his final season and Championships as an Under 23?
"It's possible I can win it" Mason replied, "and if it's possible then that's the aim. No matter what happens I'm proud of what I've done over the last few months, but it's a big goal and some days I'm nervous, some I'm super chill, but at the minute it's just full focus on when I get to start line being as good as I can be. Everything after that is the easy bit really – just racing round as fast I can."
With such a closely fought season between the Under 23 talents it will be tough for any of them to break from the pack, but the former Leslie Bikes Boutique rider knows the challenge in front of him:
"The goal is to be at front and competitive; the U23 is really competitive and there's about five or six riders who can win in Fayetteville and so it will be about who has prepared the right way and who is mentally in the right place, and after that, what will be, will be."
And with that, we wish Cameron and the rest of the British contingent the very best of luck for this coming weekend.
To see Mason's event in action in the Men's Under 23, tune into Eurosport or GCN+ at 7pm GMT on Saturday 29th January.

You can watch our full interview with Cameron here.