After a quieter weekend of racing the previous week, the last seven days has seen a smorgasbord of racing. Cameron Mason was once again flying the flag in his winter home of Belgium while Jack Carlin and Kyle Gordon were off to sunny Portugal for a UCI Track Meet. While there was plenty of domestic CX action in Bo'ness and Ayr.
Troféu Internacional de Pista – Cidade de Anadia
After a number of weeks hiatus due to Covid restrictions and cancellations, track racing was back for Jack Carlin and Kyle Gordon, as they competed in a UCI track meet in Portugal.
Olympic medallist Carlin reminded everyone of the form that saw him win two medals in Tokyo in the summer by winning the Men's Individual Sprint. Another great result was found in the Keirin as the Renfrewshire rider came home in third position.
Endurance rider Kyle Gordon rode well in a large qualification field to win his qualifying race for the Omnium before coming home in 18th. While the Highlander, racing for Spellman Port Dublin, finished second in his Points Race Qualifier, and then rode to a solid seventh in the final.
Both men will be in action this weekend at the Emirates Arena for the Scottish Cycling Commonwealth Games Qualifying Event.
Flandriencross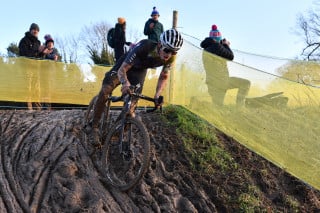 Cameron Mason produced a fantastic ride to finish second in the Men's U23 at the X20 Trofee Hamme – Flandriencross. Finishing only four seconds behind winner Joran Wyseure, it's the Linlithgow rider's eighth UCI podium of the season.
The Trinity Racing rider will take great encouragement at this latest U23 podium that comes only a week before the World Championships in Arkansas – on a course that could suit the Scot.
His final World Cup appearance on Sunday ended with a DNF in the Netherlands, but this seems to have been a precautionary step as we wish him the best of luck for this Saturday.
Stay tuned for our interview with Mason, previewing the Worlds that will be posted on the SC socials in the coming days…
Kinneil X
Falkirk Junior Bike Club hosted the Kinneil X taking place on the eponymous estate just outside of Bo'ness on Saturday.
Craig Owen (Hart's Cyclery) beat off James McCallum (What's your META?) to claim victory in the Men's Race. Owen was able to claim victory be just over 20 seconds from the former professional and Scottish Cycling Board Member. While McCallum's battle with Neil Scott for second came right down to the line with McCallum winning by a single second from the Deeside Thistle rider.
Abigail Corsie (Dundee Wheelers CC) was able to finish as the top Women edging out Eleanor McKay (Vanelli-ProjectGO) by 13 seconds, with Katie Turbitt (Hórs categories) rounding up the podium.
Congratulations should also go to Scottish Cycling Young People's Panel member Jake, who finished second in the Under 16 event.
8th Doonbank Trofee CX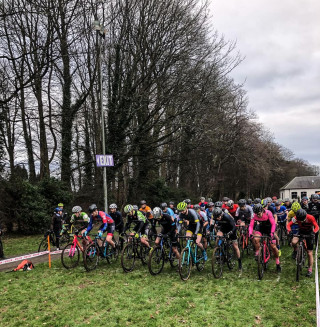 A day later and a few miles further west saw the welcome return of the Doonbank Trofee CX in Ayr. After a two-year absence it's great to see the Ayr Burners CC put on a fantastic event once again, which also formed Round 2 of the Super Quaich series.
Following on from the first event of the day, the U12 fun-ride that saw over 40 children registered, the 'B Race' incorporating the Women's event took place.
The Women's race was won by Karly Millar (SR Albannach) beating Roslynn Newman and Alicia Lawson (VC Moulin) into 2nd and 3rd respectively. Newman was after a hattrick in the event, but Miller was able to hold her off; the 'B Race' overall was won by Edward Addis (RT23).
The A race followed, and it started with drama as one of the favourites Lewis Martin (Studio Velo) fell at the start, fortunately not taking anyone with him. However, Martin quickly showed his class - that saw him ride to a victory in Rouken Glen earlier this season – the Studio Velo rider gaining the lead by the end of lap two.
Once he had taken the lead there was no turning back as Martin opened up a two-minute lead that he held to the line to take his third victory of the season. David Lines (Wheelbase CabTech Castelli) and Chris Hinds (SR Albannach) ensued in a battle for second, with the veteran Lines holding off his younger opponent by nine seconds.
There are still plenty of CX events to come up in Scotland over the next six weeks - why not enter today by clicking here.