Despite a Covid-affected card that meant the Scottish National Track Championships would not take place, there was still elite action on two wheels as the final round of the National Cyclo-Cross Trophy went ahead in Yorkshire.
With Corran Carrick-Anderson opting not to race at Broughton Hall, as he had already sewn up both the Elite and U23 National Trophies in Round 5 and Cameron Mason focusing on training for the World Championships; Rory McGuire was hoping to secure second in the series.
The Wheelbase CabTech Castelli rider was joined by former Commonwealth Games competitor Grant Ferguson (HopeTech Factory Racing) in the Men's Elite race on a tough course in North Yorkshire.
However, a very strong field, including Thomas Mein, made life difficult for the Scots, with McGuire finishing in solid seventh place and Ferguson in 18th place. McGuire's debut season of senior National Trophy racing sees him end the series in third place, in both the Senior and U23 field – showing the strength in depth in that particular age group of riders.
In the Women's Ishbel Strathdee (VeloRevolution-WP Cycles) produced an excellent ride to finish seventh with Scottish Champion Anna Flynn (Edinburgh RC) following directly behind in eighth.
Flynn's eighth was not enough to win the U23 National Trophy with the Edinburgh RC rider finishing in second overall as rival Abbie Manley's sixth was enough for her to take the leaders jersey, with only 28 seconds separating the two riders – had their positions been reversed on Sunday, the Trophy would be heading up North.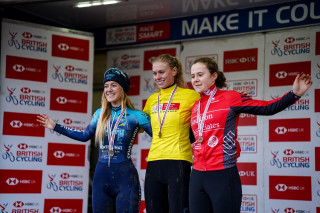 In the Elite Trophy, Flynn's great rides this season resulted in a bronze medal, with Ishbel Strathdee in seventh.
Scottish Junior champion Emily Carrick-Anderson (T-MO Racing) rode to another podium, finishing second in a marvellous first year at Junior level; in which she finished second in the Junior Women's National Trophy overall and took the victory in Round 5.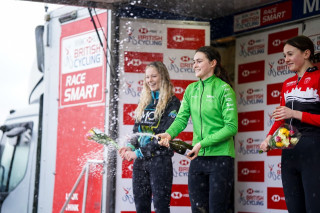 While that is the end of the National Trophy for 2021-22, it is not the end of the Cyclocross for the winter. Cameron Mason heads up the challenge for the rainbow bands in Fayetteville as the World Champs heads to the mud of Arkansas on the 29th and 30th January.
Meanwhile, there is still plenty of CX events in Scotland to come over the next six weeks which you can enter and they can be found by clicking here.