In memory of Lewis Barry 1995-2010
Many more of Joolze's Images from the day are on British Cycling's Flickr Page
To outsiders a mass gathering of cyclists outside The Mansion at Roundhay Park was nothing but an mild distraction. But to the 200 hundred or so riders, young and old, from all over the UK that converged at this venue it was the start of a very special day, a day where they and hundreds of other well wishers were gathering to celebrate the life of one very special person, Lewis Barry.
A fitting salute to a remarkable young cyclist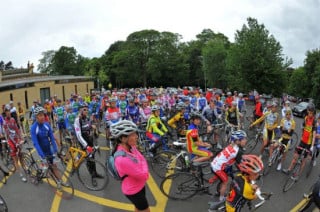 Hundreds turned out to say their farewells to Lewis and celebrate his memory
Lewis, the son of former National Cycling Champion, Carol and Olympic athlete, Mark, tragically passed away in his sleep just over a week ago. The 15 year old was showing immense promise both in cycling and in football and was incredibly popular, making a lasting impression on all who met him.
Carol and Mark, were determined to celebrate their much adored son's life and so everyone who had known Lewis was invited to attend his "Party in the Park" after an incredibly funeral moving service.
The cyclists in their brightest kit rode a quiet 13 miles, led by Matt Winston - Talent Team Coach - and Giles Pidock, to pay their respects, picking up riders as they went. In total nearly 300 hundred riders arrived on bike with a further 200 hundred or so family and friends, dressed to 'party' arriving by other means.
As Lewis, in his Yorkshire team kit made his final journey, all the cyclists lined the route each with front wheel in hand, raised in a silent arch of tribute.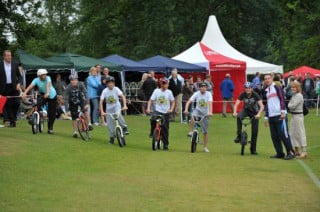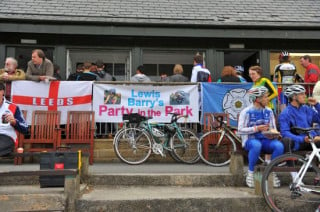 With the crematorium bursting at the seams with well wishers, filling every conceivable nook and cranny, many more crammed themselves around the building to hear the service celebrating the young man's life, which included his favourite music, poems written by friends, as well as a tribute to his mate 'Spadger' written and read by Luke Simpson.
Then it was time to return to Roundhay Park to continue the celebrations. The Weetwood police division kindly closing the road to allow the cyclists a safe start to their journey back. The first guests to arrive at the party were Lewis's teachers and school friends from Garforth Community College, followed by his family, friends, footballer mates from Garforth Villa and finally the cyclists.
The grass track at Roundhay, a scene of many victories and much laughter for Lewis, was quickly transformed into a festival, with marquees, gazebos, mini north shore, limbo ( a particular favourite of Lewis') and mountains of free food, donated very kindly by family and friends in order to show Carol and Mark, everyone's love and support.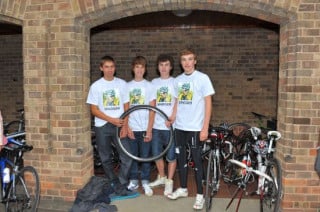 Above and below, Lewis's many friends were there to celebrate his life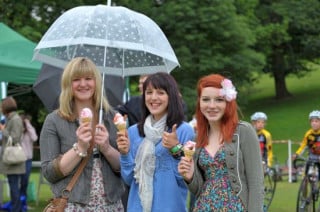 Arlene, a close friend of the Barrys, brought her butty van from Ruler Hall Rare Breeds in York full of sausages and bacon. Mark Harrison, from the Fountain restaurant in Duncombe Park, whose son's had been coached by Mark at Garforth Villa football club, brought his BBQ, burgers and two enormous gazebo's. Then all the family and friends brought all the cold food, drinks, puddings and everything else to make the day as memorable as possible. Even Lewis' favourite ice cream van man Freddie was on hand dishing out free ice cream, in exchange for memories written on post it notes, that were then displayed in the Pavilion for all to read and smile about.
A few of the non-cycling guests got a shock when John Cresswell, the starter, fired his gun to start the racing, which saw U8's to adults taking to the track for a series of cycle races competing for prizes donated by Phil Griffiths. The BMX race with Lewis's Yorkshire team mates' saw some cheeky cheating by Luke Simpson cutting the course. If they can spin as fast as that on the track, Chris Hoy had better watch out. This was followed by Phil West doing the same in the adult's race, unashamedly egged on by Mark himself, even Carol swung a leg over and had a quick fun spin despite the rain!
Luckily when the rain came, and it had held off as long as possible, there was plenty of shelter for everyone, with the celebrations going long into the evening, even well after rain stopped play!
A huge vote of thanks must go to Shaun Gregory and the park rangers at Roundhay Park in Leeds for giving their permission and wonderful support to Lewis's Party in the Park. They ensured that a huge event, normally several months in the planning could be arranged at less than a weeks' notice.
Thanks must also go to everyone else who helped to make this sad day such an amazing celebration of life for a smiling, cheeky, and loving boy. RIP Lewis you and your laughter will be sorely missed.
Many people kindly donated money in memory of Lewis and the Barry's are giving these donations to a variety of causes. If you would like to contribute any donations can be sent to: Carol and Mark Barry, 14 Larch Lane, Garforth, Leeds LS25 2JP