Follow britishcycling.org.uk on
43rd Clayton Velo Spring Classic

February 28, 2010; by Larry Hickmott
The 2010 road racing season continued to gather pace in the North West on Sunday, February 28, with the 43rd running of the Clayton Velo Spring Classic won in classic style by Rapha/Condor/Sharp's Dan Craven in a two-up sprint finish with Pete Williams (Motorpoint Marshalls Pasta).
Dan Craven sprints for the line while Pete Williams realises he has misjudged the effort and admits defeat
Race report
This classic event is open to riders of all ages and abilities thanks to the handicap format. As eventual winner Dan Craven explained later, it gives third and fourth category riders as well as juniors, the opportunity to race with Elites and see where their level is.

The day began with the riders assembling in a village hall at Clithero and while the hills round the town, such as Pendle, had snow on them, the weather was a lot better than had been predicted. Cold yes, but not freezing and it was dry and perfect for an early season race.

With 15 minutes to the start at 10am, commissaire Ivor Armstrong gave the riders a briefing before they rode the mile or two to the start. There, they were put into four groups, each with a lead car and NEG motorbike escort and one-by-one, Ivor let them go until eight minutes after the first group, the scratch group, packed with Elite riders, was let loose to chase the leaders down.
Below: Photo album (164 photos) of the race
The Elite group certainly had some quality in it with Olympic medallist Chris Newton (Rapha Condor Sharp) a notable starter. He explained later that it is17 years since he first rode the race and he has lost count of the number of times he has won it. The early laps saw each of the groups get organised and the gaps between them came down until after a handful of laps, there were two main groups in the race with the odd straggler here and there.

An early casualty was Matt Stephens (Sigma Sport/Specialized) who broke a chain, not the only rider to do so in the race. The scratch group continued to chase down the front group, working well, and then as the race entered the final half dozen laps, the likes of Newton, Malcolm Elliott (Motorpoint/Marshalls Pasta) and co had the leaders in sight.
With snow on the hills in the background, the race winds its way through the lanes near Clithero in Lancs.

They made short work of catching the leaders and with five laps to go, the race came together. This was the moment for the format of the race to change from one where everyone worked to bring the race together, to one where individuals were going to chance their legs and try and split it up again!

Matt Cronshaw (Rapha Condor Sharp) was one who went for a solo effort, something he admitted later he paid for. Then, when Matt was being reeled in, Peter Williams countered with an attack of his own and Dan Craven joined him.
There was still around 15 miles left but with Williams driving the break along, they continued to increase their lead. Behind, there was a lot of attacking to get up to them and soon a small chase group formed and with a few laps to go, the question being asked by spectators was whether the chasers would bring back the leaders?

The answer was, In a word, no. Pete Williams kept the pace going by attacking Craven twice. Craven, until that point, had been struggling to contain Williams but ironically the attacks by the Motorpoint/Marshalls Pasta rider had brought Craven's legs to life and when they came into view a mile or so after the finish area with two laps to go, he was driving the break with determination etched into his face.
A lap out, with the bell ringing out in the countryside and the leaders still holding a good advantage over the break, a big crowd, including a trio of 70's legends, Phil Griffiths, Keith Lambert and Sid Barras, was waiting at the finishing line . British Cycling president, Brian Cookson, who is a local to the area, was also there to witness the finish.

When it comes to sprint finishes, Dan Craven will admit he doesn't have the best sprint but he certainly showed Pete Williams a clean pair of heels as he romped home to give the race its first Namibian winner! Behind them, Chris Newton won the sprint for third showing what might have been had the break had been caught.
A multi winner of the event, Chris Newton defeats Jonny McEvoy for the final podium place.

POST RACE INTERVIEWS
Dan Craven: "I feel a little bit guilty because when I first got away with Pete, I was just feeling a bit sluggish and he was doing harder pulls than I was and he could see that I was struggling. Then with a lap and a half to go, he attacked me twice and those two efforts to bring him back, kind of kick started me and woke the legs up".

"Had he not attacked me, I may well have been sluggish at the end. For the last lap, I was pulling as strong as he was and coming into the final kilometre and a half, we knew we had a nice gap so I got Pete in front of me so I was on his wheel. At the start of the sprint, I jumped him and as he drew alongside, I thought he's looking good. I shifted down a gear and kept going and he didn't."

"For me, being a well known non-sprinter, it's really cool to win this race. I must also say I knew I had four strong guys in the group behind so I could have sat on Pete because I felt my riders were stronger than his. Another motivation to sprint hard, was I knew if I didn't pull it off with such strong guys at the back it would be very disappointing for them and the team if I hadn't won."

"With Chris getting third, I think the team had a good showing for the first outing of the year."

"I have done quite a few handicap races in Switzerland and this one although smaller with less riders, everyone worked so well together until we caught the leaders. Everyone had been doing their bit and then when the race came together, it all became a bit chaotic. I knew attacks were going to go so I made sure I was at the front and all the others were there too from the team and I was just the lucky one to cross the gap to Pete."

On the race, and it's handicap format, Dan explained "I think for the younger riders and the lower cats, its something different, it's cool. They see what they have to aim at and if I was a 4th cat, I'd love these races."
Pete Williams: "I was feeling strong but I was also feeling a bit tired from last night as well (Pete raced Revolution 28). I could grind hard but not very very hard. I kind of under estimated Dan in the sprint as well and I messed it up completely which was annoying."

"Early on, everyone worked together and I don't think there was anyone sitting on. Then when it came together, I knew they would take turns in attacking so I was watching Chris Newton (former winner) more than anything. When Matt came back I went straight over the top and Dan came across."

"I could see Dan was struggling and I fell into that trap. I know how hard you have to ride to stay away on that circuit so I just wanted to commit and get away."

Talking about the start, knowing they had eight minutes to make up, Pete explained "this time of the year we have all been away training and a lot of the fourth cats have probably hardly touched their bikes this winter so it wasn't going to be too bad bringing them back. We started steady, nothing stupid, quick but steady and we knew we'd catch them eventually."

"Last night at Revolution 28 was quite hard. I wasn't meant to go that hard but I had good legs and so went for it. It is all training for the bigger races later in the season."
Chris Newton: The rider who has been World Champion and won numerous Olympic medals, explained that it was 17 years ago that he first rode this race. Asked how many times he was won it, he replied, "I can't really remember. Probably only about five times but it has been 17 years since I first raced it. I won in 93, 94, 95 and 2005 and 2007 and maybe inbetween".

"It was good having Dan up the road. He's no mean sprinter, he's pretty rapid and was up there on a few stages in the Tour of Britain. We were quietly confident he could take it and it was good to get a win for the team."

Chris then talked about Revolution the night before and how disappointing it was not to win on the night, something he generally manages to do in one race or another. "I'm a bit tired. Last night I was thinking about this morning and then today I could feel last nights racing in my legs but it was a good weekend's worth of work".

Newton's big aim, as it has been for more than a decade is the Track Worlds but he admits he hasn't been feeling great since he arrived home from a training camp on Monday. "I trained right up to the last minute before I flew so I didn't expect to be sparkling. I paced myself early on in today's race and over the last few laps, put in some hard efforts and it worked out alright."

"I just want the form to bubble through rather than sit back and let it come to me." Chris will be back training on the track on Tuesday. "This (Clayton Velo), and the Neil White next weekend are probably the only real distance work I'm doing" he told me. " I'm going to be working on the technical side of the omnium, like the flying 200's, kilometre, pursuit work and top end work and let these sort of races hold everything together."

Looking ahead to the Track Worlds, Chris says "it's four weeks today to the omnium. I haven't done as much Points race work for the start of the Worlds and I'll let experience take care of that. It does take a lot of time and you can't do both so I'll put all my eggs in the Omnium basket because that is where the Olympic medals are."
"The Worlds this year (Omnium), with a 15k Points race and a 7.5k scratch race, they will favour the sprinter type athlete but looking further on to the Olympics, they are not about that. It's about a 30k Points and 20k Scratch race and those kind of races, you can't just sit and wait for the sprint, you have to be active and able to recover quickly which has been my forte really. So that is what I am pushing for."
Result
1 Dan Craven Rapha Condor Sharp
2 Peter Williams Motopoint Marshalls Pasta
3 Chris Newton Rapha Condor Sharp
4 Jonny Mcevoy Motopoint Marshalls Pasta
5 Ian Bibby Motopoint Marshalls Pasta
6 Dean Downing Rapha Condor Sharp
7 Tom Barras Team Raleigh
8 Ben Greenwood Rapha Condor Sharp
9 Alistair Rutherford Science In Sport
10 James Sammson Motopoint Marshalls Pasta
11 James Williamson Sigma Sport
12 Matthew Cronshaw Rapha Condor Sharp
13 Giles Pidcock Epic Cycles Rc
14 Robert Smail Cycles Premier
15 Conan Mayman Raleigh Rt
16 Lewis Balyckyi Team Wallis Chh (1st Junior)
17 Simon Yates Maxgear Rt
18 Andrew Young Bassobikes
19 Adam Biggs Bassobikes
20 Adrian Lawrence Mk Cycles
21 Michael Cumming Team Raleigh
22 Robert Crampton Wills Wheels
23 Malcolm Elliot Motopoint Marshalls Pasta
24 Lee Davies Motopoint Marshalls Pasta
25 Ben Kellett Vs Cycles
26 Andy Coupe Team Wallis Chh
27 Neil Swithenbank Gs Surosa
28 Steven Abbott Team Wallis Chh
29 Stephen Leigh Mk Cycles
30 Ashley Finn Cycles Premier
31 Simon Wilson Cycles Premier
32 Chris Wade Aire Valley Rt
33 Jack Cousins Sport City Velo
34 Carl Pawson Team Swift
35 Graham Payne Whitfield Rt
36 Roy Holmes Team Wallis Chh
37 James Gullen Team Wallis Chh
38 Dan Walker Clayton Velo
39 Michael Tomlinson Wheel Guru
40 Andrew Mitchell Ellis Briggs Rt
41 Russell Brass Clayton Velo
42 Guy Laycock Greater Manchester Police Rt
43 Richard Maughan Leigh Premier
44 Jason Wiltshire Lancashire Rc
45 Hamish Fle/Cooney Private Member
46 Mark Bateman Triangle Rt
47 Richard Binks Holm Valley Wheelers
48 Chris Wilkinson Mid Shropshire Whs
49 Craig Maude Private Member
50 Jimmy Wright Preston Wheelers
51 Hamish Graham South Dublin Cc
52 Gareth Longbottom Team Wallis Chh
Race Report Photos
Dean Downing wins a great sprint for sixth place!
First group off line up at the start.
Another group are in place ready to go when their time comes round
Riders from the top teams in the country chat at the start
James Williamson (Sigma Sport/Specialized) leads the Scratch group away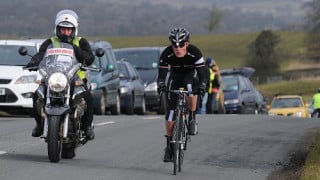 Matt Cronshaw goes it alone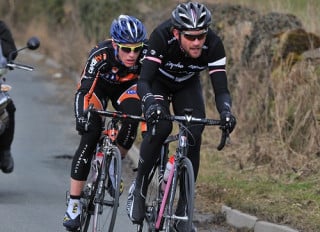 Dan Craven leads Pete Williams as they set about holding off the chasers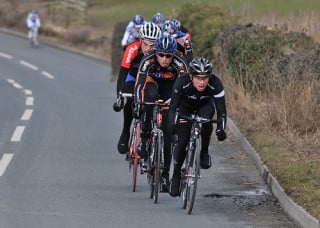 After a night on the boards, those of the Manchester Velodrome at Revolution 28, Dean Downing leads the chase group with a lap to go.
The race in pieces up a climb just after the finish area with two laps to go.
RELATED LINKS
Preview of the race