| | | | | | | | |
| --- | --- | --- | --- | --- | --- | --- | --- |
| | Follow britishcycling.org.uk on | | | | | | |

Over 15,000 Riders at sunny Sky Ride Birmingham
Event: 3rd July 2011
Cannon Hill Park, Birmingham
Images and Video: Eddie Allen
More info: www.goskyride.com
Image Gallery on Flickr

Above: Lorraine Kelly and Victoria Pendleton lead thousands onto the Birmingham Sky Ride route.
15,500 people joined TV presenter Lorraine Kelly and World and Olympic Champion cyclist Victoria Pendleton MBE for Sky Ride Birmingham on 3rd July. Many more came out to watch and experience the day as cyclists of all ages and abilities took to traffic-free streets for the chance to enjoy the town on two wheels. The day marked the third event of Sky Ride 2011 - a national campaign to get one million people cycling regularly by 2013.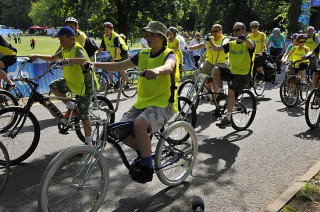 Above: Bikes and riders of all kinds enjoying the sunshine and the chance to ride Birmingham traffic-free.
The free event hosted by Sky and British Cycling, in partnership with Birmingham City Council, allowed riders to take in the 7.5km route at their own pace whilst enjoying some of the city's well-known landmarks and sights including the Rag and Wholesale Markets, the new Edgbaston Cricket Ground and the green open spaces of Cannon Hill and Calthorpe Parks. Participants were treated to a whole host of activities and entertainment throughout the day along the route.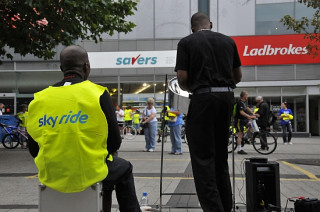 Above: Buskers entertained riders as they circled the route.
With performances from local buskers, demonstrations from the Sky Sports Living for Team Extreme BMXers, performances from Hip Hop Shakespeare and the chance to buy on-trend bike accessories, there was something on hand for everyone to enjoy. Stars from the worlds of cycling and TV took time out to help less experienced riders and chatted with participants in the British Cycling Bike Cafe. There was also plenty of entertainment for young people including a Go-Ride racing course where participants tested their racing skills and received tips and advice from pro's and British Cycling coaches.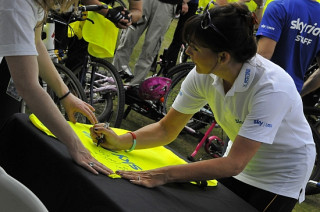 Above: Lorraine Kelly was on hand with the marker pen to sign Sky Ride bibs
As well as taking part in Sky Ride Birmingham, local residents are also being asked to take part in a nationwide poll and nominate their favourite hill to cycle down in the region. Backed by multiple world and Olympic champion Sir Chris Hoy, the nationwide search will see the ultimate cycling descent being crowned the UK's Perfect Hill. Find out more and nominate your perfect hill.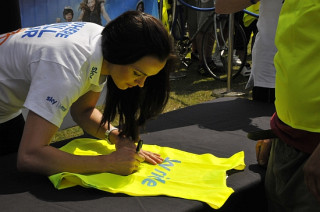 Above: Victoria Pendleton was also kept busy with the Sharpie, as hundreds of Sky Riders queued for a signed bib and a chat with the track sprint star.
Sky Ride Ambassador Lorraine Kelly commented: "I had such a brilliant time in Birmingham today and it has been lovely to meet so many Sky Riders of all ages. The route was fantastic as Birmingham has such a range of iconic old buildings and new modern ones. There were also some utterly brilliant bikes; Birmingham definitely pulled out all the stops!"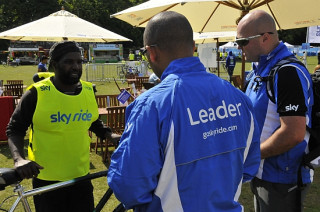 Above: Sky Ride Leaders were on hand at the British Cycling Bike Cafe to spread the word about Sky Ride Local rides in the Birmingham area.
Birmingham City Council's Cllr Martin Mullaney, Cabinet Member for Leisure, Sport and Culture said: "It's fantastic that once again so many people joined us in Birmingham to enjoy this fantastic event. As a city we are keen to promote the benefits of staying fit and healthy to local people and Sky Ride is playing an important part in that."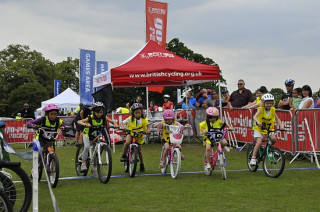 Above: Go-Ride Racing gave young Sky Riders a chance to feel the thrill of competition.
Sky Ride Birmingham is just one of the many ways local residents can get back on their bikes through this year's Sky Ride campaign. Sky Ride Local Rides are running every Sunday through the summer in and around Birmingham which take in everything from the countryside and local sights. Bike maintenance workshops are available in Birmingham on 15th and 16th July - to help everyone keep riding with confidence.
Sky Ride People: Birmingham
VIDEO: WHAT YOU THOUGHT ABOUT SKY RIDE BIRMINGHAM
We spoke to just a few of the thousands of cyclists out on the route in Birmingham to see what they thought Sky Ride, and how it might change their outlook on cycling in the future.
Tina:
"I'm on Sky Ride today and I think it's really, really great that they've closed off all the roads and the traffic to promote cycling. I think because of this I'd probably be a lot more confident cycling to work in town from now on. "
"It's really encouraging to see all of these other bike riders today and to kinda know you're not alone and seeing the route into town - how flat and how nice it can be. I think it just promotes a lot of confidence in riding."
Richard:
"I got a text from Tina this morning to say come on down to the Sky Ride so I cycled down from Moseley. It's really good - good to see so many people here in their yellow jackets! There's lots of people on bikes. Where have they been all hiding before this?"
"The Sky Ride has improved my confidence. I know the roads a bit better around Birmingham now - some roads I didn't know before. I liked the exclusive behind the scenes tour of the Birmingham Wholesale Markets too! "
"The ride is very organised but it doesn't seem too organised - it's not too regimented and you can do your own thing."
Charlotte:
"I'm out with my daughter and I think it's a great activity - it keeps you fit, it's nice to come out and meet other people and the whole event is really good. The Sky Ride has got me looking at gadgets for my bicycle; y'know, bottle holders, bells - soup it up a bit!"
Lora:
"It's my first time doing a Sky Ride - I've brought my family along - my partner and my two little kids. It's been a really good day - really enjoyed it. It's a good way of getting the kids involved with riding bikes. I've really enjoyed today, I haven't been out on my bike for ages."
VIDEO: WE ASKED SKY RIDERS, "WHERE WILL YOUR BIKE TAKE YOU?"
MORE IMAGES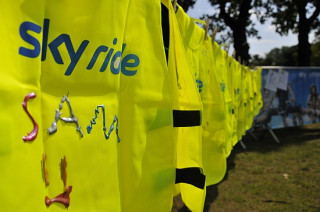 Above: Sam's design was just one of many custom bibs on show at the Bike Cafe.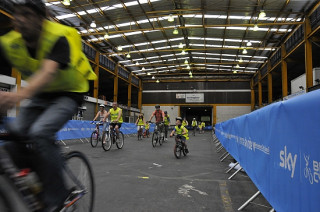 Above: The route's killer feature was without doubt the indoor section through the Wholesale Markets.