Round three of the British Cycling MTB Four-cross Series took place in Redhill where Duncan Ferris and Heather Kay kept their lead at the head of the overall standings.
Ferris prevailed in a frenetic final to take the elite men's win – despite being in second for most of the race. On the third straight Nathan Parsons crashed, Ferris reacted fastest and crossed the line first, chased by Dave Richardson. Alex Metcalfe finished third and Parsons was last man home.
The result saw Ferris claim his second win of the series and extend his lead to ten points over Parsons. A crash for Lewis Lacey in the motos counted him out of contention for the win and dented his series hopes after a no-score at round one.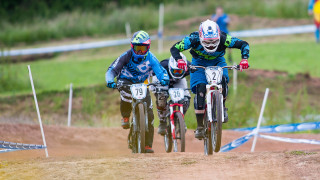 In the women's final, Natasha Bradley led from the gate, with Tyde D'Souza second. Third place for Heather Kay allowed her to retain the series lead, albeit by a margin of two points over D'Souza. Bradley is just two further points down in a tight race for the title.
Rounds four and five of the British Cycling MTB Four-cross Series is on 8-9 August at Falmouth in Cornwall.