The unbeatable Matt Bostock made it five race wins out of five as he and Jo Tindley wrapped up their overall titles in the HSBC UK | National Circuit Series.
Canyon dhb p/b Bloor Homes rider Bostock has proved unfaultable this year and once again delivered the goods, coming from third place in the final corner to take a fifth win that makes his lead atop the standings unattainable.
Tindley, meanwhile, had to settle for second place behind former Barnsley winner Rebecca Durrell on a dramatic night of racing in South Yorkshire.
But a spot on the podium proved enough for Tindley to take the overall series title, narrowly edging out Campinense–Velo Performance teammate Elizabeth Bennett to the crown.
Five-star Bostock maintains perfection
With half-an-eye on Sunday's National HSBC UK | National Circuit Championships, there were thoughts as to whether Bostock would go full throttle on the roads of Barnsley.
But he proved exactly why he has impressed so heavily this year, heading to Rochester full of confidence after a sprint finish to add to his repertoire of impressive finales.
In tough conditions due to earlier rain, the riders were initially feeling out the conditions with the peloton stretched out on a technical circuit.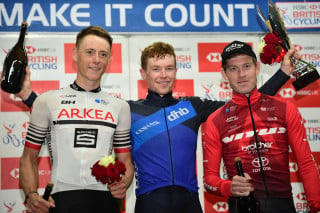 But once a group had formed a breakaway they were not to be caught, with Bostock, Rob Scott, national road champion Connor Swift (Team Arkea-Samsic), Ali Slater (Vitus Pro Cycling p/b Brother UK) and Ryan Christensen (Canyon dhb p/b Bloor Homes) leading the way.
A slip-up saw Christensen lose ground but the remaining quartet were not letting their advantage fall away heading into the last eight laps.
Into the final lap they went still together but as Scott's bid for victory disappeared, a sprint to the line was left between Slater, Swift and Bostock.
It was Swift who turned the corner with free road ahead of him but as a three-up sprint ensued, Bostock's speed once again came to the fore as he secured a fifth win of the series with one round to go in Sheffield, next week.
"It's massive, I didn't expect it tonight – I was hoping for a bit of an easier rider, and for there to be pressure on other shoulders," he said.
"I wasn't sure what to do, we came here to win and I knew I had Ollie (Wood) in the chasing group, I was in two minds but we rode quite nicely together and we got the sprint.
"The pressure is on for Sunday, that's the big one, I'll have to get some good sleep."
Durrell and Tindley bag Barnsley honours
Still hasn't sunk in! Thank you to all those hardy folk who cheered us on in the! Brilliant to share the podium with teammate @GabriellaShaw1, and @jltindley, who's team have given us great battles this year https://t.co/uPDeP4hczh

— Rebecca Durrell (@BecksDurrell) July 19, 2019
Earlier in the night, it took mere moments for the women's field to be strewn across the circuit with the series leaders battling it out for position early on.
Among them was overall leader Bennett until she snapped a chain before properly getting go in the race, denting her chances of continuing her strong form.
Teammate Tindley was not to be held back, but being outnumbered by Brother UK - Tifosi p/b OnForm duo Durrell and Gabriella Shaw far from made her task easy.
Each of the trio took their turn to make an break, with Tindley looking to make attack the best form of defence.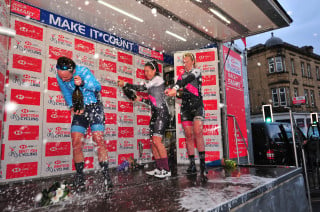 Fears of being caught from the peloton were snuffed out as they increased their lead to beyond 30 seconds, the winner certain to come from these three as they entered the final five laps.
Durrell entered the bell lap ahead and that was how it finished despite the best efforts of a superb ride from Tindley, with Shaw wrapping up the podium.
But a second place was enough for Tindley to reach 78 points and top spot for the series, nine points ahead of Bennett while Durrell took third spot.
Having two riders lead the individual standings gave Campinense - Velo Performance a comfortable win in the team standings, their 157 points more than 60 clear of the nearest challengers.
Durrell said of her race win: "It's a confidence-booster, Jo had a great ride and it was really fun. We all got around unscathed, so job's a good'un."