Follow britishcycling.org.uk on
Preview: British XC Series Round 2

2010 British XC Series Home | Official Website | Online Entry | Rider Entry Lists
Words: Luke Webber Photography: Luke Webber
Wasing. Way-sing. Wosing. Wazzing. However you want to say it, round two of the British XC Series goes to that place near Aldermaston on Sunday. If you missed the Southern XC there, and your exclusive chance to pre-ride the course then don't worry. We've got all the details you're going to need.
Round one of the British XC Series. Sellout attendance, international quality field, close, exciting racing. Sherwood Pines had it all. And indications for round two at Wasing are no different. A brand new venue for 2010 with a course built only two months previous and hosting the Southern XC, Wasing is situated on a Farm Estate and has a similar feel to Margam Park, albeit with some very different trails.
THE COURSE
Designed by the team behind the Southern XC Series, incorporating Steve Jones, Henry Turgoose, Murph and more, the Wasing Estate is a new venue, secured to replace the planned Porridgepot Hill round. Situated between Reading, Newbury and Basingstoke, the location is sure to make a difference to attendance, placed in a hotbed of cycling.
Centred around an area of deciduous woodland, flanked by a large field which will form the start arena the course quickly turns onto tarmac, before the opening fireroad climb. This gradual uphill then gives way to a section which sets the theme for the opening half lap; tortuously twisting singletrack which is slow, heavy under tyre and requires many accelerations. Dips, repetitive bumps and soft soil all destroy the legs, before the course is transformed.
Marked by a huge bombhole, the track turns from soft to solid and following another slight climb there will be only one gearing requirement - big ring all the way! The final section of singletrack is worthy of particular note; roots, stones and baked clay all conspire to create a trail that installs the grin factor, before a loop around the arena.
Changes to the course from the Southern XC test race include a greater proportion of firetrack for more overtaking, and repair to the ditches and rider crossings.
In the dry, the course will be a pleasure to ride, but should the weather turn unpredictable sections of the opening half-lap will be impassable, with the second half a battle of motivation survival. However, it is worth noting it never rains, nor dips below 20 degrees when south of Oxford.
Vital Statistics - Presented By Garmin
Course Length: 4.6 miles
Climbing Per Lap: 343 feet
Estimated Elite Lap Time: 24 minutes (dry)
Estimated Race Duration: 5 laps Elite Men, 4 laps Elite Women
Feed/Technical Assistance Zones: 2
Singetrack: 70%
Firetrack: 30%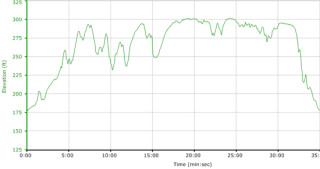 THE RIDERS
Already confirmed are several riders from the Dalby World Cup, including Liam Killeen, Oli Beckingsale, Steve James, Annie Last, Lily Matthews and David Fletcher - just some of the biggest names who will fill the expected entry of over 600 for Sunday's main event.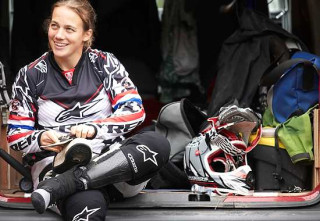 Tracey Moseley will be racing the team relay. Expect a peaked XC lid and no pads though.
Saturday nights team-relay is no less prestigious though, with a guest appearance from twice Downhill World Cup Champion Tracy Moseley. Riding alongside Phil Morris, Lee Williams and Niall Frost on the XCRacer.com lineup, this entertaining event is sure to draw the crowds following official course practice, and the already popular demo event where anyone can test ride bikes from Britain's biggest brands including Trek, Specialized, Giant, Genesis, Gary Fisher, Santa Cruz, Merida and Yeti completes a total of over 20 main arena exhibitors.
RACE COVERAGE
British Cycling will be at Wasing covering all the action, both racing and reporting in on the weekend. We'll have weather reports in the run-up to the event, insight into what kit the top riders chose and information on how you can get involved at the British XC Series.
If you don't want to enter, but fancy watching Britain's best XC racers in action then get yourself along to watch, or demo one of the bikes from the exhibiting manufacturers. It won't cost you a penny - all we ask is that you give your favourite riders some encouragement to pedal a bit harder...or even come and try racing at Round 3!
---
Schedule
Friday May 7
1700 - Site Open for camping arrivals.
Saturday May 8
1000-1600 Demo Course Open
1300-1800 XC Practice Open
1800-1900 Team Relay
Sunday May 9
0900 XC Practice
1000 Demo Course Open
1000 Race 1. All Female categories and Juvenile/Youth Boys
1200 Practice
1230 Race 2. Elite/Expert/Sport/Junior Men
1500 Race 3. Master/Veteran/Grand Veteran/Super Veteran Men/Open
1500 Last demo rides begin
1600 Demo course closed.
1700 Free under 12s race.
Facilities
Series caterers and series retail supporters Quaver Catering and Swinnertons will be on hand to keep you fuelled and moving. Camping is available on site from Friday evening with toilets, water and parking on site. The Hope Sh1t Shifter bikewash man will also be in attendance
Demo
The full demo programme will be running Saturday and Sunday with Yeti, Giant, Specialized, Santacruz, Genesis, Merida, Trek, Osprey backpacks and Accelerade nutrition all offering free access to their products To access the demo products you need to be aged 18 or over and bring 2 forms of ID passport/driving licence plus credit/debit card. Please check the demo specific pages for more info on bikes available.
Getting There By car
If you have Sat Nav use postcode RG7 4NG. Check the venue website for more information www.wasing.co.uk
Getting There By Air
The nearest International airport is Heathrow.