Follow britishcycling.org.uk on

Midlands XC 2010 Series Launch
James Hampshire sends us details of the sell-out Midlands XC Series 2010. If you want to get in on the action, you'd better be fast to the line! This will be the fourth year of the revitalized series and it promises to be the best yet, with four races at four top notch venues, starting in April and finishing in September.
Renowned for it's fun, friendly atmosphere and quality courses, feedback from racers will see the series heading south of Birmingham for the first time to a classic old skool venue.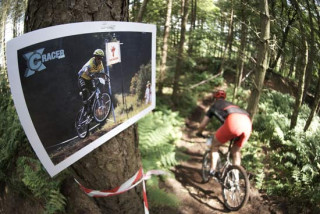 And with sports massage available at every round courtesy of Performance Training, neutral technical support at every round thanks to Elite Tech PCS, a new singlespeed category and prices held at 2009 levels, with a further discount if you enter the whole series in advance, there's no reason not to race.
The Rounds:
Round 1 - April 18
Venue: Hanchurch Woods, near Stoke-on-Trent
Kicking off the series in fine style and many people's favourite course, Hanchurch returns in 2010 with Club Goldtec priming the technical singletrack for a great days racing at a venue that is off-limits the rest of the year.
Nearest Postcode for Sat Nav: ST4 8SN
Nearest Train Station: Barlaston Orchard Place, 4.5 miles.
Round 2 - May 23 (incorporating Midlands Champs)
Venue : Mansell Lacy, near Hereford
A blast from the past! The series ventures South of Birmingham for the first time and heads to Mansell Lacy for the return of the 'May Bug' as it hosts the 2010 Midlands Champs. Expect big climbs and big descents.
Nearest Postcode for Sat Nav: HR4 7HQ
Nearest Train Station: Hereford, 6 miles.
Round 3 - August 1
Venue: Birch Hall, near Dronfield
Part of the oneFgear weekender and located on the edge of the Peak District, Birch Hall is an exciting new venue with some ace singletrack and a licensed bar! Singlespeed antics on the Saturday and round 3 of the Midlands series on the Sunday.
Nearest Postcode for Sat Nav: S18 4DB
Nearest Train Station: Dronfield, 2 miles.
Round 4 - September 5
Venue: Sherwood Pines, near Clipstone
The series finale heads back to the classic Midlands race venue, Sherwood Pines. Top local racer Steve Wood will be aiming to outdo himself with an even better course than his super fun 2009 creation.
Nearest Postcode for Sat Nav: NG21 9JL
Nearest Train Station: Mansfield, 6 miles.
Please note: rounds 1, 2 and 3 are held on private land. Please don't jepardise the series by riding there at any time other than race day. Thankyou!
Schedule:
09:00 Registration opens and course open for practice
10:30 Registration closes for Race 1.
11:00 Race 1: Junior, Youth, Juvenile, Vets, Grand Vets, Super Vets, Fun and ALL Female Categories
11:00-13:00 Course closed for practice
13:30 Race 2: Under 10's and Under 12's (Entry on the day only)
13:45 Prize presentations for Race 1 and Race 2
14:00 Registration closes for Race 3
14:30 Race 3: Singlespeed, Open, Sport, Expert, Elite and Masters Men
17:00 Prize Presentations for Race 3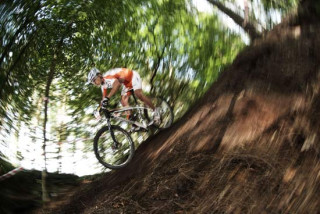 Series Details:
Race categories to are based on ability (Fun - Elite) and age (12 upwards).
Racing for under 10's and 12's will available at all rounds - just enter on the day.
Medals will be awarded to the top finishers in each category (except Fun, where there will be spot prizes). There will also be series trophies for the top 3 in each category, excluding Fun and Open, with the best 3 results to count.
All 4 rounds will be British Cycling affiliated, meaning they will carry BC ranking points. A race license is not compulsory, with the exception of the Expert and Elite categories; however those carrying a race licence will be able to pick up British Cycling 'Regional A' ranking points for Rounds 1, 3 and 4, and 'National A' ranking points for Round 2.
Round 2 will incorporate the Midlands Champs. This round is still open to riders from any part of the UK and all riders will be entitled to British Cycling 'National A' ranking points, but only riders residing at an address with a Midlands postcode will be additionally eligible to contest for the title of Midlands Champ 2010.
Entry:
Special offer - enter the whole series in advance in one transaction to receive a discount on the price of entering each round individually. This will also guarantee your entry into each round and avoid disappointment, as in previous years all rounds have sold out weeks in advance.
Directions to venues, online entry and downloadable entry forms can all be found at XCRacer.
Further Information:
Visit the race section of XCRacer or contact us at: midlands_xc@hotmail.co.uk.
Volunteers Wanted! We can't do it without you. Volunteers are welcome to be a part of the Midlands XC Series. Get in touch with us at midlands_xc@hotmail.co.uk
If 4 rounds just isn't enough, don't forget there's also the UK Short track champs on the 26th June: www.ukstxc2010.blogspot.com and the excellent, long running Friday Night Summer Series: www.fnssmtb.com