BC on Facebook
BC on Twitter

Sally Bigham: The Exceptional Realist
Posted November 5 2009
Words And Photography: Luke Webber
Sally Bigham lives for the element of surprise. Holding down a full time job and ranked third in the World is testament to that; the journey there even more astonishing. Those looking for an extended racing history won't find it here - there's only so much you can cram into three years of mountain biking - but that doesn't mean the stories are any less intense, as Luke Webber discovers.
What is a mountain biker's biggest asset? Impossible speed, superhuman strength, insane bike handling? How about naivety, inexperience and a full-time job? The skillset Sally Bigham carried to tenth at the World Marathon Championships may have been unconventional but living for the element of surprise comes as second-nature for the Topeak-Ergon rider who in three years has gone from novice to number three in the World. But following a season of outstanding results the challenge that now faces Britain's best marathon mountain bike racer is no longer limited to the bike.
Even after achieving tenth at the World Championships, seventh at the European Championships and third in the UCI's end-of-year rankings, Bigham still struggles to balance playtime and passion - because choosing between continuing a lifetime of research into autism as a scientist and lecturer for Bournemouth University - or pursuing the life of a professional athlete is a decision hard to make and for the moment, one totally out of her control.
That feeling is communicated as we sit in a shaded corner of Sally's favourite café, overlooked by the crumbling Corfe Castle. Today is the first time in ten months that life has slowed enough for reflection on an astonishing season of progression. Requesting a summary of the year my question is met with a pause and consideration, as we empty the dregs of another teapot. A moment of silence follows, before the first words creep out.
"This year has been amazing. Topeak Ergon have been amazing. Money couldn't have bought the insight, support and experiences I've had. At the start of 2009 I never thought I'd achieve this; I thought my inexperience and work commitments were two deficits I would never be able to compensate for. In 2008 I finished 28th at the Marathon Worlds, was anaemic and had won Mountain Mayhem solo the week previous - so that was my benchmark. The aim this year was top twenty or to get close to Jenn O'Connor, a rider who has totally inspired me. So when I finished on that technical course and beat her; it was 'wow'. Overall, I have really surprised myself, but if somebody made me believe in my potential I would have been so nervous that I wouldn't have done it. I am sure the fact that I didn't know what I was capable of was the secret to my success."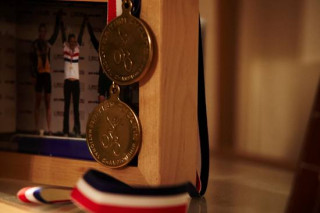 Blind ignorance isn't a character trait often associated with an athlete striving toward the pinnacle of excellence - but as I re-live the moment Bigham crossed the line in Graz, with over fifty miles and 3000 metres of climbing in the legs, I can be convinced even for those riding within the eye of the storm, such an aftermath was unprecedented. It is only as I overtly ask whether life as a mountain bike professional is a credible alternative for someone known by work colleagues only as an academic, that an unexpected response is triggered.
"I'd love to be able to be a pro mountain bike rider."
Such a sentence seemed totally reactionary, converse to every preceding, measured answer. So Sally continued to speak, in an attempt to justify such a bold statement.
"I don't know that I could take time out of my academic career to turn pro; I like the mental stimulation I get from work and that is something I have always had - I am a perfectionist and want to do my job well, but I think you only get one chance in life with certain things and this is one of them. At the moment I don't feel I am achieving my maximum because I have not had the time to dedicate to cycling; there was no technical practice or full winter of specific training because I don't have the time. And again, as a perfectionist that makes me frustrated."
From this point I am bombarded with further reasons why tenth in Graz was, as Bigham brutally told: "one of my worst performances of the year." How ten minutes was lost in the final extended twenty-kilometre descent, how a lack of confidence on the start line cost positions, how the race plan was to survive rather than compete. And all this despite the team being positively surprised with such first year performances - something acknowledged as "important to hear."
PROGRESSION
But it is this obsessive hunger for perfection that has allowed unmatched progression over a short period and became integral in fulfilling the first challenge; to race a 24-hour solo without mistakes. Such perfectionism, coupled with an innate sense for adventure forms the common narrative of Bigham's life story and while recounting one particularly memorable winter hike that nearly resulted in missing Christmas dinner Sally blushes; "this kind of behaviour has the tendency to get me into trouble."
I imagine it's the same trouble as taking third overall at Enduro6 - beating a lot of seasoned Elite men in the process, or waking up in an ambulance on a drip after leading for 17 hours of a 24 solo race.
That incident occurred just twelve months into a mountain bike history established on a first date and followed by an unrelated girly night in sponsored by wine and pizza. When the conversation that evening turned to setting a personal challenge a bike race seemed the perfect match and opening the competitive account with a 24 hour typified the Bigham approach.
Ignorance, naivety and inexperience combined perfectly as Sally's race at Sleepless In The Saddle went hideously wrong. By lap two her teammate was out injured and the next twenty hours were spent riding solo with no particular aim - apart from how to survive the night on a set of lights with two hours battery life.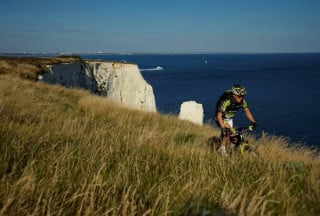 Surprisingly finishing that race had one outcome; the aim to win a 24 hour event alone, and inspired by an interview with 24-solo hero Jenn O'Connor, it took Bigham little time to go from cherry popper to can't stopper. But long unsupported rides on the Purbecks alone would not be enough to progress the podium; something which would require a joint and concerted effort.
The second half of the effort was Dave; the partner and man responsible for Sally's mountain bike awakening would digest every cycling tip in print, becoming a bike geek in a matter of months. Today that means every bike sits in perfect race-ready condition - but that's essential because after working day-long on academic research papers training time is restricted and proper recovery non-existent.
BLISSFUL IGNORANCE
However until now that mattered very little - all because of that asset known as ignorance, an integral part of the unique world-class rider who doesn't realise. It seems that not knowing it was crazy to go for a five hour ride without a tube, being oblivious to the reality of ascending Les Gets five times, then begging for more were all attributes essential to Bigham's success - and that's before we get to the anomaly of bonking.
"Even a couple of years ago I would ride for hours alone, unintimidated, just happy to be out in the countryside again. If I ever got a mechanical I would have been stranded but I didn't realise how easy it would have been to get into trouble. I had no idea, I was so naïve, I didn't have a pump or tube, literally nothing. I would just ride for as long as I could. I suppose that was because I have never ran out of energy, I just kept riding."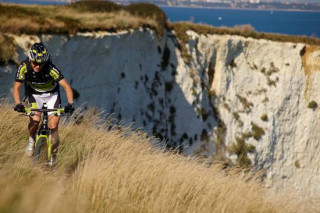 Even most races are finished with extra to spare, as Sally tries to explore why she holds such a fascination for cycling long distances.
"Ever since I've been a child I've wanted to go further and push myself all of the time. When I lived at home in Derbyshire I had horses and I wanted to ride all day every day, going as far as I could. That's what I'd do in the school holidays. When I had to sell my last horse I never had anything to replace that feeling of being at one with the countryside. But when I switched universities, from London to Poole, I was back in the countryside. To go out on the bike and spend all day in the saddle was just like being on the horse again, to be away from people and to see things. Before cycling I ran and would constantly get injured, but on the bike it was different. I would ride all day and get no injury; I could do more of what I wanted on the bike. I could do it for longer, see more things, go further and go faster."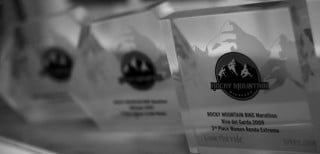 As the most vivid of memories from the Riva del Garda are recounted, including cowbells, screaming fans and mountain air, a short explanation is given on why racing Olympic cross country holds little interest but will almost certainly form part of Bigham's 2010 racing schedule.
"I have to ask why I would be doing it. It wouldn't be for the joy of it that's for sure. I can't think for one justification. For marathon the passion is easy to explain. For me sports are about endurance, how long and how far you can go on for. I guess that's why 24 hour solo grabbed me, because it's about how much I can push my body; it is the ultimate challenge. This year I loved the TransGermany and next year I'm excited about the possibility of riding the TransAlp with David Wiens. If I changed to ride cross country it might be because it gets more respect, more approval or for sprint training. But do I care for that more than my satisfaction? No. I'm doing this for me; because I couldn't go through all of the training and stress if I wasn't enjoying it."
After that tirade Sally explains her hopes to be surprised by cross country racing, but I think the war is already lost. The battle for perfection in marathon riding still continues and with just two days of the off season elapsed, thoughts turn to preparations for 2010. The TransAlp, some cross country for training, more marathon races - especially the World Championships - and technical training form the centre of plans which will be overseen by coach Matt Hart, someone she acknowledges has played a critical role.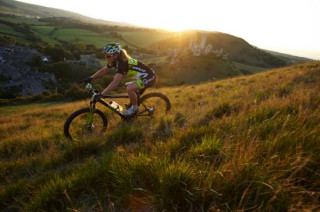 However as the sun sets behind the Castle I conclude the toughest decision still remains to be made; one between duty and dreams, convention and realisation. One thing that will remain a constant throughout, whatever the outcome, is Sally Bigham's continuing pursuit of perfection, something I'm reminded of as a pile of plates, cups and saucers are cleared from the table.
"I'll only be satisfied to just ride a bike when I have achieved everything I want to and at the moment I feel confident I have so much more I can give to my riding and only when I have a good season end where I cannot improve will I stop. A lot of the marathons I've done I've not been hanging to the point where I can't go on. It would be interesting to do a race where I felt like that at the end because I think that is where my best results will come."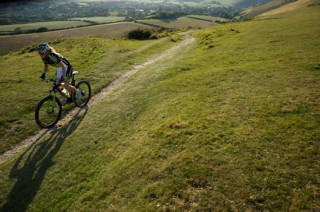 And if you want to keep up with the continuation of Sally's story then be sure to visit her exclusive British Cycling Online Rider Diary.
Links:
Sally Bigham Blog
Topeak Ergon Team Website
Ergon Team Website
Topeak Ergon Team Facebook